We just had a doozy of a cold front arrive, and it looks to be planning to hang around all this week.
The previous week had provided some pretty good fishing, though.
I spent a weekday fishing with my friend Dave, searching for the elusive spawning White Bass. We both caught fish, but the "target species" was practically a no-show. I did catch 2, including this chunky female that measured @ 15.5"
I followed that up by flyfishing a local pond. It was pretty exciting. It was the same pond where I caught the big bass while flyfishing, that hit and ate a bluegill I was reeling in. Well...different day, same situation. A bass followed a bluegill I'd caught into the shallows as I was bringing it in, and grabbed it! I did the same technique I used last time this happened. Only, this time it didn't work. I ended up reeling in nothing at all...except for my microjig, that is. The bass kept the bluegill, and didn't have to suffer through a brief photo session with me. And THEN, 10 minutes later, an even BIGGER bass grabbed my microjig! After a decent battle that mostly involve me holding on while it peeled line, it went airborn and threw my microjig. It was a BIG BASS! So, I was on the losing end of both big bass encounters, but I was smiling and enjoying every minute of it all the same.
And I caught plenty of fish, including this really nice Pumpkinseed Sunfish: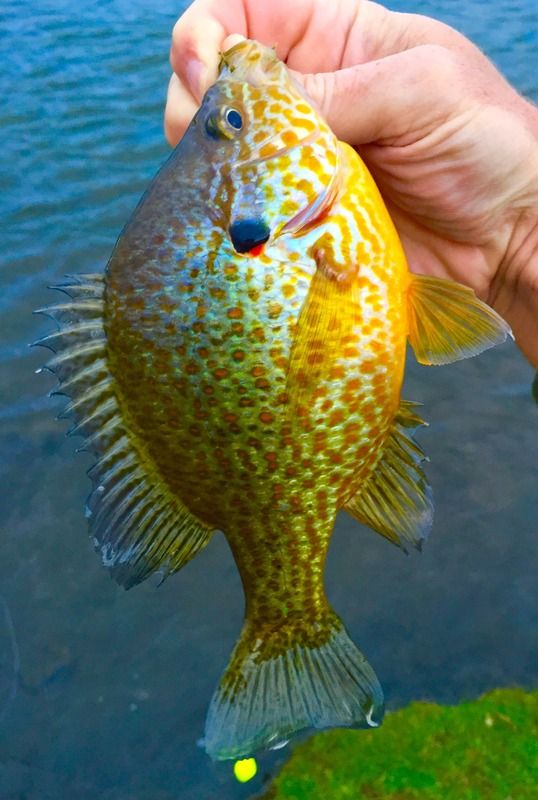 Also on Thursday, a buddy called. He flyfishes. It was his birthday, and he wanted to catch a new species....a Pumpkinseed Sunfish. He asked for advice on where to go. I told him. I checked in with him later in the day, and he managed to catch a couple of these beautiful fish! How awesome is that???
Saturday rolled around and it was intermittenly drizzling...a gray and dismal-looking day. My friend Dale G texted, wondering if I was out flyfishing somewhere. I said no...but that I could meet up with him. We visited the big bass pond. As I pulled up, my buddy Jay was just walking towards the pond, and was calling me! So, the 3 of us flyfished the pond and had a great time. I fished exclusively for bass, and also caught a crappie. I had 2 big bass on that both broke my 8lb tippet, using fire-tiger colored craft fur baitfish streamers. I replaced the 8lb tippet with 10 lb, and landed more bass up to @ 16.5".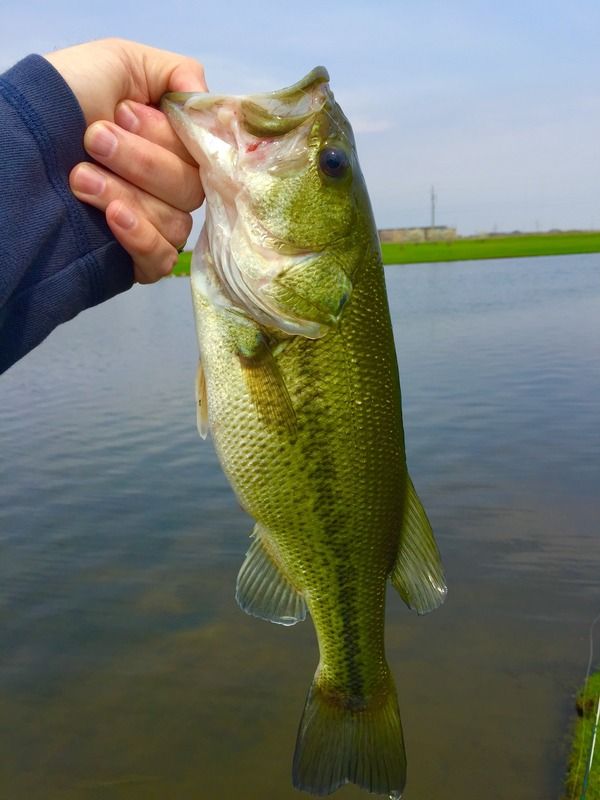 Here's what the streamer looked like that the big bass took (twice), and even the crappie hit it!
The crappies were wearing the ultra-dark spawning colors.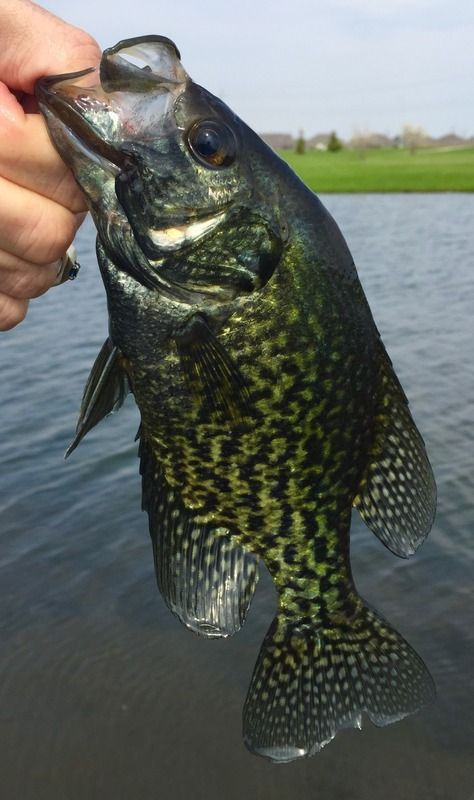 Dale was catching a lot of crappies casting out to deeper water and using a beadhead woolly bugger. He was also catching small bass. He had a really nice bass chase HIS bluegill in once, too!! And Dale also caught his very first Pumpkinseed Sunfish, along with plenty of bluegills and hybrid sunfish.
On Sunday, Jay called me to flyfish again, at the same pond. And once again I started out flyfishing for bass. I caught bass on a 4" baitfish pattern with a bunny-strip tail, and even more on a blockhead popper. Those topwater bass are exciting!
I switched to a gold Springbrook Wunder microjig for awhile, and caught bluegills, crappies, hybrid sunfish, a Pumpkinseed Sunfish, and even a bass or two.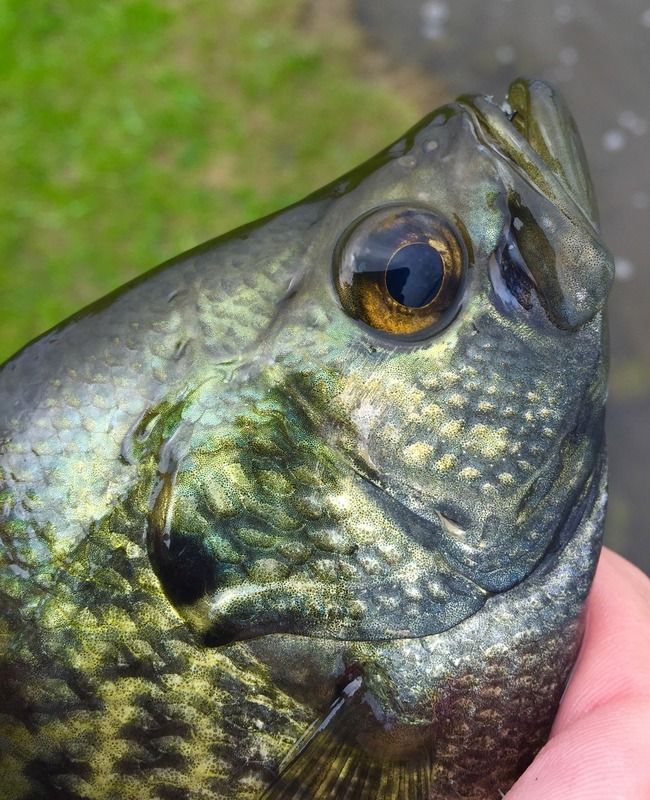 Really fun flyfishing!