I flyfished a local public pond on the evening of Saturday, October 15. It was cloudy with occasional light drizzle, and even a rather heavy drizzle for several minutes at one point. There was surface activity on the pond...what appeared to be mostly bluegills and/or crappies chasing baitfish....but also the occasional BIG swirl or explosion of something much bigger working the area.
I tried for bass with a topwater, but had no takers. I switched to a microjig under an indicator. First fish of the evening, a 9" Pumpkinseed Sunfish.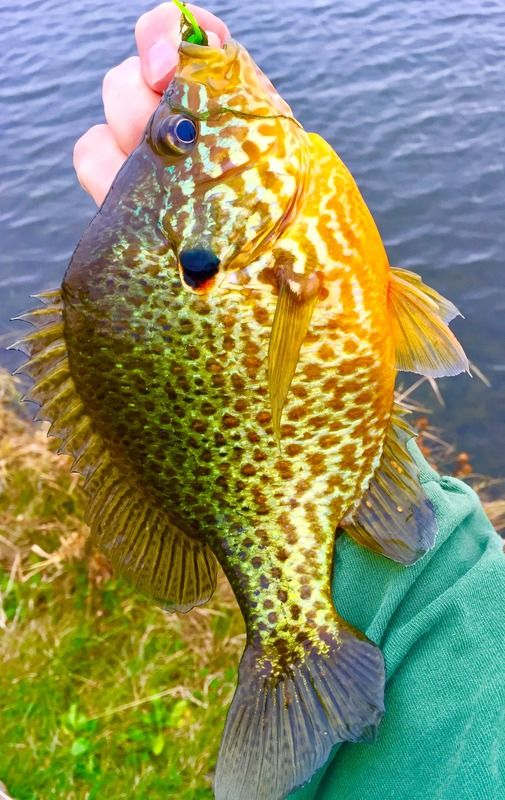 Caught a few bluegills, changed out the microjig/indicator for other bluegill patterns, and caught some more bluegills. Not many, though.
As the cloudy sky darkened, I put the bass popper back on, and fished my way down a shoreline. I had a couple strikes, one probably a bass, one or two that were probably bluegills or hybrid sunfish.
And then...closer to shore than I would have imagined...a big strike! Strong fish! Landed and measured the Largemouth Bass at 20"...VERY GOOD for this area!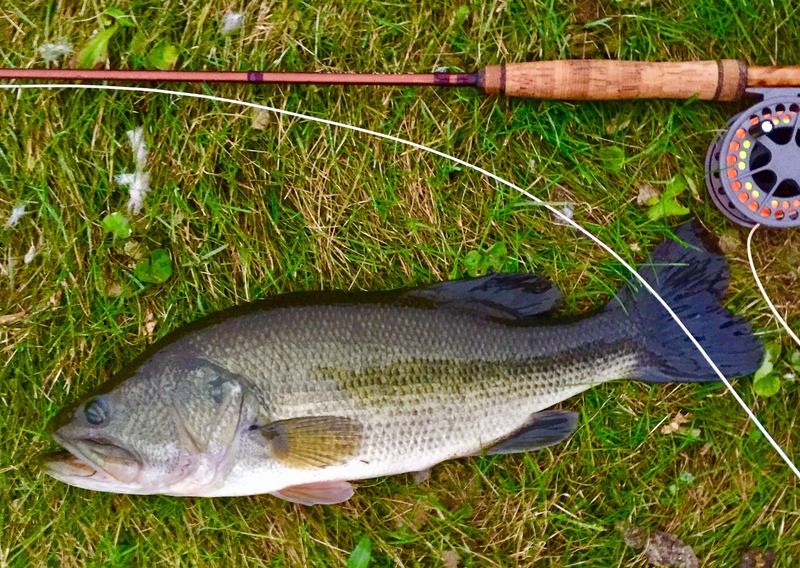 My next opportunity to fish came on the following Monday evening. I have visions of hungry aggressive Grass Carp in my mind. I planned to go to the pond where I recently lost a big Grass Carp when the hook straightened out....but rather suddenly had the impulse to try a different pond I had not visited recently that has a good population of Grass Carp.
This nearly always has pretty good to very good water clarity, but the low angle of the sun in the evening made it nearly impossible to spot any Grass Carp. Once again I tried for bass, but only caught a few bluegills on the big popper. I tried for bluegills, and only caught a few, plus a crappie. I relocated to a different area of the pond as my fishing time was rapidly ending. I fancast a shallow area, caught another bluegill or two. Then I had a good strike, and a nice fish on. I couldn't tell if it was a bass or crappie, but it was fighting very well. I landed it, and the crappie measured 14.5"!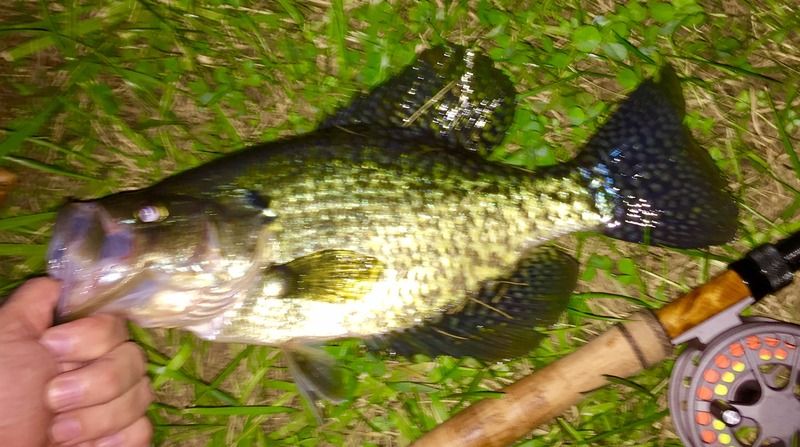 These are all Iowa Master Angler-sized fish. I have had entire YEARS where I caught plenty of fish, but none that qualified for Master Angler submission. The rules state you can only enter one of each species in a given calendar year, and I had already entered a Largemouth Bass and a Pumpkinseed Sunfish this year. I did enter this crappie, though. :) Catching 3 Master Angler fish of different species over a span of 3 days.... Very special! Even more so when considering I typically flyfish small heavily pressured public waters.
I hope the great fishing lasts a while longer, but the season will be changing very dramatically soon.
Fall Urban Trout stocking starts at the end of this week in my county!