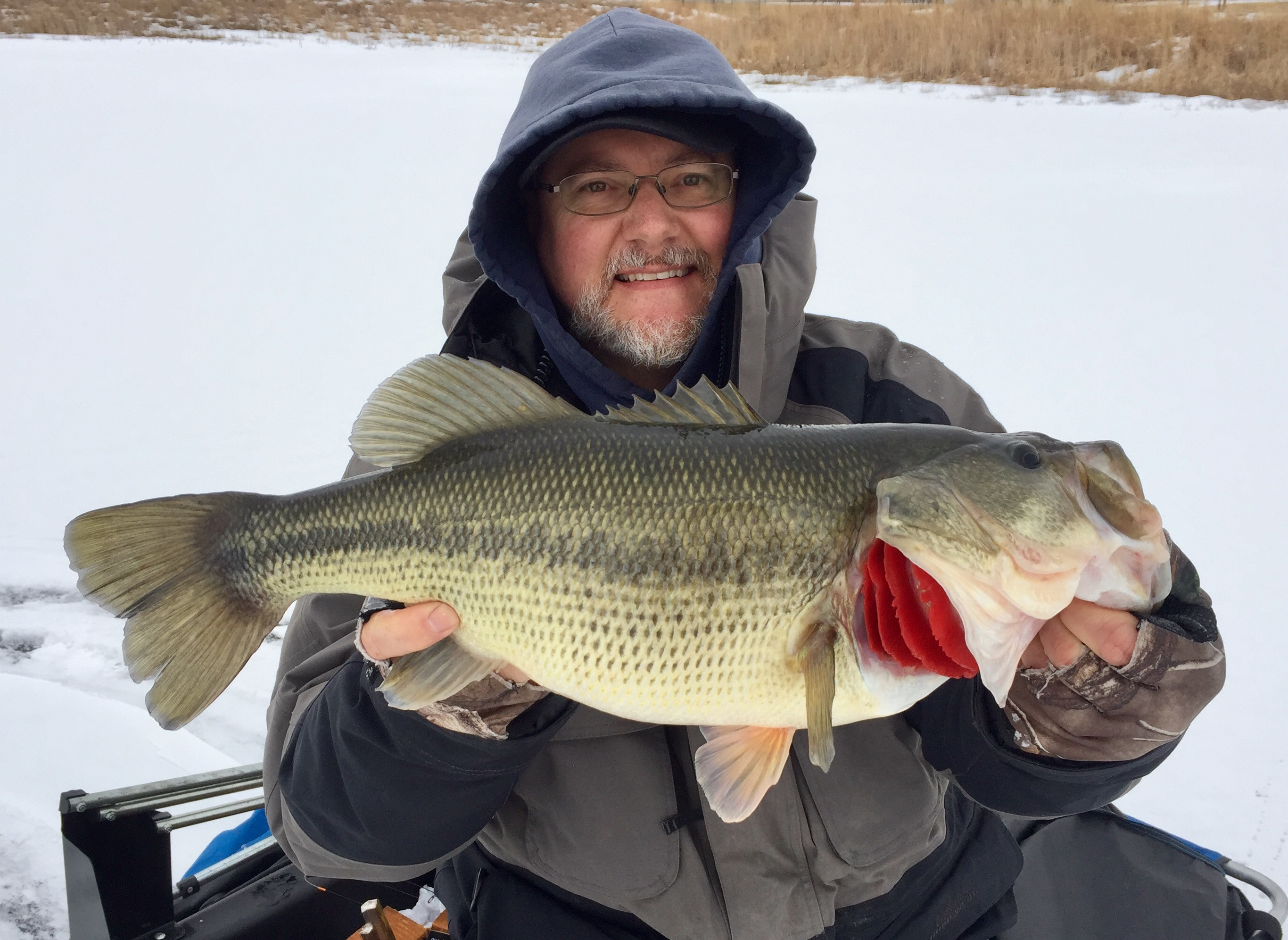 Jay and I formulated flexible icefishing plans for Saturday. We didn't know where we might find safe & accessible ice, so we had a series of "contingencies".
Fortunately(?) the first place we tried was accessible. The ice looked "iffy"....lotsa bubbles trapped in the ice, surface cracks....but not really honeycombed. 6.5" of ice. We fished here most of the day, before hitting another place for the last couple hours.
Fishing alternated between very good, to zero throughout the day for each of us....usually only one of us was having success at any one time. And then the fish would completely disappear for both of us. Very bizarre.
Despite not catching much for hours at a time....we had fun and we did catch some decent fish!
We caught some crazy-aggressive chunky Hybrid Sunfish: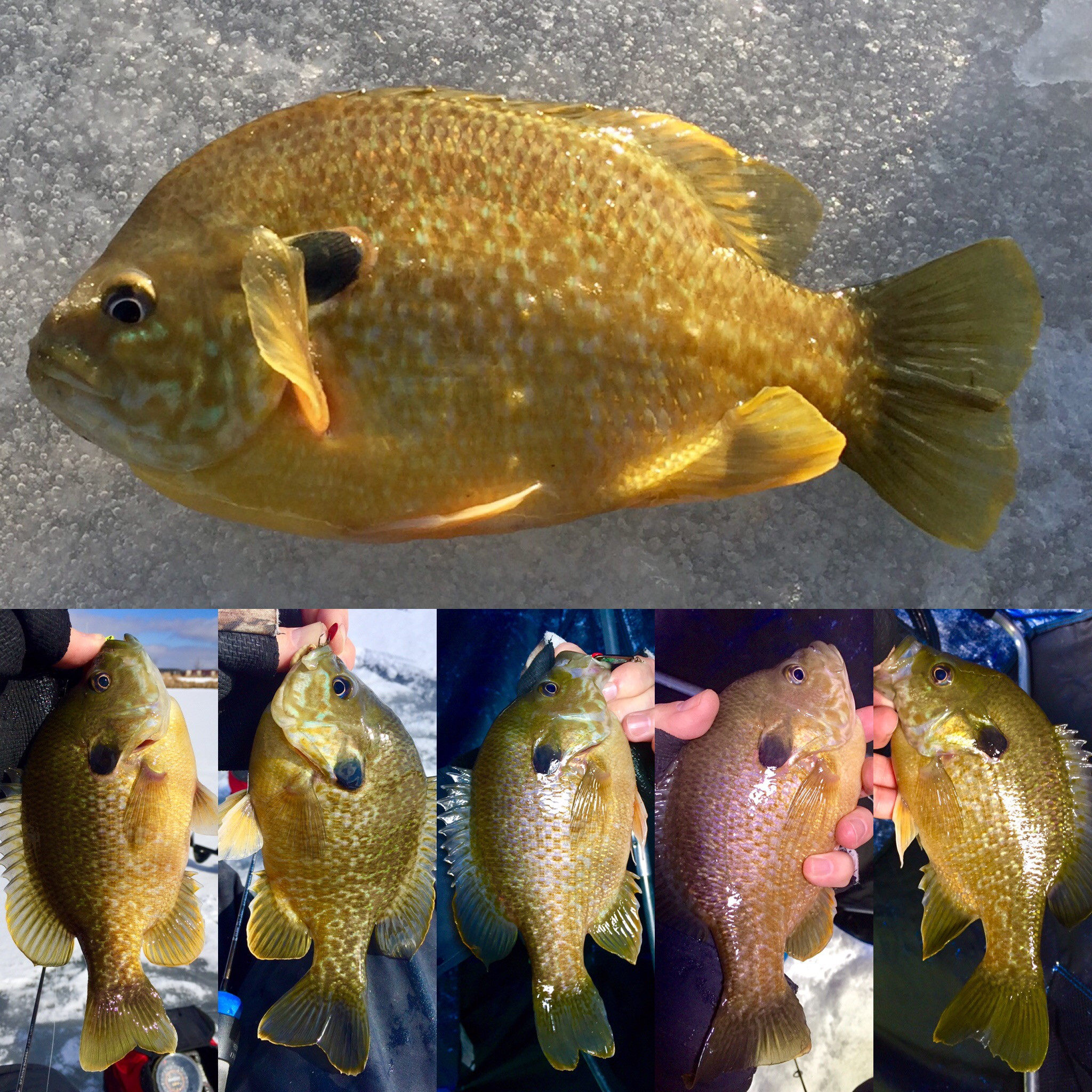 Hybrid Sunfish (presumably a Bluegill / Green Sunfish cross)
Even the Pumpkinseeds seemed more aggressive than the bluegills: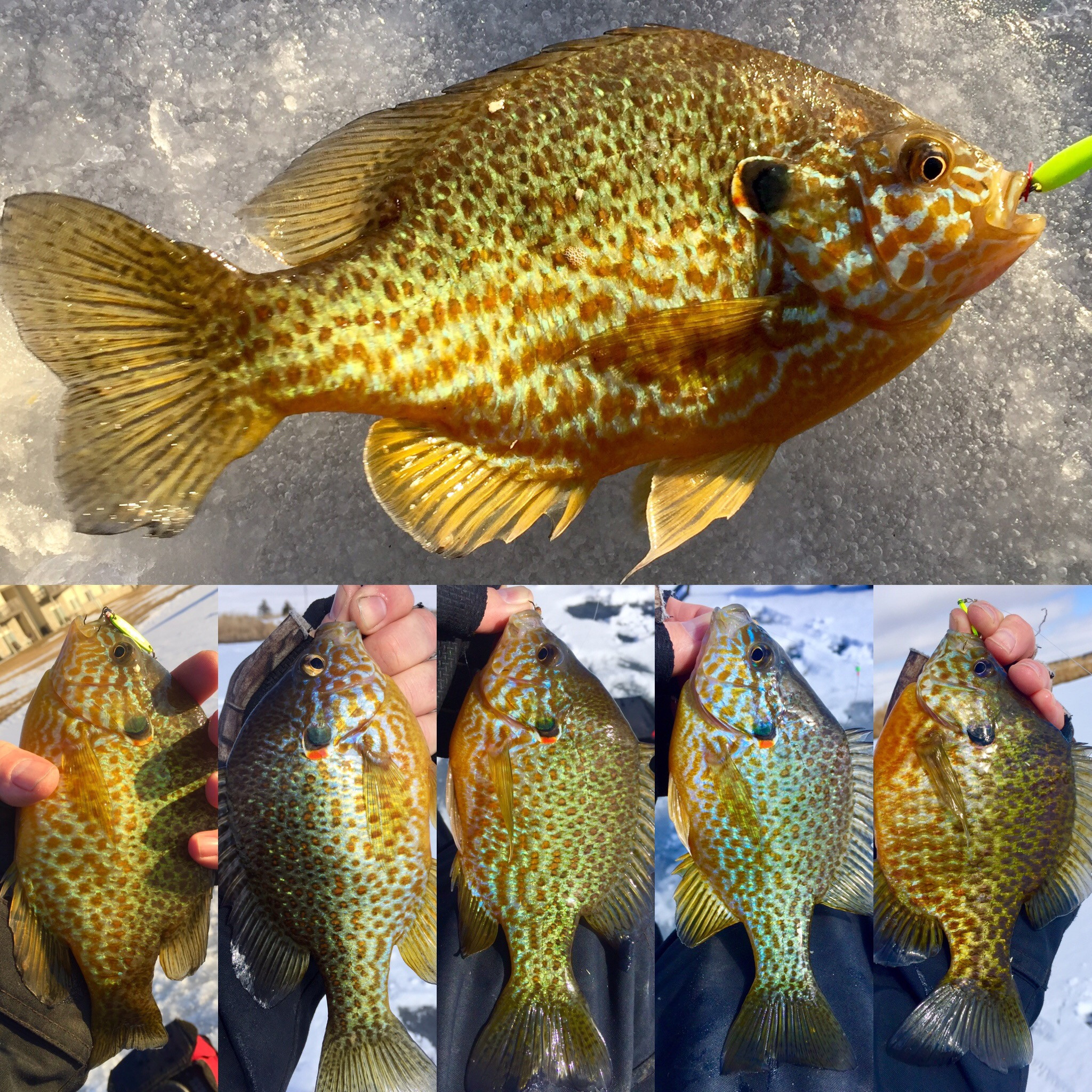 Pumpkinseed Sunfish
(BTW...the bottom right fish in the picture above is a Pumpkinseed hybrid.)
We didn't catch any crappies, and just a few bass. This was the biggest of the day at a chunky 20" (see picture at the top of this post.)
I was looking down the hole when that one showed up and hit!
In other news....remember the ice rod that got ripped out of my hands and flew down the back in January? Well...that pond's water is typically pretty stained all year. But on Saturday I discovered it was strangely clear....I could see my lure tipped with a waxworm down to 8' +/-. When we had arrived at the pond, Jay had initially drilled a couple holes to check ice thickness/quality. Before we left that pond for the day, I decided to try and fish those holes since we couldn't find fish anywhere else. I picked a hole that was over 6' of water. I didn't mark any fish. I dropped my lure/waxie to the bottom....then noticed something off to the side a bit. Looked like my lost rod laying on the bottom! I drilled 2 more holes before getting directly over the top of it. I put on a rattle spoon and dropped it down. Within a minute or two, I managed to hook THE CORK HANDLE (not the line or rod or eyelet like you would expect)....and reeled it up. I GOT MY LOST ROD BACK!!! We decided the chances of finding it and retrieving it were astronomical. CRAZY how everything worked out like that! The uncharacteristically clear water was definitely the biggest factor.
Anyway....pretty cool stuff! Oh....and no muskrats this time, but I did look down a hole once to see a ginormous bullhead slowly swimming just a couple feet under the ice. I would have loved to catch it...I reeled up as quickly as I could, but it never turned or showed any interest and was quickly gone from view.