Does it seem like the most productive fly patterns change each year? For me it does. I definitely have my favorite patterns, and I do think that over time the fish get wise to them and learn to avoid them, especially in the waters I fish most often. So, folks that fish often like I do need to keep trying new fly patterns to keep one step ahead of the fish...or at least just to show the fish something they haven't already seen a few times.
Here are some of the fly patterns(in no particular order) for various species that worked well for me in 2017.
Largemouth Bass:
-Blockhead Poppers
These are basically identical to Tim Holschlag's blockhead poppers. I just draw eyes on the sides (and one on the bottom) with a Sharpie marker, rather than glue eyes one. I do like using rubber legs on these, I think they work better, and both the smallmouth and largemouth bass like them.
-Gamechanger (and variants)....This Blayne Chocklett pattern works. And I admit I was very skeptical. But bass jumped all over these. I tied my own, experimenting with various materials for the bodies. There are still other materials I want to try....some of the Feather Gamechangers look really good. Mine are ugly. I know it. Fish didn't care. I'm sure I'll get better as I tie more of these.
One thing....they take a long time to tie. I probably spend an hour each on the 4-5 segment versions. So, I've tied some up with as few as 1 articulation (probably not a Gamechanger at that point?), and they still have great action when retrieved with an erratic jerk-pause type retrieve, and they still caught a bunch of bass.
-FC Shiner:
-Float-n-Fly jigs:
These are baisically the same as the microjigs/Springbrook Wunders I use for panfish, and bass like the small ones too. These are slightly bigger and heavier (these are 1/32oz) with a bit larger hook. The idea is to keep these under 3"...and in fact I tied these to be @ 2". With them, I caught some really nice bass when the water temperature dropped.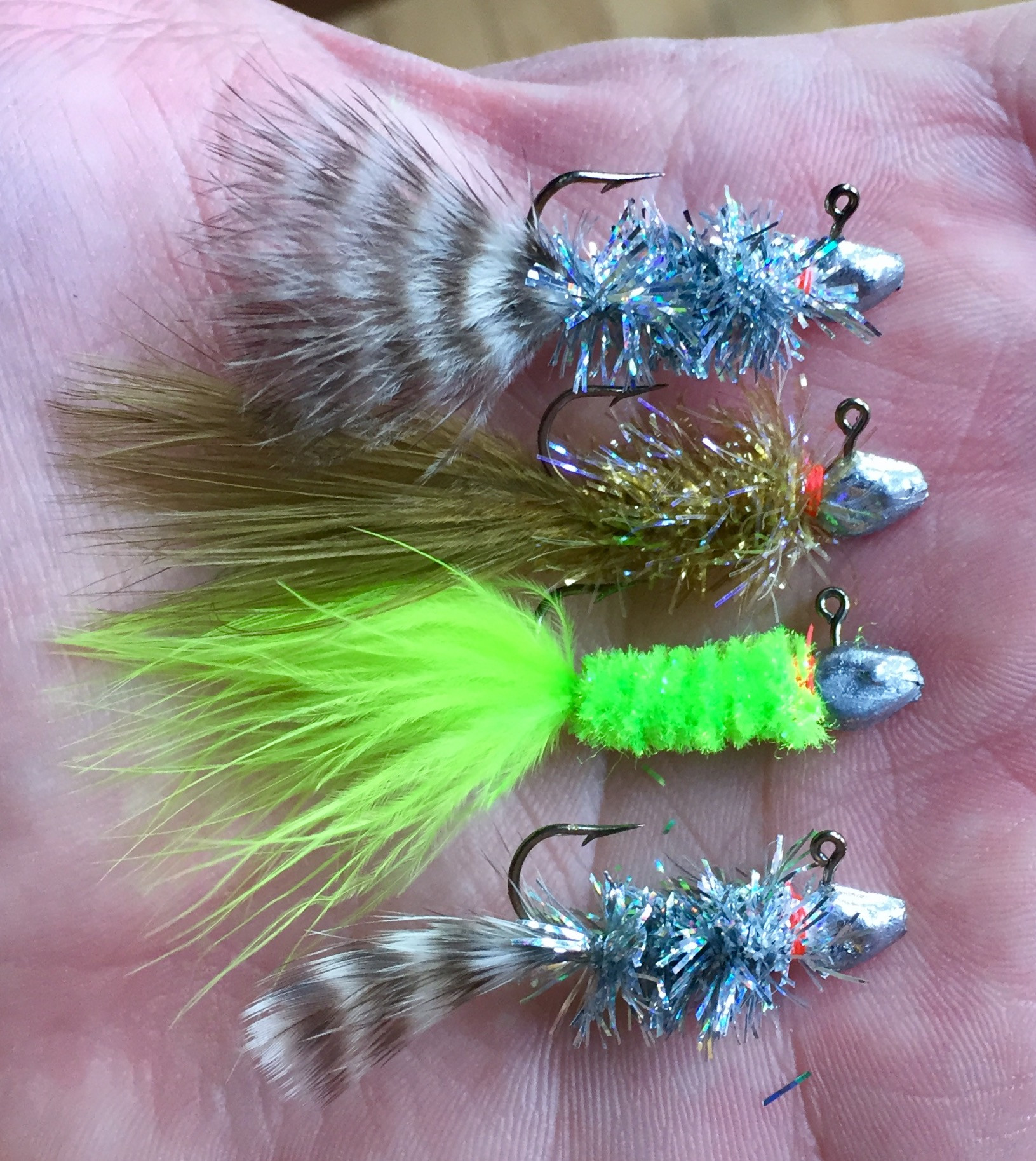 -DDH Leeches:
This is a Stu Thompson pattern that catches a lot of fish, and many species. I caught some nice largemouth bass on them this year, and my buddy caught a bunch of smallmouth bass, and even some carp and white bass/hybrid striped bass on them (and maybe even a trout?). You can read his article and see his tying tutorial on his website:
https://darkwaterdubbing.wordpress.com/the-ddh-leech/
I also did well with a variety of shad imitations, but apparently didn't take good pictures of those specific patterns. It seems like ones with flash, marabou and/or craft fur probably performed the best.
Smallmouth Bass:
I successfully used several of the same flies for Smallmouth as I did for Largemouth. I won't repost the same pictures again...but these flies caught plenty of Smallmouth Bass for me:
-Blockhead Poppers
-FC Shiner
-DDH Leech
Common Carp:
I didn't readily locate my pictures of these flies, but you can find these patterns online.
-John Montana's Hybrid Carp Fly (along with color variations) caught most of my carp this year.
-Black Ops (by Chris at Missouriflies.com)
Channel Catfish:
I caught catfish on a variety of patterns this year, from bass-sized zonkers, to blockhead poppers, to microjigs, etc. But the following patterns caught multiple fish each this year:
-John Montana's Hybrid Carp Fly
-Black Ops
-small black Woolly buggers with a glass beadhead
Crappie:
-Chartreuse microjigs and silver microjigs/Springbrook Wunders
-Chartreuse mylar chenille buggers....these worked well after dark when the crappies were feeding near the surface out away from shore over deeper water.
Trout:
These worked in NE Iowa trout streams as well as for stocker trout in some urban lakes.
-Gold microjigs/Springbrook Wunders
-beadhead gold Woolly Buggers.
Did you have some fly patterns that worked especially well for you this year?