Big Creek Lake, 1/11/14
Time Fished: 9:30a-5:15p
Ice Thickness: 10"+
Species Sought: White Bass & whatever
Fish caught: 10 Bluegills, 2 Walleyes, (1 White Bass, almost)
Everybody else is having a great ice season, and with the Yin and Yang of things...I'm struggling.
Jay and I hit the north end of Big Creek in the morning. Marked few fish and caught even fewer. I landed one small walleye, and had a nice (est. 12"-14") White Bass all the way up to the hole, but it tangled around my transducer, and while I untangled that it managed to hang the hook on the edge of the bottom of the ice hole and shake loose. Used a spoon tipped with a WAXIE! Yep, you read that right. Jay bought the bait. :)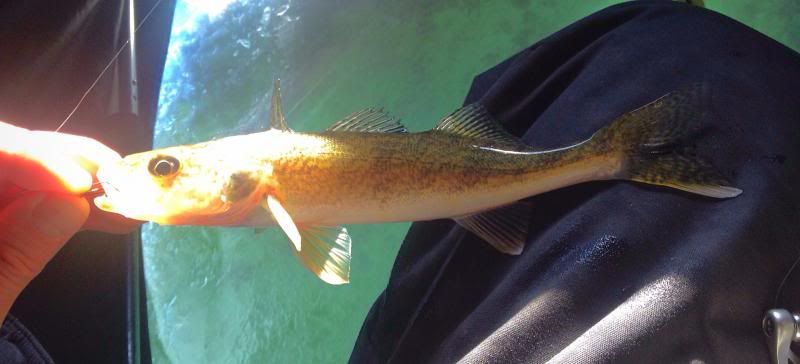 Next we fished the south end of the lake. Lots of people everywhere else on the lake, but nobody else in the southern part. That soon changed, of course...it was an extremely BUSY DAY for icefishing on Big Creek!
We fished a few areas. Its amazing how much difference there is in just a few feet. Although water clarity was good, fish would be under one hole, but wouldn't move 4' away to chase a lure/bait!
We found mainly Bluegills..decent ones. At first they would be very aggressive, I had a few that took nearly the entire spoon into their mouths! They probably averaged 8.5", and my biggest of the day was 9.25"...I think Jay said he landed a 9.5-incher. Again, the spoon with a Waxie caught the fish, although I did catch one on a spoon tipped with Gulp! instead of live bait.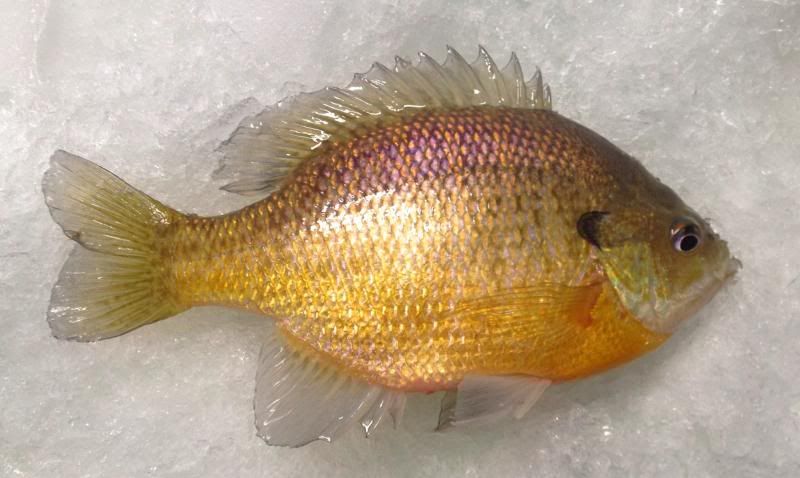 I also landed another small Walleye.
Overall, I would rate the fishing as POOR once again. For a full day of fishing, I caught just 8 Bluegills and the 2 Walleyes.
We didn't fish any brushpiles...I don't know how much difference that made. One guy who was running and gunning (on foot) walked by and talked for a bit...and hadn't caught anything all day.