It was my birthday. Who wants to work on their birthday? I took the day off and went kayak-fishing with my buddy Jay.
It was a SLOW fishing day, but we didn't try many spots either. I'm guilty for wasting a lot of time trying to catch carp on the fly rod.
We put in at a Cherry Glen gravel ramp. I caught a bass from shore while waiting for Jay to show up.
Then the first bay north of there, I caught a Wiper on a Pop-R.
As gulls and osprey would fly over, carp would scatter from the shoreline, so I beached the kayak in that bay (while Jay drifted down to Oak Grove), and tried stalking carp, but it was cloudy and they spotted me first. I chucked the topwater from the rocky point on the south side of that bay and caught a couple largemouth bass, biggest was a nice 17.5-incher.
I caught a white bass in that bay before I left there.
We drifted on around the corner towards the beach. I marked a lot of fish pretty much everywhere, but the schools of baitfish were generally 5'-10' deep, and not near the surface. So, there was very little surface activity to direct our efforts. We beached near the 2nd rocky point NE of the Oak Grove beach. I caught 2 bass there, the biggest was a skinny 19-incher that had one bad eye. I slowed my Pop-R down so he could catch up to it. :)
I also spotted a number of carp there, but once I got my fly rod out, I didn't see anymore. Bastiches!! I caught a white bass there as well.
We continued on down the shoreline past some Turkey Vultures hanging out along the shoreline: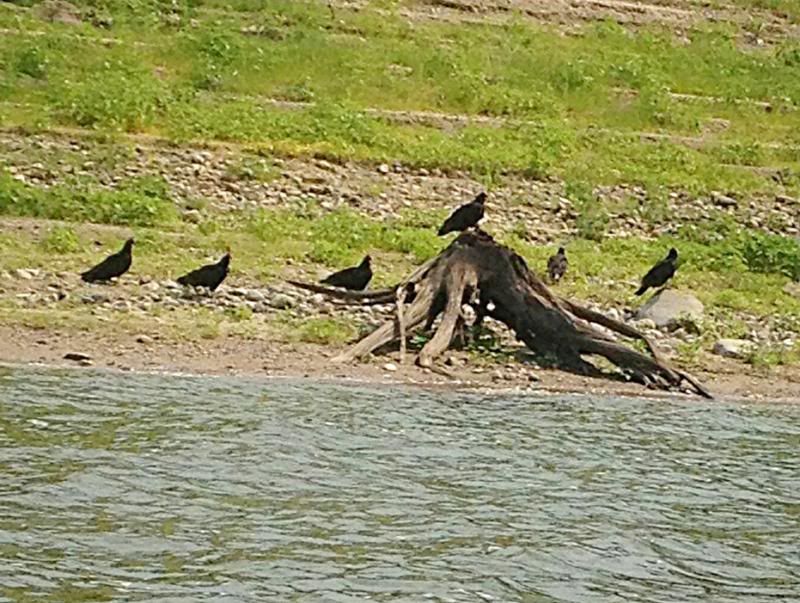 Then we went back to the Marina Tower.
We knew it wouldn't be pumping...but the wind was blowing right into it, so we had hopes something would be going on there.
We saw a few tiny bust-ups.
Turns out...not much was going on there.
I caught some big shad on a fly...yeah, they tried to eat it!
That's a new species for my fly rod list! I'm sure I could have caught more if I'd used a smaller nymph!
I caught one carp on a fly, had another bigger one on that broke the line after rubbing it on something rough.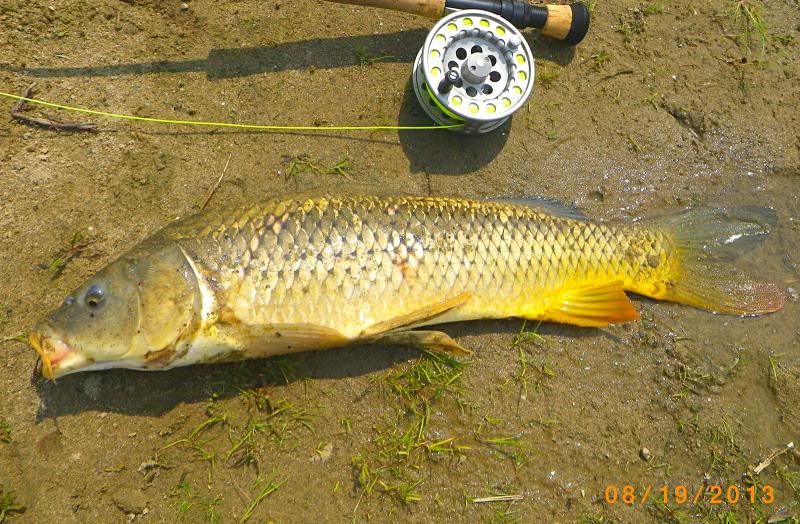 We actually resorted to using shad..or chunks of shad...for bait, and Jay caught at least 3 nice bass on that, and a Drum. I caught one bass on the shad.
That was pretty much it.
We saw one big bust up north of Oak Grove beach as we were making our way back, but it was done before we could get to it.