Lake Petocka was stocked with 1500 Rainbow Trout on Thursday at Noon. I took Thursday and Friday off work to fish it.
Thursday morning I fly fished a local public pond to waste some time before heading to Bondurant (Lake Petocka). Using a chartreuse micro jig, I landed 100 small fish...81 Crappies, 15 Bluegills and 4 Green Sunfish. Not bad for two hours of fishing!
At Lake Petocka, fishing was tough after the stocking. Most folks left fishless. Maybe one or two caught their 5-fish limit. I did better than most, and caught 5 trout and 1 chunky Largemouth Bass, but it took me all of 2 hours to accomplish that. I also fished my way around nearly the entire lake. I didn't keep any.
------------------------
On Friday, I fly fished Petocka for 6 hours. I fished one corner of the lake for awhile. Caught 10 Trout there, before my friend Dale G. called and said he'd been there awhile longer and had caught 18 fish where he was. He told me to come down and fish with him, if the action slowed where I was. It did slow. I caught one more trout before heading over to his corner of the lake. I saw a few small pods of fish working quidkly along the top of a drop-off, and landed 2 trout from those groups. Then the action died at that spot. I saw some more fish further down the shoreline, so I started following where I could see fish. I caught quite a few more fish, at least one from almost every small group that came down along the shoreline. Dale came down and fished by me. The action slowed. I headed back to the corner of the pond where I had started the morning. There were fish there...quite a few! I was catching fish on nearly every cast for awhile, and Dale came over to see what was up. We both caught fish here.
For the day, there were lulls in the action, but overall it was fairly steady. I used a variety of fly patterns. White was a very effective color this day. I ended up catching and releasing 64 Rainbow Trout. Some were caught by casting straight out with beadhead White Woolly Buggers. Others were caught on Blue Thunder Streamers worked along the top of a drop-off when small groups of 3 or 4 trout would come along the bank. And others were caught on unweighted white Woolly Buggers cast really shallow along the shoreline when small pods would come in and search for food within 4-5' of shore. And still others were caught on a gold Springbrook Wunder microjig suspended about 10"-12"under an indicator in a small pocket of water with 2-5' depth.
This one hit an unweighted white Woolly Bugger.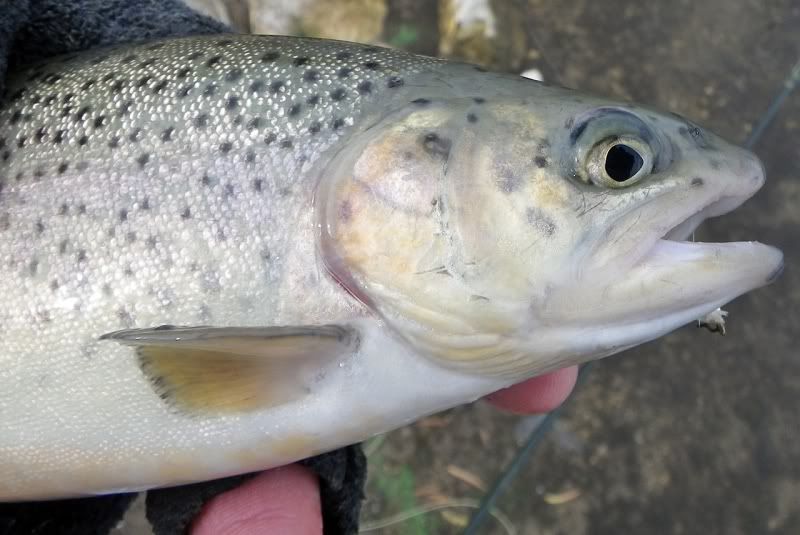 This one hit a glass beadhead dubbed-body softhackle.
This one hit a Blue Thunder streamer.
Hard to see...but a number of fish had sort of rosy-pink bellies. I assume this might be the coloration of a spawning male Rainbow Trout?...since most of the fish with such bellies were dripping milt.
This was Trout #60 of the day!
Dale G. And I fished together much of the time. He even supplied some buffalo meat sticks to help re-energize us after noon. They were tasty, thanks Dale!
I finally left when a very rude Dad used his 3 year old son as an excuse to cast into the small area we were fishing. Really irked me. Don't misunderstand, I thought it was great the guy brought his son out to try for trout. But fishing really close to other guys and then casting the son's rod (with a huge bobber on it) over in front of those other guys into the area they had clearly been fishing for some time, and then moving himself between the son's rod and the closest guy and start casting dead-center where the established angler had been casting and catching fish. Dale was that guy first...and he left without complaining. So then the Dad picked up his gear and moved over by me and repeated the same situation. Each time he would cast his son's giant bobber over in front of me, I'd turn and look right at the dad. He wouldn't make eye contact with me at all. But it was ridiculous and obvious what he was doing, and it was outrageously and sickeningly rude. What a horrible example he was setting for his young son! I just reeled in and left as well, and saw the dad then move into my position and start casting over by the guys that had come down to fish on my other side, but were not crowding me. Unreal. I'm still pissed. The Dad finally hooked a trout, and handed the rod to his son to reel in. THAT was a good move, and I admired him for that. But with a lake full of fish and tons of vacant shoreline to choose from, to crowd out people who are catching fish is still unacceptable.
------------------------
Unexpectedly, I found myself with some time to go fishing on Sunday, Nov. 4. I headed back to Lake Petocka. The sky was overcast, with occasional light drizzle.
I first fished the last spot where I had caught fish on Friday. Not much going on there. I had only made about 10 casts when I got a phone call. Dale G. was at the lake again, and had seen my car. There were fish where he was, so he invited me over. Fish indeed! The two of us were soon catching plenty of fish. Guys next to us bottom-fishing with bait just looked on and shook their heads.
Because of the weather, I had my hoodie hood pulled up over my cap. After awhile, I became aware that I was being watched. I looked to my left, and there was a guy standing about 6' away, facing me and just looking on with a scowl on his face. "Hi," I said. He said "I'm just going to watch you." Weird. "OK," said I, and turned back to the business of fishing and catching. The guy just watched me for about 20 minutes! At one point he asked to see what I was using. I showed him, and went back to fishing. He finally moved about 25' down the shoreline and fished. Turns out he was using spinning gear. He was casting into an obvious pod of trout, but not catching any. Over about 1.5 hours, he did land 3 or 4. That's him in the background of this picture (of me holding a rather fat toad of a trout!):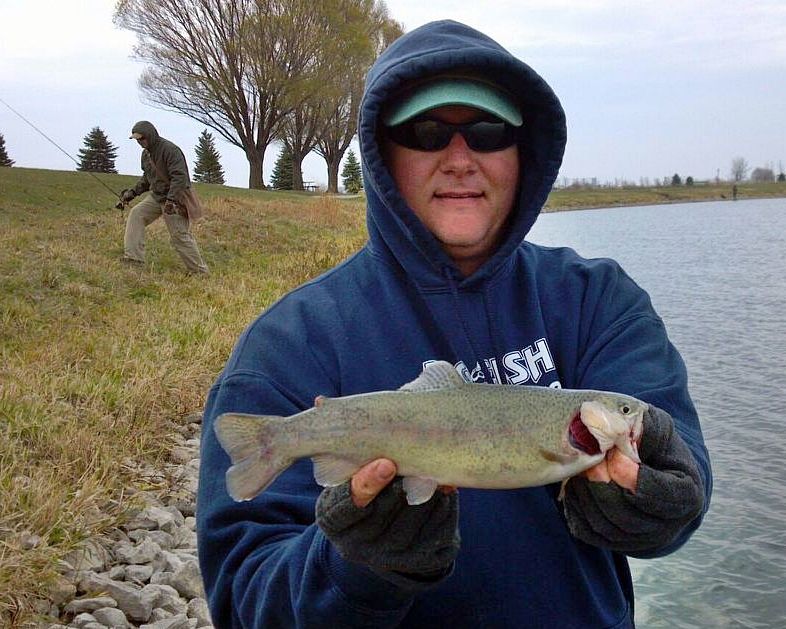 Dale caught plenty of Rainbows as well: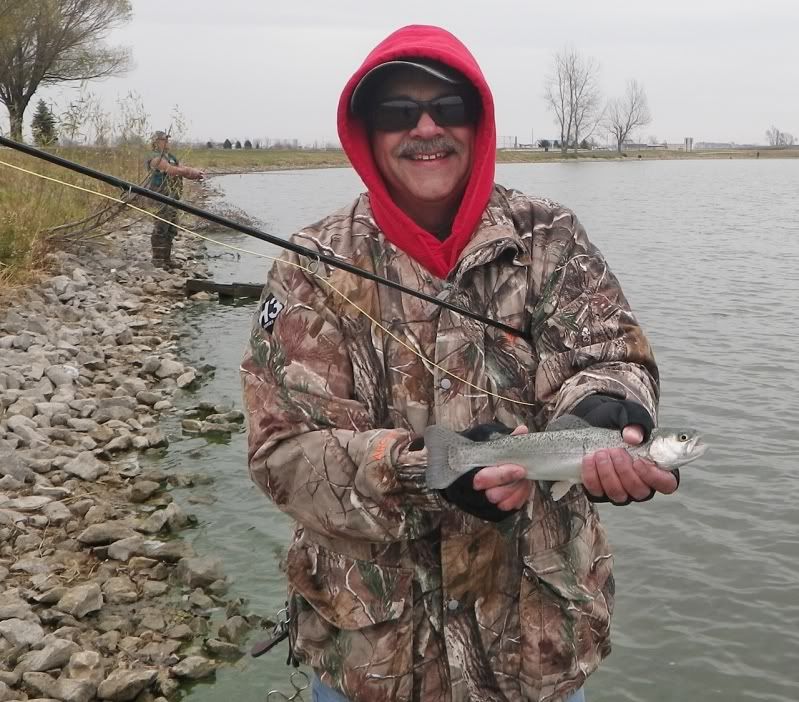 Fishing eventually slowed. Dale had to get on home. That guy to my left who had been watching me caught one more, and decided to leave. His pod of trout were still there, so I moved over and caught a bunch more fish from that pod before it slowly moved beyond my casting range ( plus I was casting into the wind). I ended up catching 78 Rainbow Trout in 4 hours! Pretty good day!
Dale pointed out later that my total trout caught over 2 days (64+78=142) amounted to nearly 10% of the fish that had been stocked! Actually, I need to catch just 3 more trout (since I had caught 5 on Friday, so a total of 147) to make it an official 10%. I think I can "get'er done"...if I can find time to get back over to the lake! :)