Jay and I fished Saylorville from shore Friday evening. Fishing was poor (I caught a largemouth bass), until Jay spotted some surface activity. He caught 5 before I could get over to where he was. He'd already caught a nice White Bass and some 10-12-inchers.
Then he caught a big fat White Bass that fought really well. I was sure it was going to be a 24" Wiper! I think it was more like 15", but it was REALLY fat and sure looked a LOT bigger than that! Didn't get a picture of that one, but did get a picture of a 16-incher he caught after that:
While he was fighting that one, I hooked a nice fish that turned out to be a 23" Channel Catfish: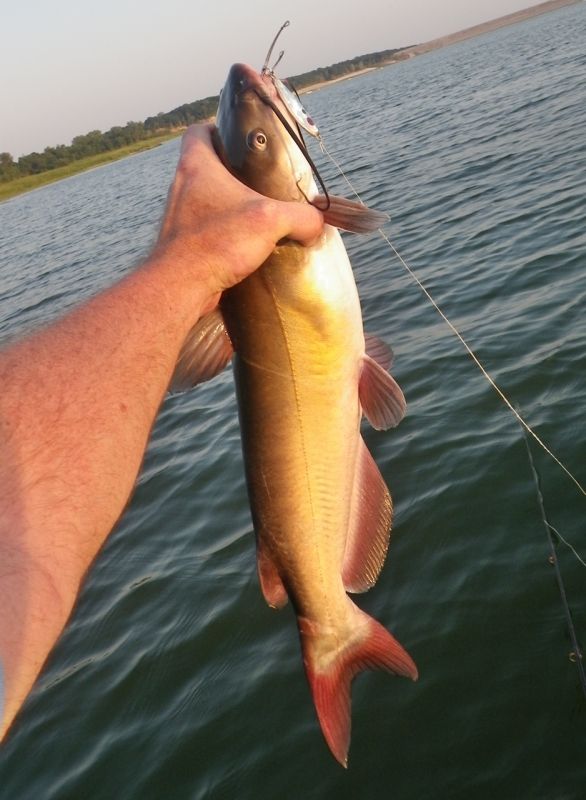 It hit a slab spoon:
I also caught White Bass (no big ones, though) on both the slab spoon and a Pop-R topwater.
The White Bass seemed to be working down the shore away from us, so we walked down past them to intercept them and set up for them to arrive...but they never did. I caught maybe 5 more small White Bass, but they were scattered. In short, we left fish to find fish. Earlier, though, it was pretty cool to see the fish blowing up on the surface...you could tell where the bigger fish were by the size/sound of the explosions!