I fly-fished a public pond during lunch today. Water clarity was not good. With the sun shining, I could sort of make out some rocks that were about 18" deep...barely. Water color is sort of a gray. Don't know where all that dirt came from…water was really clear there earlier this year, and this place is surrounded by acres of mowed grass.
I was hoping for some nice bluegills. I caught one small bluegill, one nice bluegill. I also caught 4 crappies…12", 11", a female I didn't measure but it was at least 11"…and a 14.5"!! Half-inch shy of a Master Angler Award!!! Dang! They were all beautiful fish, except the big one's tail was kind of ragged from fanning a nest.
I'm flabbergasted that I caught 4 crappies from that pond! I could probably count on one hand the number of crappies I catch out of this pond each year. It IS the same pond I caught (and released) the 14-incher from last year, though. Experience paid off in locating the crappies…but I'm sure there are other places in the pond that might have a few more.
I used a microjig for the first crappie and the bluegills. For the remaining 3 crappies, I set the microjig about 24" below an indicator.
Here's the first crappie, a 12" male White Crappie with the dark spawning coloration: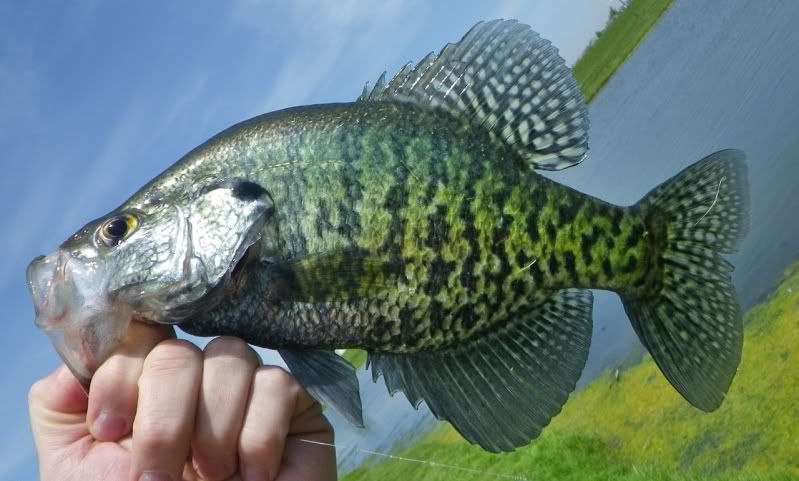 And then the 11" male (an 11" crappie in any of the public ponds is a NICE crappie, btw):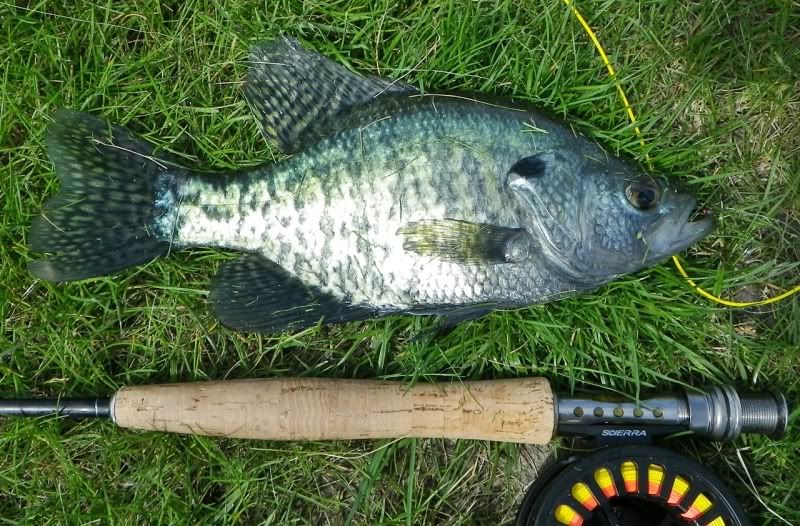 And then the lighter-colored female White Crappie:
And finally...the BEAST 14.5" male White Crappie: