I fly-fished at Blue Heron Lake this evening (5-15-2012) from 7:15pm-8:30pm (1.25 hrs).
It was a bit windy, but warm.
I started out using a Blue Thunder streamer. I cast near some large gizzard shad spawning in the shallows, and caught a crappie. I moved along the shoreline until I neared another spot where shad were active against the shoreline. There was a short section of a log in the shallows near shore. Wind-generated currents had deepened the water around the log. I made some casts around it, and ended up catching mostly crappies from one side of the log, and mostly yellow bass from the other side of the log. I did accidentally snag a large (10") shad there.
I switched to a silver Springbrook Wunder microjig and caught another yellow bass and crappie before deciding to move on. I moved down to a spot where the shad were splashing on a small point that had current blowing across it, parallel to shore. There was sort of a current line there, so I cast beyond the shad a ways, and started working the microjig in. I caught a crappie, then a bluegill, then a catfish! It may have been one of the smallest channel catfish I've caught on a fly rod, but it still put up a heckuva fight! I continued moving along the shoreline. I think I scared up some carp from the shallows, since I didn't see them before they saw me. I caught some more crappies, bluegills, yellow bass, and a tiny largemouth bass.
Fish totals for the evening were:
Here's the some of the fish...
Channel Catfish: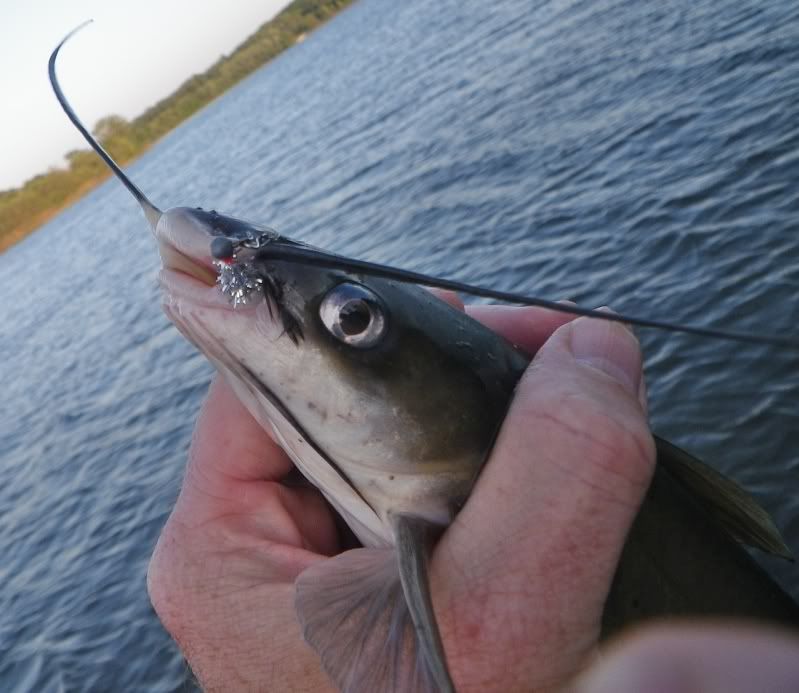 Yellow Bass: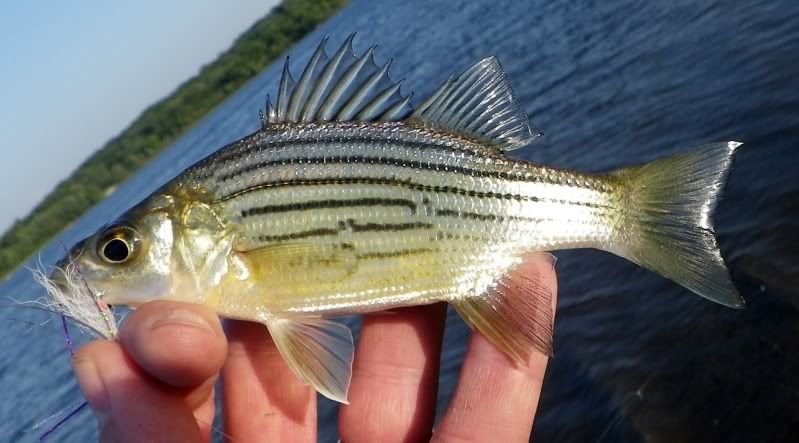 Yellow Bass are sort of colorful. They are a native fish to Iowa, often found in low numbers in rivers. Unfortunately they don't get very big, and have a reputation for overpopulating and ruining lakes in Iowa, which then must usually be drained and refilled to get rid of them. This lake is adjacent to a river, and the river regularly floods into this lake, so they are here to stay in this particular lake. I hope the other fish species can thrive alongside the Yellow Bass.