My wife and I went to Cedar Rapids, Iowa, Saturday evening to watch Jim Gaffigan (comedian) live. We spent the night, and I woke up early to flyfish McLoud Run, Iowa's only urban trout stream. I'd never fished it before.

The banks were overgrown with tall vegetation, and trees overhanging the water. Really NOT the most enjoyable place to flyfish. The stretch I fished paralleled I-380 and a paved bike trail on one side, and train tracks on the other side. At one point, my ankles and calves were swarmed by biting ants... Its not a big stream, but to avoid the ants and brush, I was soon wading the stream. Wet wading. Being spring-fed, the stream maintains a temperature of @ 55 degrees F year-round.... or so I've read. I believe it...it was cold! I managed, but at one point standing in deeper water, it became almost uncomfortably cold.

The stream is stocked in June mainly with fingerling Brook & Brown Trout, along with some catchable size Rainbows. Again, this is what I've read, but I can't easily verify it. I saw some nice fish of all 3 trout species, and some large suckers. What I caught, however, were smaller fish, including the Rainbows. Could there be some natural reproduction here?

The stream is Catch & Release Only, and Artificial Lures Only, so all trout could be holdovers.

Anyway, with my first 3 fish landed, I'd managed my first trout "Grand Slam", catching all 3 species. I ended with 1 Brown Trout, 5 Brook Trout, 7 Rainbow Trout, and 1 Creek Chub.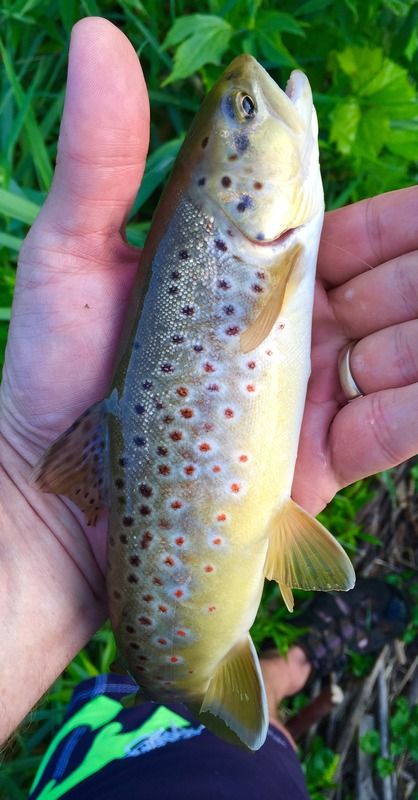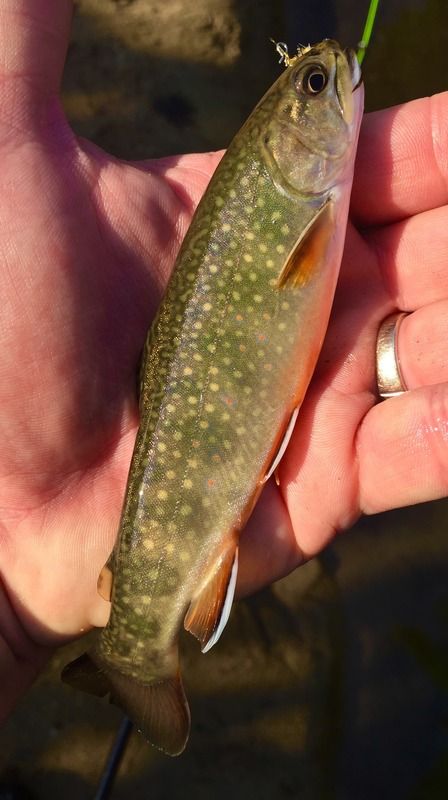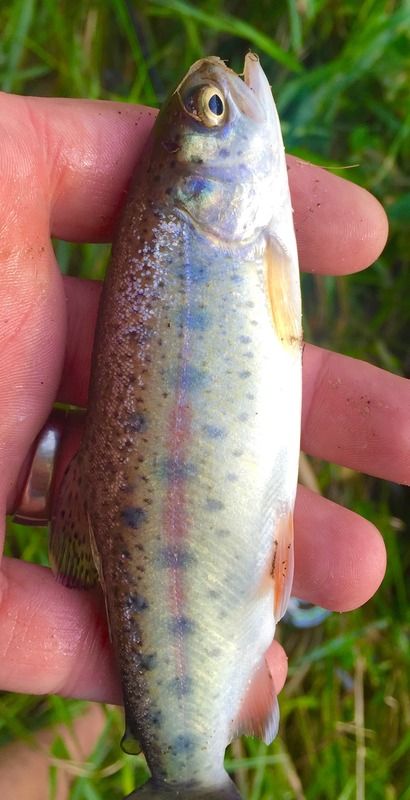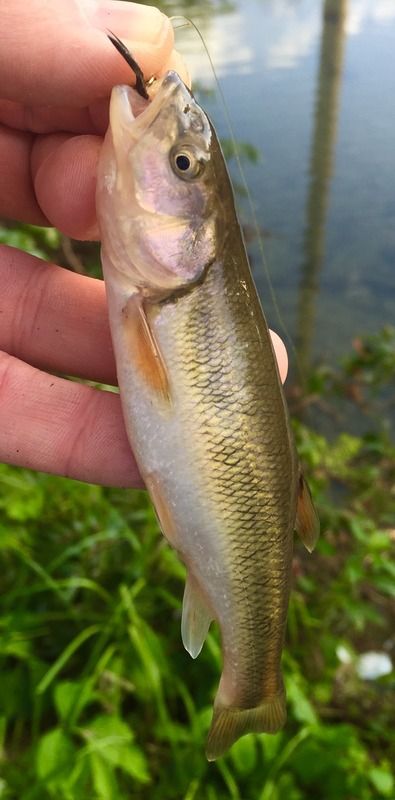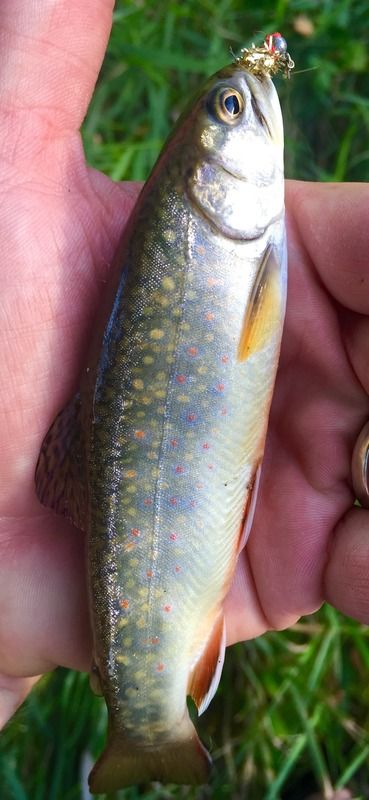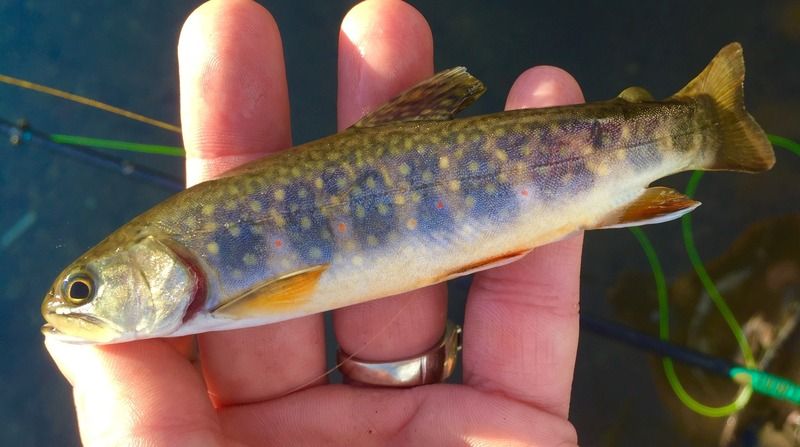 All were caught on a gold Springbrook Wunder (microjig)...no indicator.
And most of the fish came from faster water. I spent too much time fishing a single large pool with some decent fish visible. Some were occasionally hitting the surface. I drifted a beetle imiation through the pool a number of times with no interest from the fish. I tried a bunch of other stuff, and the only thing that seemed to get the fish interested was a beadhead Pearl Bugger. No strikes, but boy they sure liked to follow and look at that. Compared with ignoring my other offerings, I though I was onto something. Again....I spent way to long at that pool. It was the closest deeper pool to the parking area. Highest fishing pressured hole on the whole stream, most likely. I knew better, but was too lazy to move on. I had to get back to the hotel to pick up my wife before check-out time anyway.
Of course I almost never take a photo of the "boring" or "typical" stretches of the stream, but at least you can see something from these pics:

There's a line of big eletrical poles going right down through the stream in the section I fished. Fortunately, the poles anchor fish habitat in some spots.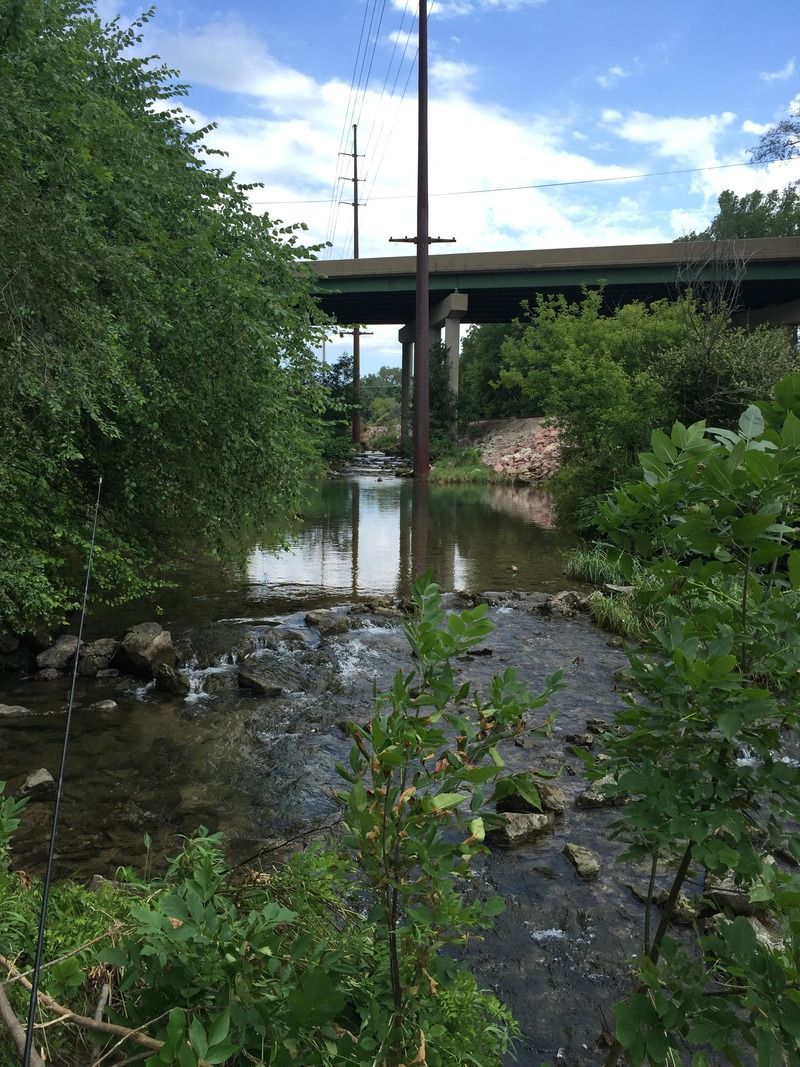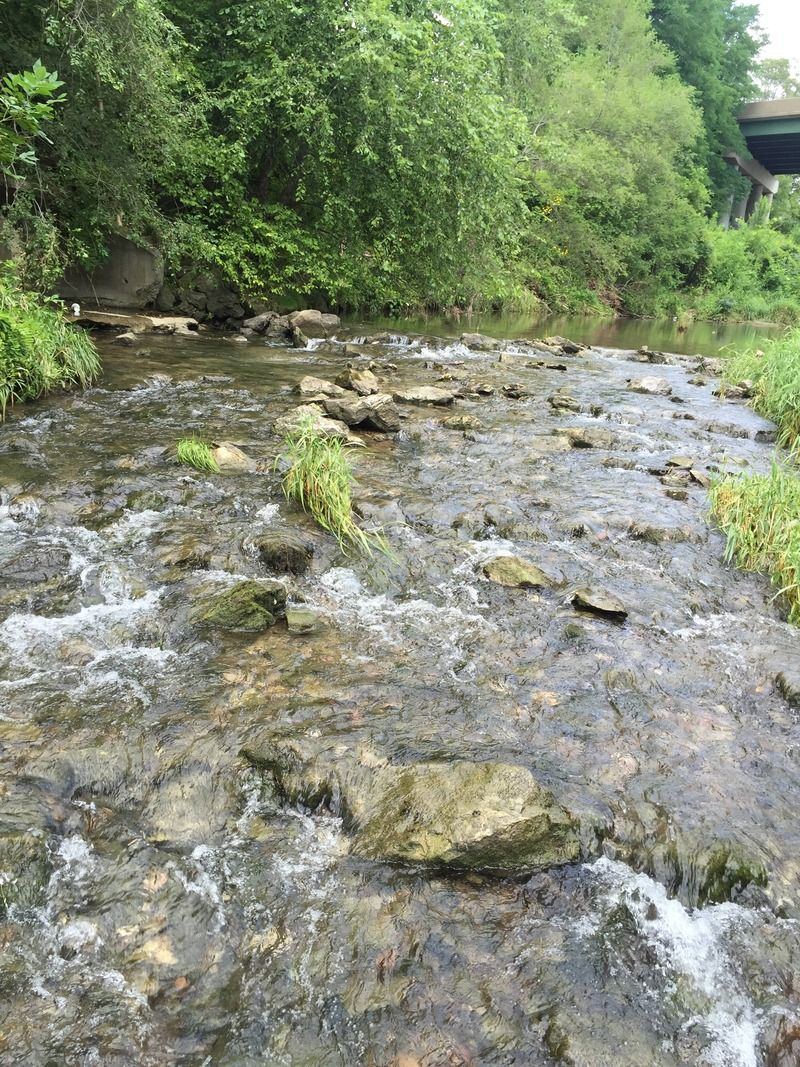 And below is the pool where I overspent my time. If you can zoom in, you can see a bunch of fish in the middle of the pool. Many are suckers, and some are trout.