I took the day off on Tuesday, June 3, 2014, to fish.
Winds were supposed to be quite mild (and they were), and there was a huge storm that was on its way, but wasn't supposed to arrive until nearly midnight. It showed up much sooner, but the worst of the storm missed us. The "up to 5" of rain" and "100 mph straight line winds" passed south of us. We didn't get much wind at all, and only 1/2" from a gently rain overnight.
I digress. My buddy Jay and I decided to fish together at Saylorville Lake. The first spot was supposed to have current, but the pumps creating the current were shut off maybe 45 minutes before we got there. If the fish had been attracted to the current like usual, they seemed to be long gone by the time we arrived. Jay caught a medium-sized crappie, I didn't catch anything.
We went to spot #2. There was current in this area, but apparently no hungry fish. There were several boats here, and other shore anglers, and NOBODY caught anything. I had 3 fish on, but didn't land any of them. Jay might have caught a small bass here...I can't remember for sure.
We hit up a Subway for lunch, then went to spot #3, where we had never fished together before. We walked a long stretch of shoreline, Jay fishing, me fishing occasionally but actually more interested in trying to find some native American Indian artifacts. I found none.
We made our way down to a bay that was connected to the lake by a very shallow sandy entrance. The bay itself was only 3'-4' deep, and had a few dead trees standing in it. Here I finally caught some fish. I only brought one rod (a spinning rod), and soon wished I'd brought my fly rod instead when I saw some hungry carp.
Using an inline spinner, I caught 3 Largemouth Bass (biggest measured 17"), and 2 White Crappies (the biggest measured 13"). The crappies and the biggest bass were caught in the meager shade cast from the few trees standing in the water.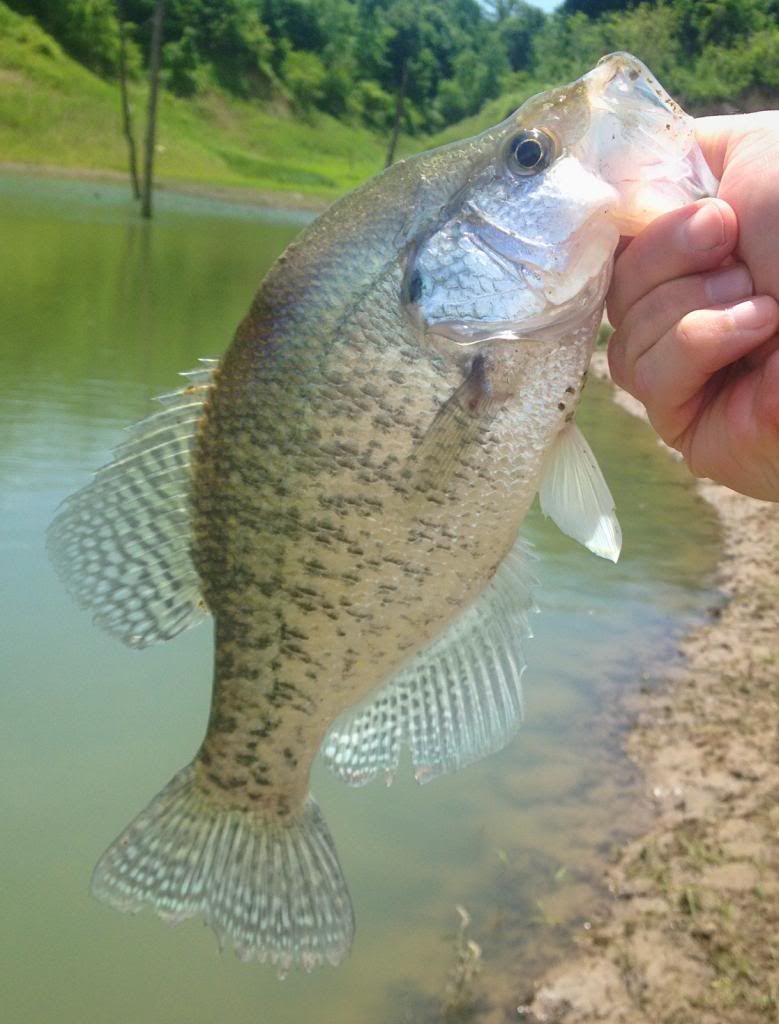 I also caught a bit much sun on the back of my calves and neck.
Jay caught a couple bass in the bay, and one smaller one out in the main lake.