One great benefit of membership in Central Iowa Anglers fishing club is the comraderie. Folks that you can talk fishing with incessantly, and NOBODY EVER gets tired of hearing more!
The December White Elephant party is ALWAYS a great time, and this year certainly followed that tradition. It was held at the Okoboji Bar & Grill restaurant in Johnston, Iowa. We had a good turn out, something like 30 or more members were able to attend.
Lots of laughter, good stories, swapping of fishing experiences, tips, and reports. The White Elephant Gift Exchange is really fun, but it is also just a small part of what really makes the gathering AWESOME. In short, its the PEOPLE that make it so great!
The following are pictures taken by CIA Member Ivan Brehmer. I'm using them here without his permission, but I don't think he'll mind. :) Since this is MY blog, I'm only including pictures that I was actually in. I'm the jolly dude in the sort of plaid shirt with glasses and seasonally fashionable start on my winter goatee. The fellow in the mustard-yellow sweatshirt sitting next to me is my buddy Jay.
I have no idea what we were looking at, but since I'm not the only one looking, let's pretend there really WAS SOMETHING THERE!
One waitress took care of all of us! She did good.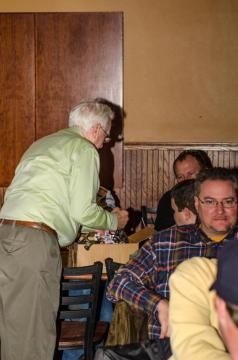 Dan Y. considering which gift to steal (no worries, its all part of the game!).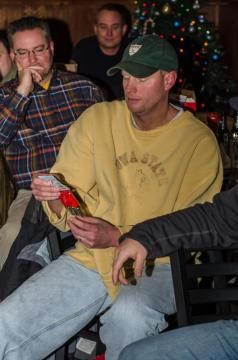 Jay wonders where people find some of this junk!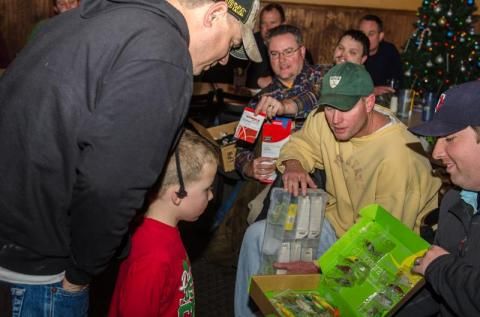 Nice guy that I am, I was trying to get our youngest member, Will, to get interested in the gift I had already gotten. It included a Scheel's (sporting goods store) gift card! I think he was more dazzled by boxes of LURES! I'm certain I would have been at his age too!
Matt G, unpacking the box of goodies he selected.
I lost track of how many times Nate tried to steal the gifts Jay had! They were good gifts, naturally!
It was funny, because last year I took a REALLY nice gift to the exchange...a Sage fly rod! And folks fought over it, even though a few of them didn't flyfish. That gift was brought back again this year by the person that won it last year, guess that decided they couldn't use it after all! It was one of the most popular gifts to "steal" once again this year! And the gift I brought this year, a Black Betty ice-fishing reel that I tried last season but didn't like, was also one of the most "stolen" gifts this year! Maybe it was because I put it in a Victoria's Secret gift bag? Heck, its no secret (pun intended) that some of the BEST gifts we get are the ones our wives bring home in those little VS bags! :)