I was trying to decide where to flyfish last night. I decided to try a nearby lake that had been stocked with trout in January. I never know what to expect at this lake. It can be tough.
I fished from shore from about 6:15pm until 8pm. When I arrived, it was sunny, 57 degrees, with a 10mph wind from the North. I fished a short section of the SW and South shorelines, where the waves were pushing into shore. The water was clear and high. I gave my Cabela's Hip Waders their maiden voyage. But, once I stepped off the shallow rocks along the shoreline, I was sinking into the soft sand-covered clay bottom, so I just stayed on shore. I was also using my new 9' 6wt TFO BVK rod, and Lamson Konic reel loaded with an Airflo 40+ line. That line casts really well, even into the wind!
I started out using a heavily weighted Chili Pepper pattern. I saw a couple small swirls down along the shore and tossed it that way. First trout of the year was a TINY little fella...The DNR doesn't stock them this small, typically, so I was wondering if there was some natural reproduction going on in this lake? Maybe...maybe not.
I made some casts towards deeper water, but wasn't getting the strikes I was hoping for. So, I switched to an unweighted black Woolly Bugger. I tossed that around in shallow water. I ended up landing a total of 12 Rainbow Trout, and had a few others come unbuttoned. Almost all the trout I caught came within about 3' of shore. I pulled at least 6 or 7 trout out of one small area. At first I thought maybe there was a slightly deeper hole there caused by wave action that was pounding a shoreline feature. Later, I walked over and looked. Nada. It looked just the same as everywhere else, so I can't explain why I caught so many fish from that spot. Must have just been my lucky night.
Trout #2 was bigger than #1.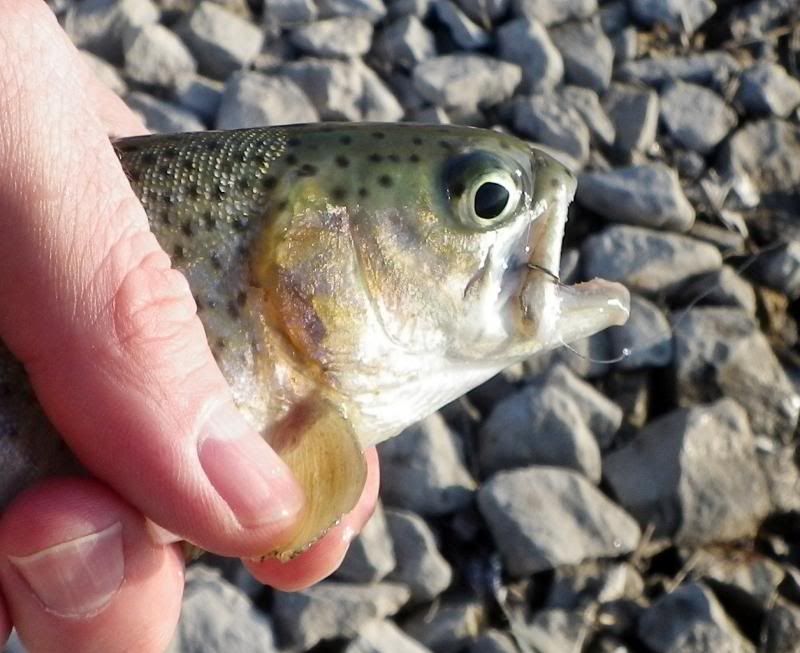 And a bit later, I liked all the spots on this nicer fish:
As the light faded from the sky, the wind died down, and the lake surface smoothed out somewhat. I could see fish hitting small bugs on the surface. I cast to some of these areas with that Woolly Bugger, and got a couple follows, but no strikes.
There was a gentleman fishing not too far away from me. He was using spinning/casting gear. It looked like he tossed some lures, but mostly was sitting motionless, so I assume he was fishing some sort of bait. I didn't see him catch anything...but I was pretty intent on catching my own fish to pay close attention.