While the season/weather conspires against me actually doing any flyfishing, I continue to tie a fly or two.
This past week, I went to a Michael's craft store to pick up some items for a project my son wanted to do. While there, I walked through the yarn section. They had the usual great selection of wool yarns...but the yarn skeins that caught my eye on this trip was their excellent color selection of Patons Bohemian Yarns and Martha Stewart Glitter Eyelash yarns.
The Bohemian yarns are a really thick, heavy chenille-type yarn. Some really great patterns that use this material are
Rich McElligott's Wonder Worms
and
Shannon's Streamer
. I have some white already, so although I turned an appreciative eye towards the other colors I saw, I didn't buy any. I think I might go back and remedy that this week, though.
I've never been a fan of Eyelash Yarns. I personally don't think their action is that good in the water for what I would use them for. On the other hand, I did see some pretty cool "bass jig flies" tied with the stuff, and it looks like that would be a perfect fit for this material. The GLITTER Eyelash yarn has a lot of mylar flash built right into it, and it started some ideas in my head, so I bought 4 colors:
I've only tied up a few flies with it so far. Here's what they look like dry: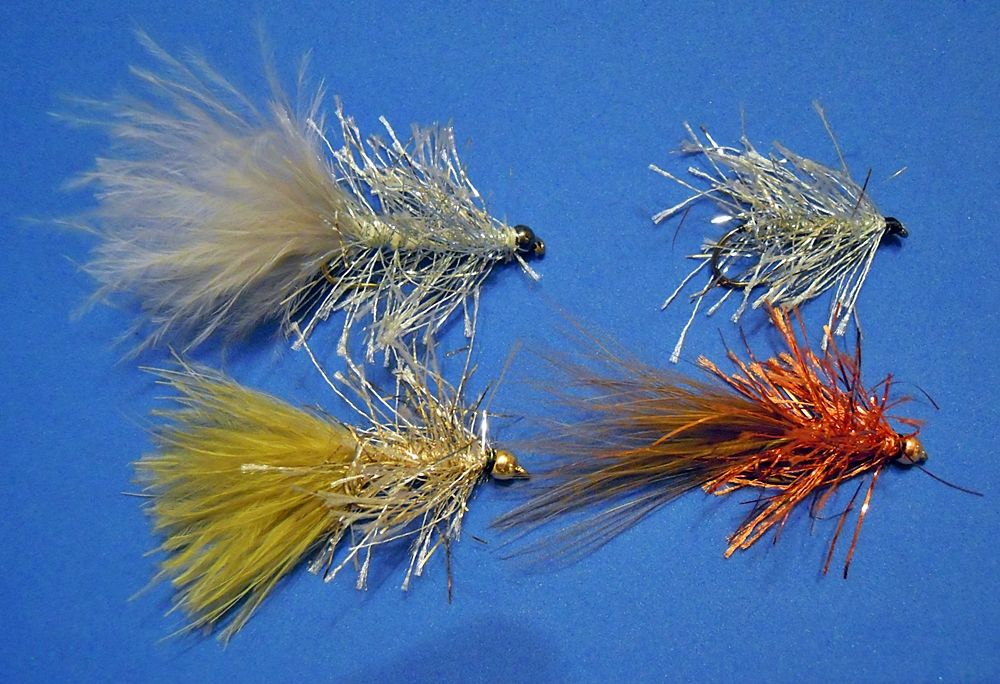 ...and here's what they look like AFTER getting wet: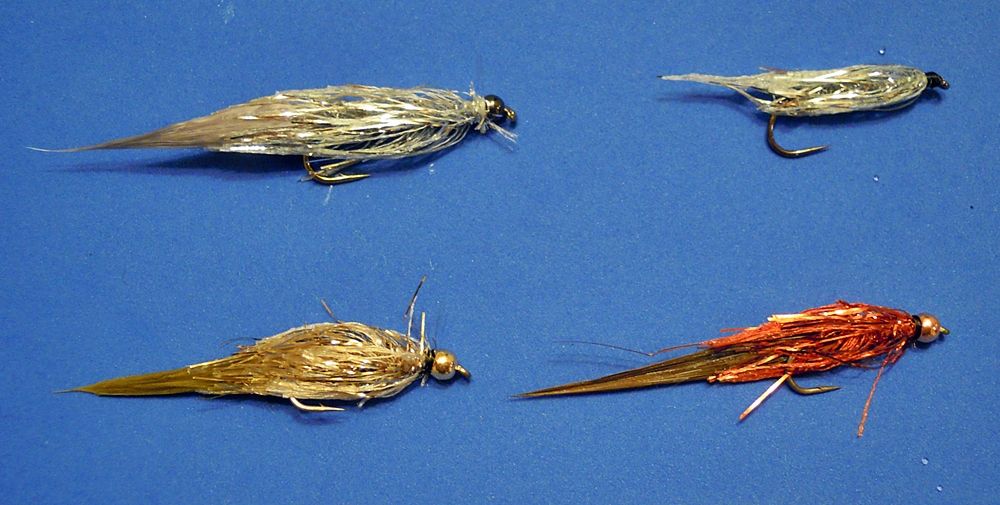 I like the wet look on these. I think they will be especially good fished quickly in still water...or in the river, since the current will help them keep a streamlined shape.
In the clearance yarn rack, I saw a single skein of a HUGE yarn called Loops and Threads "Festive Fur"....in an excellent chartreuse color. (To quote Left Kreh...."If it ain't Chartreuse, it ain't no use!"). This is a super-thick yarn that makes Bohemian Yarn look malnourished. I measured the Festive Fur...and it is 1/2" diameter when dry. I wasn't sure how best to show scale of this yarn, so I stuck a pair of my fly-tying scissors in the skein: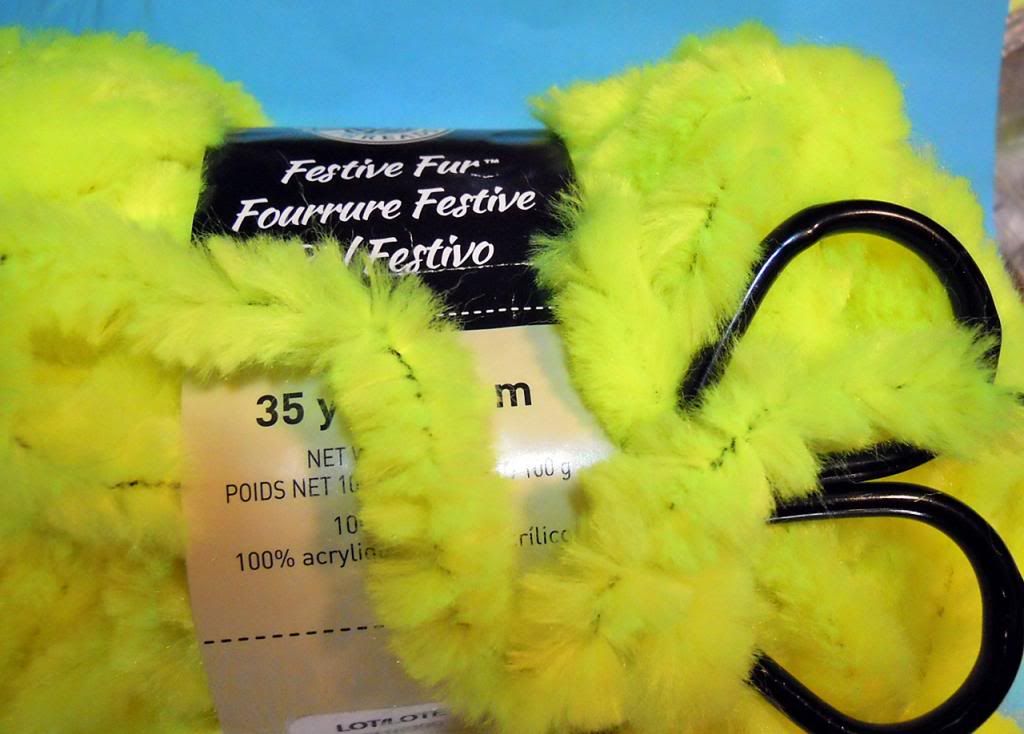 Its so thick...I envision using this for heads on baitfish patterns. It should really push a lot of water. I also tied up a furled-tail pattern that I hope fishes similar to a Senko. One problem is this pattern might be pretty heavy to cast once it gets soaked with water! We shall see. I'm hoping the bass will LOVE it! The smaller fly below...I hope is small enough to attract Crappies. It should work great after dark, when the fly pushes a lot of water making it easy for the fish to find at night.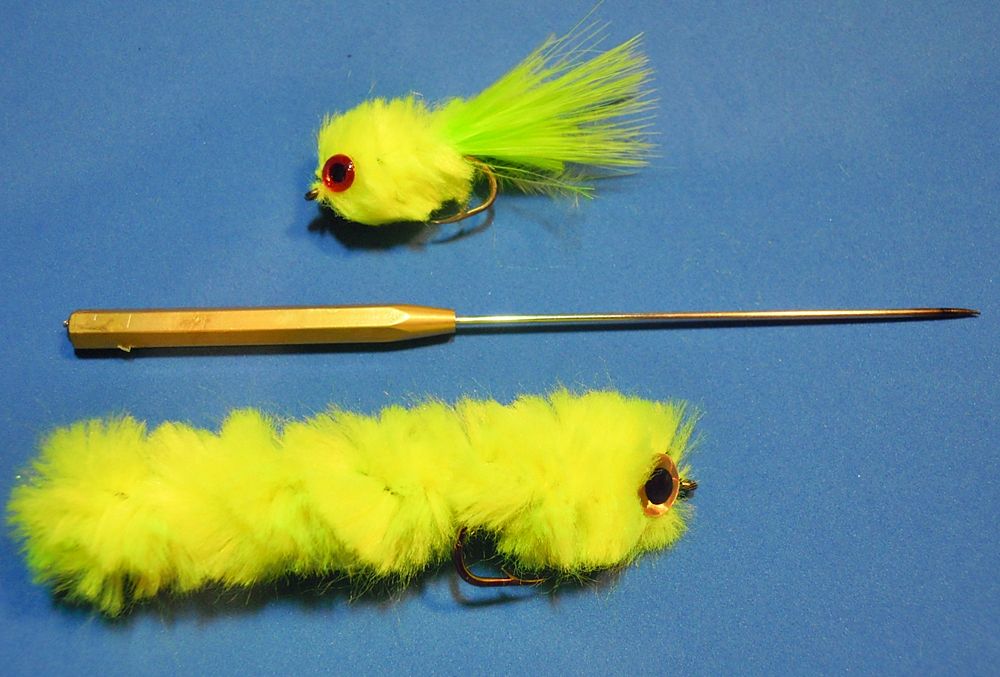 The color is perfect..it definitely lights up under a UV light!
I'm open to suggestions anyone might have on patterns to tie with ANY of these materials. For example, I think the orange-colored Glitter Chenille might make a decent body on a crayfish pattern...it already has built-in legs!