Ice-fished some brushpiles on a local reservoir on Saturday, January 5th. My buddy Jay joined me, as well as our friend Chris and his son Nathan, and another friend Jim. The ice was 9" of solid, clear ice, with just a dusting of snow on top in most places, and bare ice on the rest.
A Conservation Officer checked up on us, which was nice to see. He visited for awhile, hoping to see us catch something. We'd fished for over an hour before he arrived, and drilled plenty of holes over several brushpiles, but hadn't even SEEN a fish yet! I finally caught a Largemouth Bass before the Officer left us.
Jim was the last to arrive, soon after the Officer left, and located a brushpile that hadn't been fished yet this season (no old holes over the top of it), and he started catching fish. He called us over. He caught more fish. I caught a few Crappies up to 11", another bass, and a bluegill here. Then the action died.
Black Crappie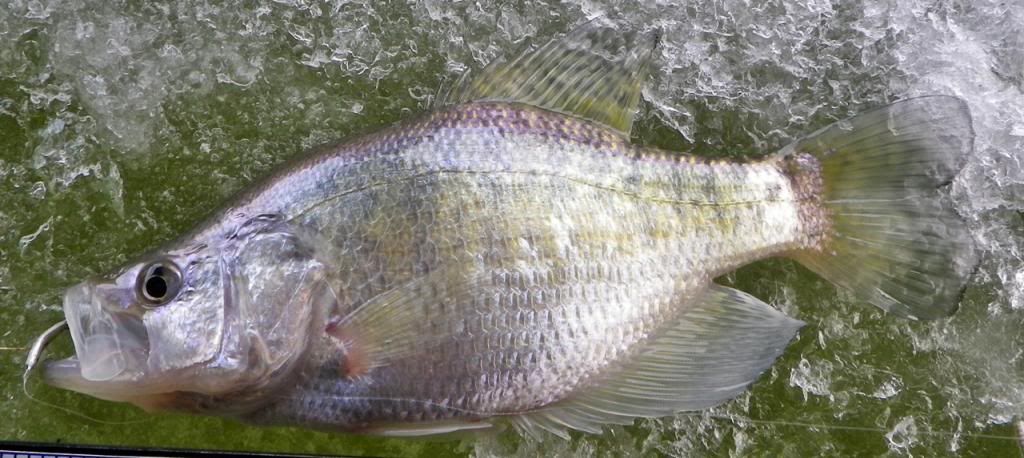 White Crappie
We drilled more holes around that brushpile, but no more fish were located. Eventually, Jim, Chris and Nathan left.
Jay covered a large area with his electronics, and located another brushpile that hadn't been fished yet. We were on fish immediately. I caught another crappie or two, a couple more bass, and lost a nicer bass just under the ice when it tangled in my transducer cable. The action here ended abruptly, just after both Jay and I had some huge 18"-2' of solid red (fish) show up, then disappear. Whatever it was spooked the other fish away. We couldn't find a single fish after that.
It was odd how few fish were on these brushpiles. Last ice-season, the fish were stacked on them.
I used only jigging spoons tipped with ice-fishing plastics (no live bait), and ended up with 7 Crappies in all, plus the 4 Largemouth Bass and 1 Bluegill. It was fun, but considering how much time we spent, the catching rate was not good at all.