Earlier this Summer I had posted a report on this blog of catching a couple Smallmouth Buffalo out of the river on flies. I LOVE catching new species on fly gear!
I had spotted a few Bigmouth Buffalo in a local public pond this Spring. I hadn't visited the pond for most of the Summer. I went there yesterday during lunch. It had rained the previous evening, and there was some current and clearer water flowing into the pond through a culvert.
I was absolutely astonished by the HUNDREDS AND HUNDREDS of Bigmouth Buffalo in this pond! Many were near the surface, lined up near the clear water current line. Many were in smaller pods of fish, moving around. They'd mouth near the surface, then turn and dive head-down for the bottom...and eventually come up again. Strange behavior.
I tried to take a picture of these fish. Hard to see in the picture, but very obvious in person.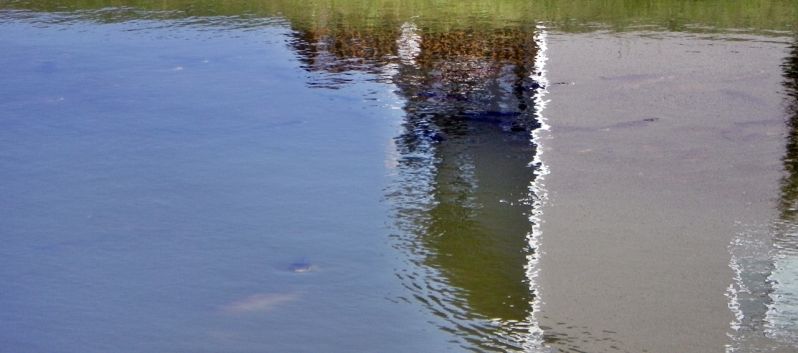 Bigmouth Buffalo are filter-feeders. They gulp water and strain out the plankton with their gill rakers. I've caught them on bait and on lures in the past. I've not caught any on flies yet, obviously.
I tried egg patterns, I tried small Woolly Buggers, I tried midge patterns...I may have gotten one strike, but it was subtle. Another time I suspected a strike, set the hook, and caught one! Turns out it was hooked in the forehead...but it was a good fight all the same. Technically...it counts as a fish since snagging these IS legal...but it doesn't count on my "Species caught on Fly" list. Took some pics anyway. I'd estimate it was about 24" long.
There was so MANY...I figure if I can discover a pattern / presentation they will hit, I could really have a great time Flyfishing for Buffalo on this pond!
Anybody have any tips or suggestions?