After flyfishing the Des Moines River recently, I decided to try fishing a different segment of the river. The area I most wanted to fish was a LONG trek upstream from the nearest parking area. Years ago, we used to catch Flathead Catfish there in the Fall...on LURES. That is what I hoped to try this time, and I convince my buddy Jay to go along.
Originally I had planned to take along both spinning gear and flyfishing gear. But I ended up paring down a bit and at the last minute decided to leave the fly gear in the car. This decision would pretty much preclude me from fishing for carp and gar. A poor choice, but one I'll live with. As it turned out, there seemed to be a gar population in one area we fished, and at one point during our trek I spotted a couple carp rooting in the shallows, and was able to walk right up within 6' of them and wave my spinning rod over their heads without spooking them. With the fly rod, those fish would have been about the easiest carp targets I've ever witnessed! Oh well.
During our trek upstream, we spotted a Bald Eagle, several hawks, Goldfinches, a number of Great Blue Herons, Great Egrets, Canadian Geese, and some sort of tiny shore/wading bird.
Although we spent a fair bit of time fishing the "Flathead Spot"...we didn't catch any Flatheads. I lost at least 5 lures. Jay had caught a small Wiper on the trek upstream, and added a NICE Bigmouth Buffalo (hooked in the mouth!) near the Flathead Spot. I eventually caught a Smallmouth Bass and at least a dozen small White Bass and one small Wiper there.
On our way back downstream, we stopped and fished some sandbar drop-offs, and several other "fishy-looking spots". Jay caught several nicer White Bass and a couple Channel Catfish...and I can't remember what else.
I caught 4 more Smallmouth Bass, more small White Bass, one Largemouth Bass, and a nice Freshwater Drum. I also had a Channel Catfish on my line that broke/cut my Nanofil line when it thrashed at the surface. All my fish were caught on an inline spinner.
All in all, a fun day.
The spot in the picture below looked great...rocks, a log, and current. I caught 2 Smallmouth Bass next to that log!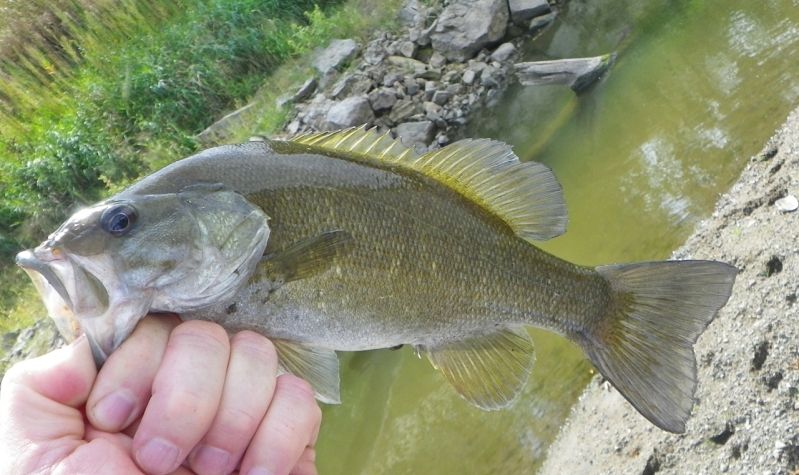 (this is the same fish, different angle):
I had just caught a couple White Bass out of one spot, when I got a solid strike, and then an awesome bulldogging and drag peeling battle. I was sure it was a nice Wiper. Turned out to be a decent-sized Freshwater Drum. Fantastic!
My last fish of the day was also the biggest Smallmouth Bass of the day. A great strong fight, it didn't want to come to the surface at all! It measured a good 16.5", and was very thick-bodied!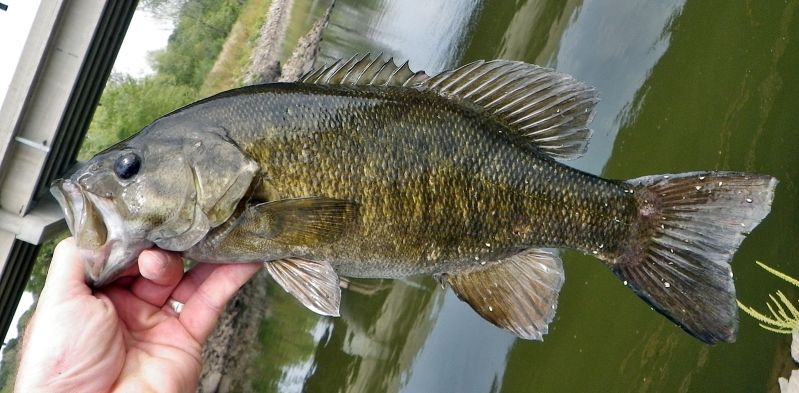 I ended up catching at LEAST 17 White Bass, one Wiper, 5 Smallmouth Bass, 1 Largemouth Bass, and the one Freshwater Drum. This trip pushed my "total fish caught for the year" to over 2,000. Hopefully there will still be many more fish caught before the end of December!