I created these, but they are sort of similar to some other patterns out there. I may do some tweaking, but overall I think they look pretty good.
Here's the situation. There's a super over-abundance of shad this year in our local reservoir. The water is MURKY. I needed a pattern to work through shallow water (< 5' deep) that the White Bass and Wipers (Hybrids) could easily see and (hopefully) pick out of a school of baitfish. I'd prefer a pattern that rides hook-up, since there are rocks in many of the shallow areas that attract fish.
Although the White Bass action is slowing on the local reservoir, I hope to try these out yet this season. With so much bait in the water, the gamefish are fairly spread out this year.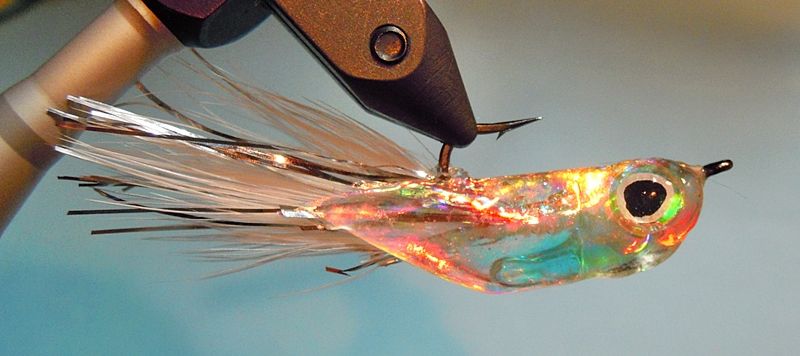 I have some material from a Christmas ornament or a fancy bow for a gift. It lights up like Mirage flash, but rather than being a thin cellophane or mylar type material, this is actually a thin, somewhat stiff plastic. I started with an Umpqua U502 hook in a size 4. After tying in the tail materials (white marabou and silver Flashabou), I fold a piece of this Mirage plastic over the hookshank, trim to shape, cut a slot to slide beyond the hook bend, and tie it in at the nose. Then I put some Clear Cure Goo into the body cavity area and hit it with the UV light. This holds the sides together in the slim profile of a shad. Then put a thin layer of CCG on the outside of the body, hit it with the light, then add eyes and cover those with CCG and hit it with the curing light one more time. I could probably put the eyes on before I do the outside CCG coating to save a step...but have a head that is a bit wider isn't necessarily a bad thing.
Anyway...the finished product really "lights up" with just a small amount ambient light, so I'm hopeful the fish will be attracted to it. White Bass and Wipers are notoriously attracted to "flash". With the CCG coating, it should be a very durable pattern.
Could possibly install a rattle in the body cavity as well!