I had about 45 minutes to kill while waiting for my son's activity to finish, so I stopped by a public pond in Urbandale, Iowa. Surprise! The City had rip-rapped the entire shoreline, and also did some minor grading work. I couldn't tell for sure if they had also dug out some of the shallow areas along the shoreline or not, since the water was rather murky.
I tried a microjig under an indicator. Had some strikes, but nothing hooked. Switched to a mohair leech with a tiny beadhead. Caught 2 bass and 1 bluegill on that.
-------------
After we got home, I went flyfishing at a public pond not far from my house. It had rained 3/4" the previous night...the first decent rain we've had in nearly 2 months! I wanted to see how much the fish activity had picked up. I found a small group of large fish working the shallows. I assume they were grass carp, but could have been catfish...or both.
You could tell where the fish were from the surface disturbances, but could only see the fish if they stuck a fin above water. For some reason, they seem to be able to see me MUCH better than I can see them! I stayed about 30'+ away, and made long casts to these fish.
Bill Trussel at "Fishing Through Life" (blog entry here:
http://btrussell-fishingthroughlife.blogspot.com/2012/07/experimenting-with-scent-attractors-for.html?utm_source=feedburner&utm_medium=feed&utm_campaign=Feed%3A+FishingThroughLife+%28Fishing+Through+Life%29
) recently posted about using fish attractants for flyfishing.
I wanted to see if adding scent to the fly would make any difference in my success on either Grass Carp or Channel Catfish. I had 2 old bottles of fish attractant...one was Chompers G garlic-scented attractant that I had bought years ago. I have a buddy that has excellent success using Chompers plastics for Largemouth Bass and Smallmouth Bass. Not sure if there is a shelf life on this stuff? The other bottle was just called "Bass", and supposedly had pheromones in it. One of my Sisters-in-Law had bought this for me a number of years ago for my birthday. Never tried it before. I put a little of each in separate small spray bottles that our optometrist gives us eyeglass cleaner in. These were compact and fit nicely in my fanny pack along with all the usual stuff I carry with me when flyfishing in the evenings.
I started out with a deer hair pellet fly. I had some good takes, but didn't set the hook on any of them. I couldn't tell WHAT was taking the fly. The fish were around, but it was starting to get dark. I chummed with some bread (the good, healthy multi-grain stuff!) to get the fish to feed near me. Several nice fish eventually worked the bread. I switched to a large white woolly bugger and swam it through the area. I caught one nice WIDE-BODIED 23" Channel Catfish on that (pictures below), and lost 2 more really nice fish that hit. Also caught 3 Bluegills and a Crappie.
I couldn't reach across this fish's back to lift it from the water. I had to use 2 hands! It seemed oddly short for its width....or oddly wide for its length. Healthy fish!!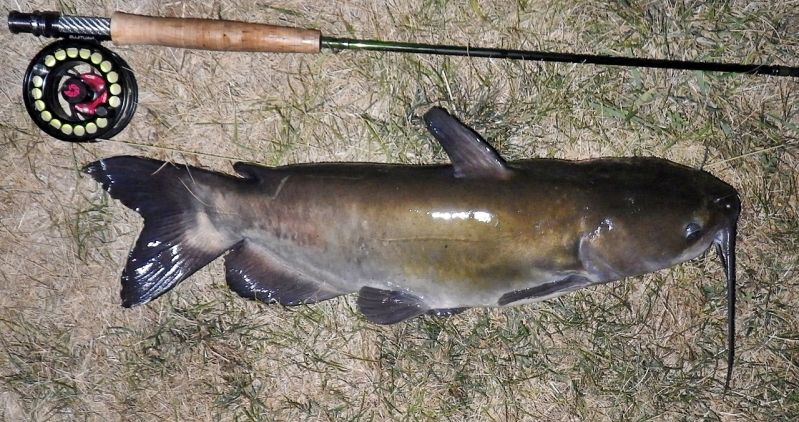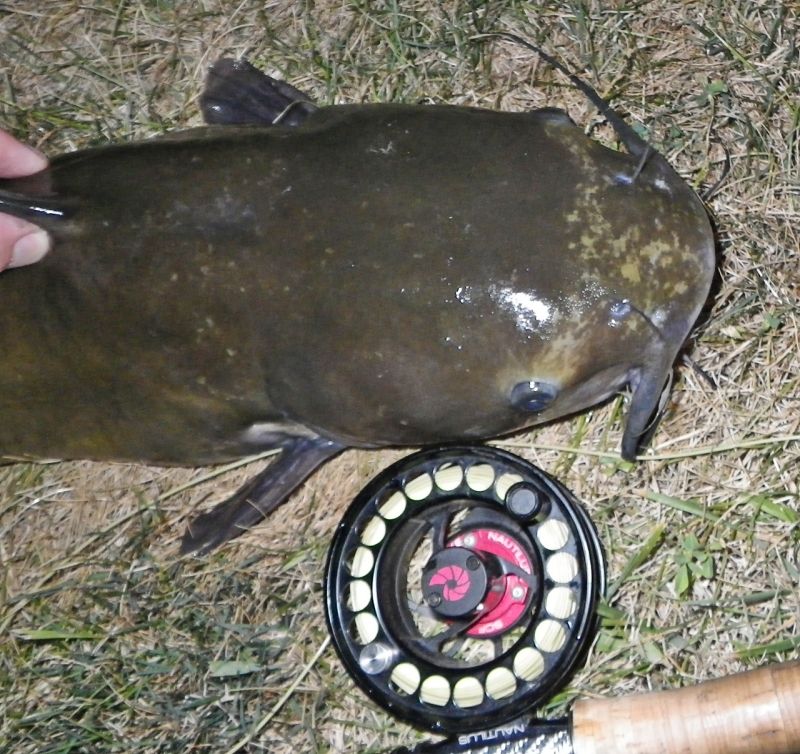 It was a really strange fight with this catfish. It went on a couple very good runs, but then always came back to the surface. It didn't seem to want to stay deep. Very unusual. Normally its a big struggle to get them to come up!
My preliminary assessment of using scent/fish attractant while flyfishing for catfish and grass carp is this: It bothers the "purist" in me. I don't enjoy using bait or live bait for fishing. In this situtation, I'm using artificial flies that I have personally tied, but they have a taste or smell to them. The distinctions are certainly debatable, but debating is not my goal here. I've caught catfish and grass carp on flies without using scent. I've seen what appears to be fish shunning my fly after getting close to it. What is putting the fish off? Could be my scent, so it is smart to try and conceal or cover that scent.
When I catch a grass carp or catfish from this pond, it is nearly always just ONE large specimen on a given evening. From the one evening's experience using scent/attractant, I'm not sure there is a lot of difference in my success. I landed one and had 2 others on the line, which would seem to be a bit of an improvement. I'll probably try it again and see what happens.