On a whim I decided to get out of bed earlier than I normally prefer on a Saturday...and go fly-fish for trout at a nearby lake.
Wind forecasts yesterday called for winds up to 15mph for today. I can do that. When I got up this morning, I checked the weather forecast again. They had boosted up the wind speeds again. But that was nothing compared to what REALLY was going on! By the time I got back home again after fishing, I checked to verify my suspicions...sure enough, winds from 24-32 mph!!! Cripes! It was brutal indeed!
There were two gents fishing when I arrived at 7am. One was fly-fishing. After I had been fishing for a bit about 100 yards away, I saw the fly angler catch a trout. He waved and started walking over. It was my friend Dale Gooding, fellow member of Central Iowa Anglers!
Dale had caught 2 trout so far, including the one I witnessed. He told me the shoreline I was working hadn't been producing, and invited me to join him. He showed me the pattern he was catching fish with, which was similar to what I was using. I'd been wanting to give him some flies I'd caught trout with at this lake in the past, so I brought out my fly box and picked out a trio for him to add to his fly box. I decided to work a bit more of the shoreline near me, which I did unsuccessfully, and then walked down to fish near his spot. I slowly worked down the shoreline away from him, making a half-dozen casts, then moving on. I missed a strike. Then had a big heavy take that quickly broke my line as I strip-set the hook. Darn!
I caught a couple fish on the olive & black beadhead woolly bugger I'd been using.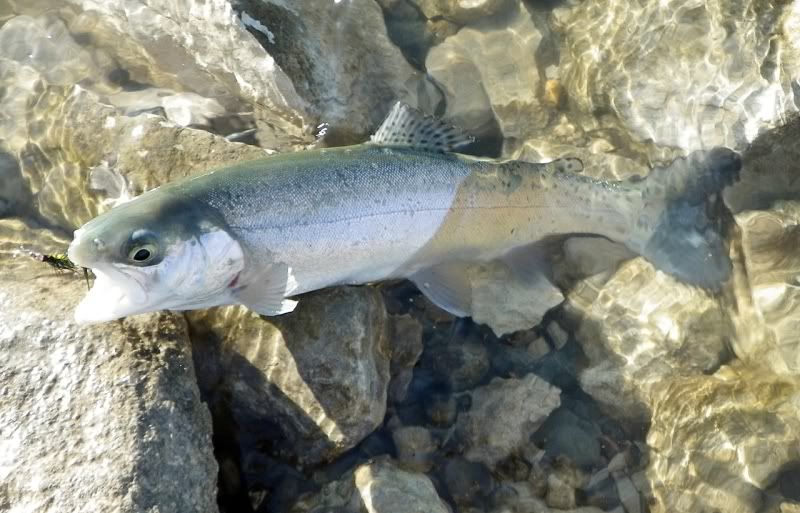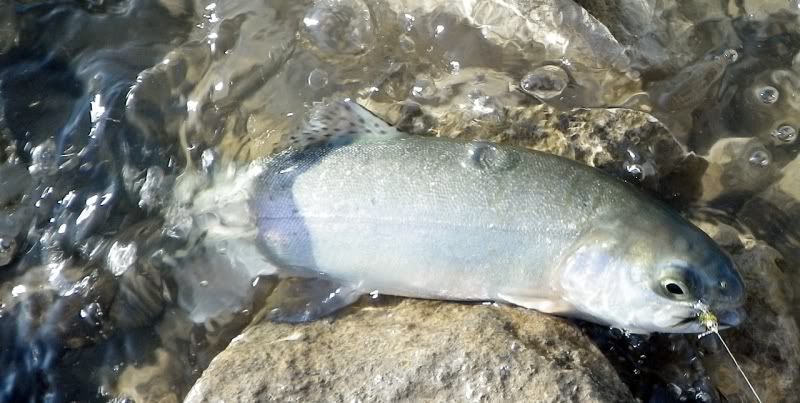 Dale caught another fish or two. He gave me a fly he'd tied that was working for him. Looked good, so I accepted it and put it on my line. Soon I was catching a few more trout. I ended up catching 7 trout on that fly, before it started falling apart. Not bad! That kind of abuse on a fly gives it that ragged "Badge of Honor"! Definitely a good fish-catching fly pattern!
Dale had caught & released 6 trout total, and decided to call it a day. Casting into that wind was a lot of work!
I was one trout shy of a double-limit (5 trout is considered a limit, but of course I was not keeping any), so I decided to stay a while longer.
I switched to an orange-n-black beadhead bugger. I found a good spot or two, and caught some nice trout.
This was the biggest trout of the day for me...very chunky!
I caught 5 before the new fly I had tied on (one that I had tied) started falling apart. I really need to reinforce the hackle with counterwraps of wire! I switched back to an olive-n-black beadhead woolly bugger, and caught 2 more trout before I decided to call it a day at 11am. I was BEAT! It had been tough fishing conditions, and the trout were willing to hit, but hard to locate. Plus our casting distance was extremely limited due to the strong winds. I ended up catching & releasing
16 rainbow trout
(that's a limit hat-trick plus one!), plus had long-distance releases on about 4 others, plus one broken line, and a bunch of missed strikes. All in all...a pretty fair day of fishing. I was happy with the results.
Thanks for the tips and the fly, Dale!