My friend Ben had a couple of fly-anglers (Mark and his wife, April) that he wanted to bring to one of the local public ponds for an evening of fishing. Ben is originally from Utah...Mark and April recently moved to Iowa from Washington State, where they fly-fished for salmon and steelhead in one of the larger rivers there. Pond fishing is still a fairly new experience for them. They took to it like....fish to water! :)
April has ideas and aspirations to maybe become another April Vokey (fly-fishing guide/author). Why not? ... same first name, similar passion for fly-fishing!
I met up with them at the pond around 6:30pm.
We were all catching Crappies and Bluegills. Not super-fast fishing, but relatively steady. It was windy and warm. Chartreuse microjigs seemed to be working the best.
There was occasional "big fish" activity at the surface... swirls or splashes. Not a lot...but some.
April hooked into a big fish, and the rest of us came to offer assistance as she fought it. The fish was landed, and April caught her very first Channel Catfish ever...on a fly rod! It was a CHUNKY 23.5" fish. Awesome!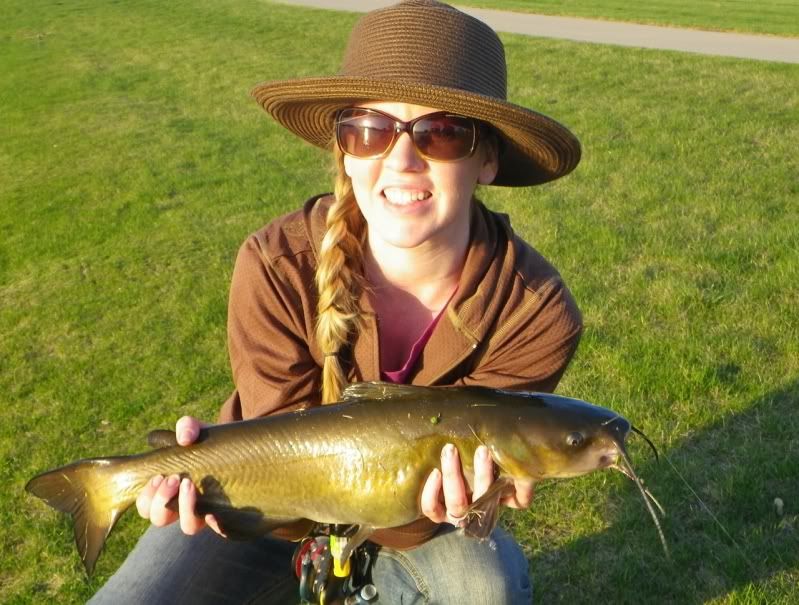 A little bit later, I hooked into a big fish as well. It put itself "on the reel" and did NOT want to come near shore! It was a really nice Channel Catfish too! I didn't measure it.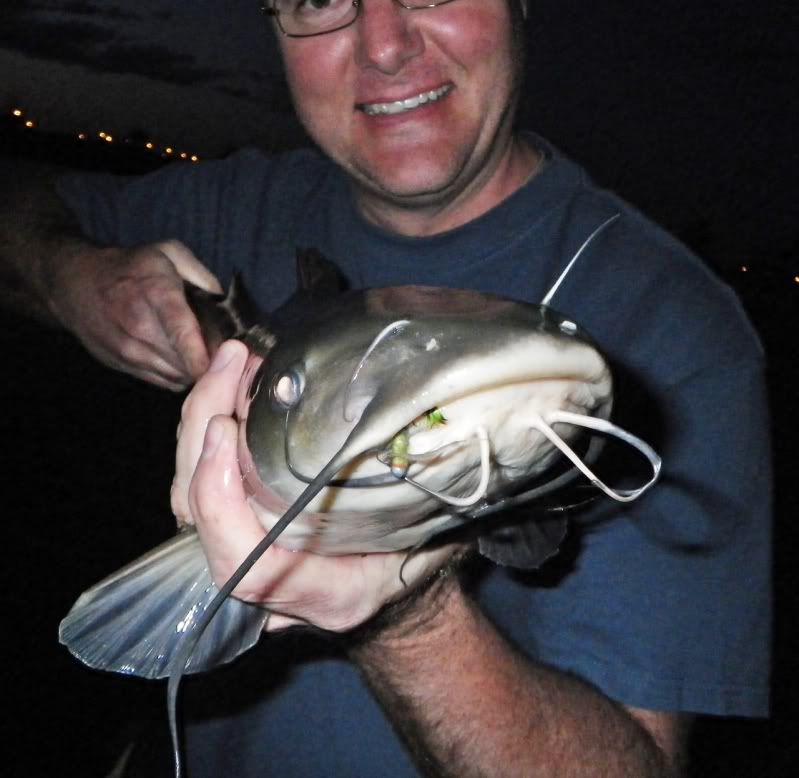 See the microjig?
Next I caught another bluegill (I ended up landing 5 Crappies and (at least) 15 Bluegills for the trip). Then I hooked what I thought was a much heavier Bluegill or Crappie. When I got it to shore (it was getting pretty dark by this time), I thought maybe it was a small Channel Catfish, which would be weird, since they aren't usually able to spawn successfully in these ponds. Turned out to be a 10" Bullhead! A "first" for me on the fly rod!
Bullhead on a fly rod...who woulda thought??
Very enjoyable night! Got to fish with Ben, met some new friends, caught a big fish, and a new fly-rod species!