I try to do this after each year, in hopes that I will remember SOME of what I thought I learned from each year's fishing adventures.
Here's some of the things I learned:
-Stream Trout. I had never fly-fished for stream trout before. I discovered that I really enjoy it. Too bad the nearest trout streams are a 3-4 hour drive away, and there is so many other good places to catch fish that are much much closer. Anyway, I learned at least one way to catch these fish. I used a large nymph pattern and an indicator. I fished pools, deeper slicks, and bank hides. I look forward to doing this again in the future, and start exploring more streams.
-Carp Riddle Solved. One behavior of local river carp that had perplexed a handful of local fly-anglers is when carp will line up along the shoreline or current break just beneath the surface. They often appear to be snacking on nothing, or maybe the foam that is floating on the surface. A variety of techniques were unsuccessfully tried on these fish. I decided to try fishing a nymph extremely shallow beneath an indicator to these fish. The belief was that the indicator would scare the fish away. Carp are pretty smart and wily, after all. Turns out it worked just fine. I'd fish the nymph just 8" to 18" beneath the indicator. I tried a variety of wet fly patterns, and all worked. I used a Thingamabobber, which is translucent like the foam on the water. After losing several fish to lines that broke at the Thingamabobber, I've decided to try a different style of indicator. I'm certain it will still work.
-Channel Catfish/Bread Connection. While attempting to improve my success with flyfishing for Grass Carp, I discovered that chumming with bread in the local ponds during the summer can be effective in bringing the catfish to you. Once they are nearby and feeding, you can often (but not always) be successful in enticing the catfish to hit artificial "bread flies" or white streamers.
-Channel Catfish and Streamers. I discovered that the "Jumpin' Catfish Nymph" works for catfish. I also learned that white streamers are very effective for Channel Catfish. I used white hair streamers in two situations...the "bread" situation in ponds that I discussed above...and when the catfish are chasing shad in a large local reservoir. I can't say it was the MOST effective method of catching these fish, but it DID catch some, and it was F-U-N!!!
-Walleye on Flies. Catching a walleye on flies was a goal of mine this year. I figured my best chance was during our fishing trip to Canada in the late Spring. Before I could get there, I "lucked" into one in Iowa while fishing a lake for sunfish from my kayak. I did end up catching something like 5 or 6 on flies while in Canada, both nymphs and streamers. And then I caught another one in a local river here in Iowa in the late Fall. How cool!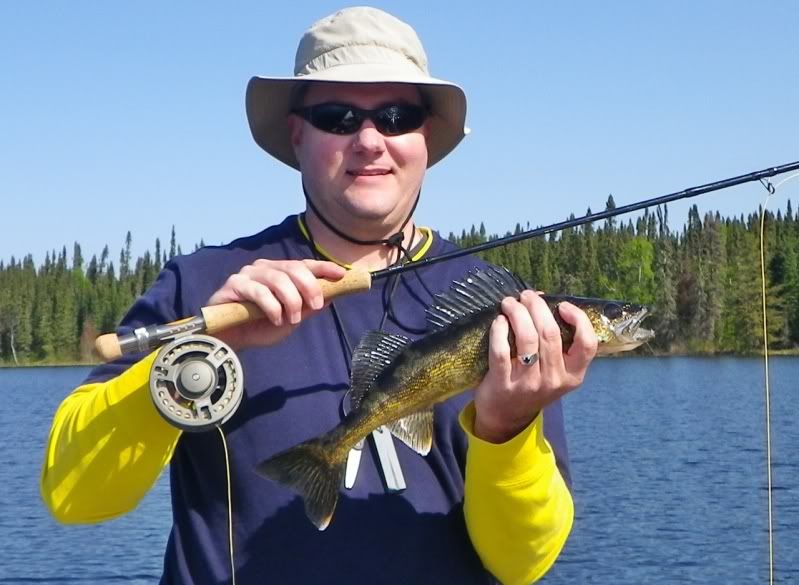 -Smallmouth on Poppers. I FINALLY tried fly-fishing a central Iowa stream for smallmouth bass. I'd caught smallies on fly gear before on a stream in Illinois, but hadn't really tried it since moving back to Iowa. So I went, during the middle of the afternoon of the hottest week of the summer, and the river level was about as low as it gets. I tried Clousers, nymphs and streamers. I worked at it pretty hard and landed a couple of fish, but it was TOUGH. I decided to try a popper. First cast had barely hit the water before I had a fish hooked. It worked really well, and I caught several more fish on it. And of course watching fish crush topwaters is always exciting!
-Stocker Trout. Weeks after the trout had been stocked in a local lake, typically the trout get hard to catch. I took a day off work and tried to see what I could get to bite. I had solicited suggestions on my favorite fly-fishing website. One suggestion was to try the "Blue Thunder" streamer. I tried a few other patterns first with less than satisfactory results, then tried this streamer. It worked GREAT! I've used it a few times since, and it can be hit-or-miss...but it is certainly worth trying, and plus its a fairly easy and good-looking streamer to tie.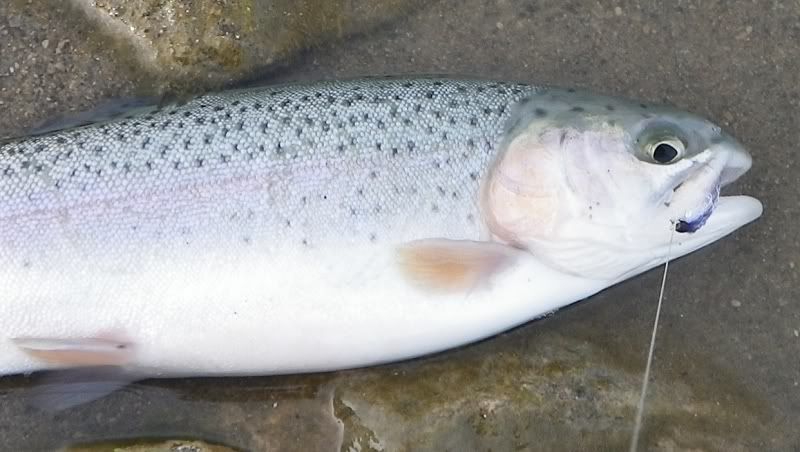 I also caught my first stocker Brook Trout, and learned that I REALLY like these fish! Its not that they are much different than catching a rainbow trout...but they are a Char, rather than a trout, historically native to Iowa, and such a colorful fish.