On Sunday, January 22, 2012, I finally made it out fishing. It had been over a month-and-a-half since I'd been fishing, which I think is the longest non-fishing spell I've had in the last 6 years! Mainly to blame was the weather, which couldn't decide if it wanted to be Winter or not. But at last, we had reasonably safe ice for ice-fishing.
My buddy Jay and I planned to meet up at a local public pond. I arrived first and started drilling some test holes with my new Strikemaster Electra 2000 electric auger. The ice was a good 6" thick everywhere. As I walked back to my car to retrieve the rest of my gear, my friends Ron and Jim were waiting in the parking lot. Awesome! This particular pond has some pretty nice bluegills in it, plus I caught-and-released a 14" crappie and 27" channel catfish here in 2011. There aren't a LOT of fish, but the potential for a nicer-sized one is fair. The tough part would be FINDING them, so I was happy to have all the help I could get! Jay soon arrived as well.
I drilled areas where I hoped to locate fish. There were a lot of fishless holes! One of the first holes I tried fishing got a few "lookers", but they wouldn't strike.
First, I should say that I had made a decision to NOT use live bait during this ice-fishing season. I would try fly-fishing flies, plastics, and even scented plastics like Gulp! or Powerbait....but no minnows, waxworms, or maggots. Why? I dunno, I just wanted to challenge myself, and work more on "fooling the fish instead of feeding the fish".
Anyway, I drilled a lot of holes, fished a lot of spots. Most places were fishless. A few spots had fish, but they would look, smell the Gulp!, and SPOOK! This went on for several hours. Ron and Jim eventually left. Apparently Jim managed to find some fish and caught a fair number of Bluegills. Ron wasn't as fortunate. Jay had caught 5 bass using jigging spoons. I was skunked.
I moved back to the main basin of the pond and searched holes we'd already drilled, looking for fish. And I drilled some more. One hole I was checking had some "used" waxworms laying on top of the ice. I picked 'em up. I moved to the far end of the pond, where none of us had yet fished. I tipped a 4mm tungsten jig with one of the waxies, and caught 2 bluegills. HOORAY! I wasn't skunked!
Jay was exhausted and decided to head for home. I fished just a little longer, then decided to head to a 2nd public pond not far away.
When I arrived there, one other shack was on the ice. They left after about an hour. I drilled some holes in areas that typically held fish during the winter. I wasn't disappointed. I used up the other two "used" waxies in catching 2 more bluegills. I kept the same jig on, and tipped it with a Gulp! maggot. This worked pretty well. I also took a Powerbait Honey Worm (Honey Grub?), a sliced it longitudinally into 3-4 thin strips. This also worked well.
I ended up catching at least 16 bluegills here and 2 bass. One bass was small, the other one was at least 15.5". I hooked it on my wimpiest rod, and it peeled drag a bunch of times and fought for a long time. THAT was fun! I ended up calling it a day before it got dark.
Here's the little bass: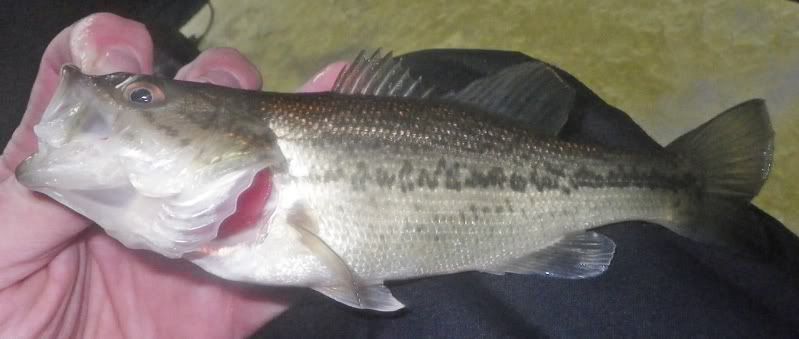 And here's the bigger one: