I did exhaustive homework and research, trying to locate a decent Redear Lake in Iowa. There are historically reliable lakes known to have good Redear populations, such as Ahquabi, Belva Deer, and a fair number of other lakes. I checked the most recent fish survey data on the DNR website, as well as the Master Angler submissions. In doing so, I discovered a lake I had not even heard of before, although its been around a long time.


Jay and I visited the lake Tuesday-Wednesday...June 14-15, 2016. We rented a small cabin ($55/night) that had a great view of the lake. It was air-conditioned, had a microwave, and could probably sleep up to 6 in the 4 available beds! Outside the cabin was a firepit, a grill, and a yard hydrant for water. about 20 steps away from that was a very clean, lit outhouse-style toilet supplied with toilet paper. Further into the campground is a showerhouse with flush-toilets and sinks. What's not to like??


The water clarity was good. We could easily see down 4-6'. There are lots...LOTS of flooded trees everywhere in the lake. The lake is nearly overrun with Chinese Mystery Snails and some sort of non-native (?) clam/mussel. About 7 years ago (according to the very helpful and likable Conservation Officer, Scott, the DNR stocked Redear Sunfish, saying this lake would be the cat's meow for Redears soon. Indeed! We got to the lake, and hadn't even launched our kayaks before I'd spotted a dozen or so Redears and managed to catch one! Now, the Redear population isn't like that around the entire lake...just in a very few choice spots, unfortunately. And with the clear water, I'm sure they get HAMMERED during the spawn!


The Bluegill population is pretty solid as well. The biggest I caught was a 9.75" female. It was very difficult to keep the bluegills and small bass away while fishing for the Redears.
There's also a decent catfish population, enhanced by annual stockings. I caught a small one, Jay saw some nicer ones swimming around the rock jetties.


The bass...there sure are a lotta small ones! There's a 15" minimum length limit for the lake. I saw a couple that were around that size, and one giant one that was probably 19"+++. A guy staying in the cabin next to ours fished all night using small live bluegills for bait...he said he caugth 4 nicecatfish and one HUGE bass...he said it was probably 7 lbs. Thankfully, he released it.


Back to the Redears...The highest concentration I saw was right next to the dock by the boat ramp. But they were notoriously uncooperative. There was one in particular that was considerably larger....I really wanted to catch it to be able to measure it, but it wasn't interested in my plans. I caught 2-3 from that area. I think I could have caugth more before we left, but the small bluegills and bass would swarm over the tops of the Redear nests whenever I'd drop a fly there. It was ridiculous. Even when I could get the fly down finally and the Redear seemed interested, it had to then put its attention back on chasing the little bluegills away instead of investigation my fly further.


Waah waah waah. I complain about it so it sounds horrible and difficult. But its just fishing.


We saw Redears scattered around the lake. From an experience on our last day, I wonder if I didn't get close enough to shore to spot even more nests. There was an area I fished on Day 1...caught the biggest Redear there (it was almost right at 12", but I photographed it on the measuring tape in my kayak's side-tray, and the fish was too big to lay flat, so even bent, it was 11.75", so that's what I'm going with...and it weighed 1.45 lbs), and saw one other Redear that wouldn't bite. And plenty of bluegills around there. On day 2, I fished that area again. Couldn't get the big one to hit, but did catch the other one. After catching lots of bluegills again, I decided to move, but let myself drift in even closer to shore before paddling my kayak back out. Suddenly I could see about 6-8 more Redears on nests that I hadn't been able to see before!! I dropped the anchor, and started catching Redears! Even then, I suddently was able to see one larger one that I hadn't seen for the past hour or so. Tossed a fly at it and caught the second 11+ incher of the trip.


Close your eyes and ears, flyfishing purists. I deplore the use of live bait for a number of reasons...but having read that Redears have a great sense of smell, and more likely to strike live baits, I took along some nightcrawlers and waxworms.


That being said, the biggest one was caught on a fly-only...a purple leech with a pink glass beadhead. I also caught a couple on an unbaited Briminator (size 8, the original version that uses a single pheasant feather).


On day 1, I caught 2 Redears on fly-only, then tried tipping with nightcrawler or waxworm and caught 2 more, including a Hybrid.


On day 2, I probably caught 2 on fly-only, but caught 7 others with the Briminator tipped with a waxworm. Tipping with a waxworm seemed to help. I could see it better when the Redear would suck in the fly...and the white waxworm would disappear.


Speaking of which..technique. There were exceptions, of course, but by and large the best technique was to cast beyond the Redear nest, swim the fly back over the nest, and the let the fly drop straight down onto the nest. Just let it set. If the Redear didn't react within 20-30 seconds, you could try shaking the fly or dragging it slightly. If they were going to react, they usually would by then. If not, it didn't matter what you did, that fish wasn't going to be caught that day!

Redears are not Bluegills...The bluegills would chase flies all over the place, but the Redears wouldn't. I had to target individual Redears...simply swimming a fly over a series of Redear nests wouldn't get any attention.


Now the pictures:
Here's the Briminators I tied...really great fly, the fish loved 'em: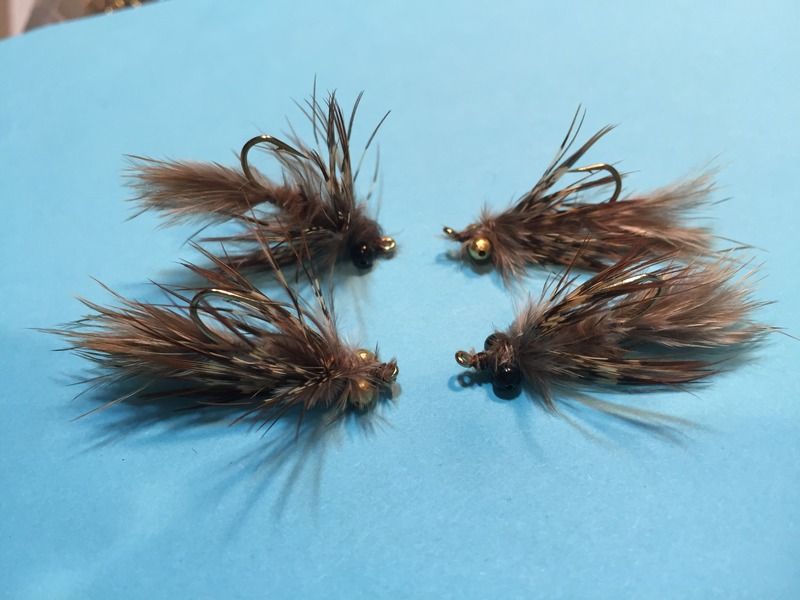 Briminator
Here's the 11.75-incher: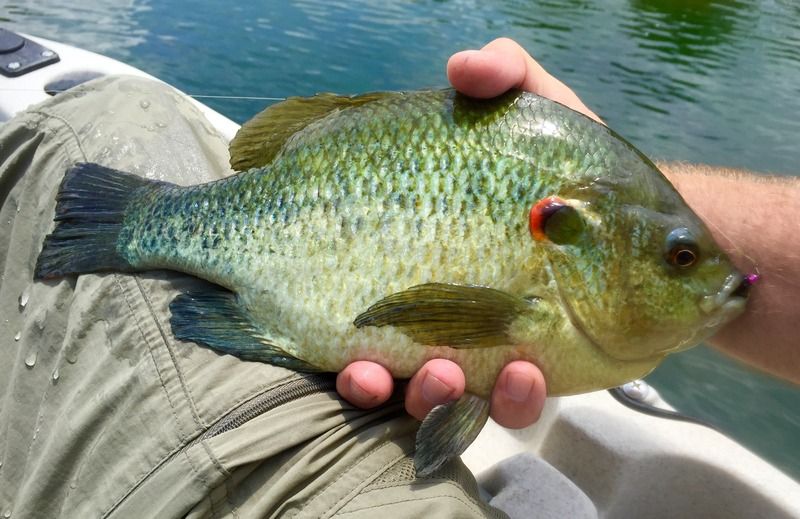 Redear Sunfish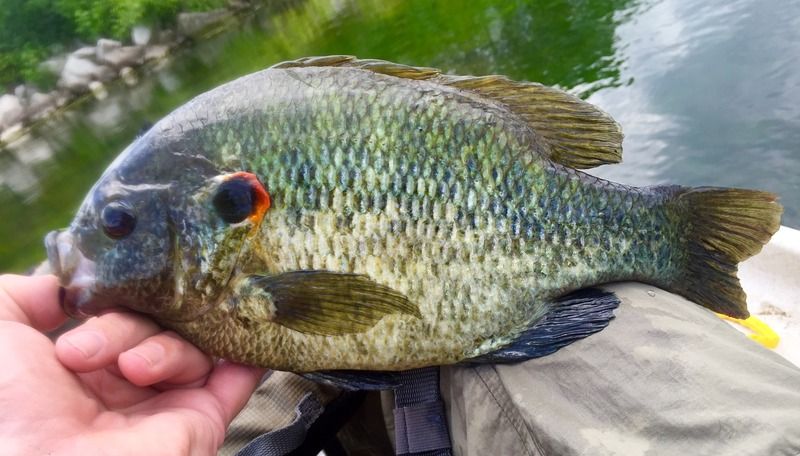 Redear Sunfish
Here's the 11 1/8" Redear:
Redear Sunfish
And some 9"-10" range beauties: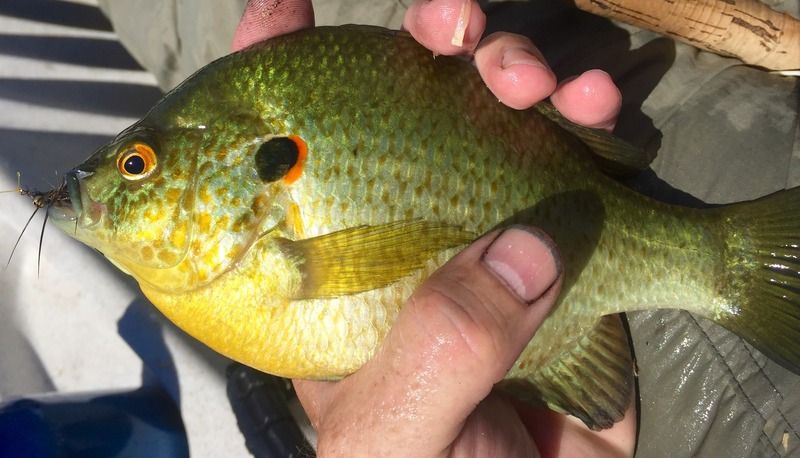 Redear Sunfish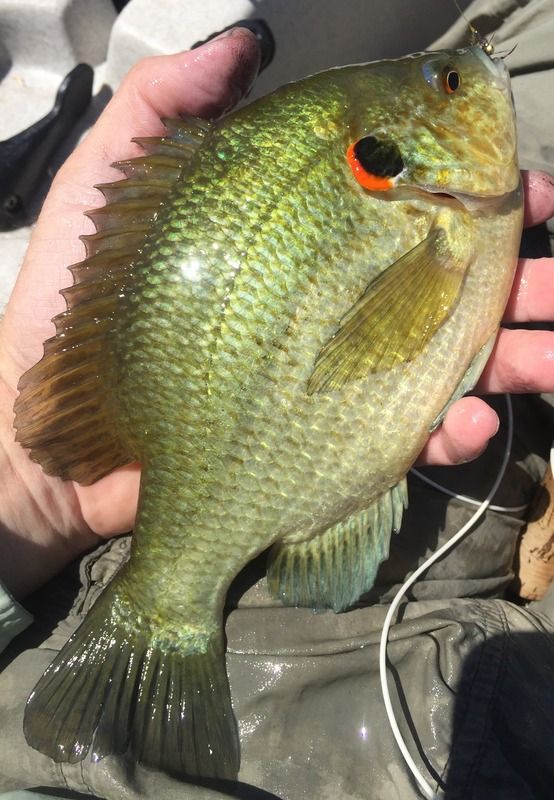 Redear Sunfish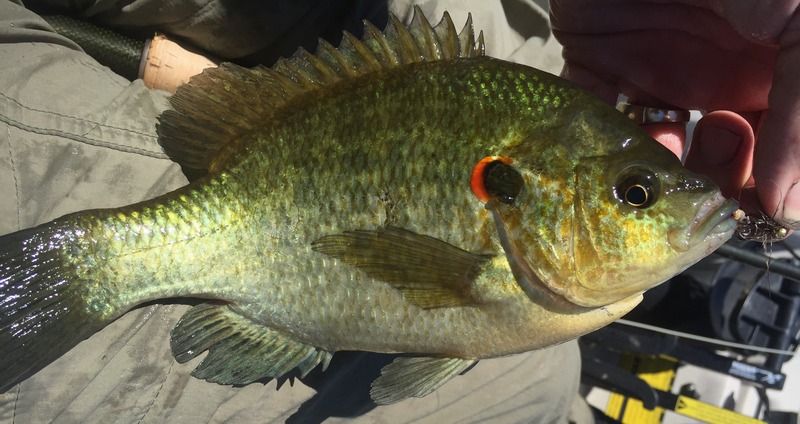 Redear Sunfish
Redear Sunfish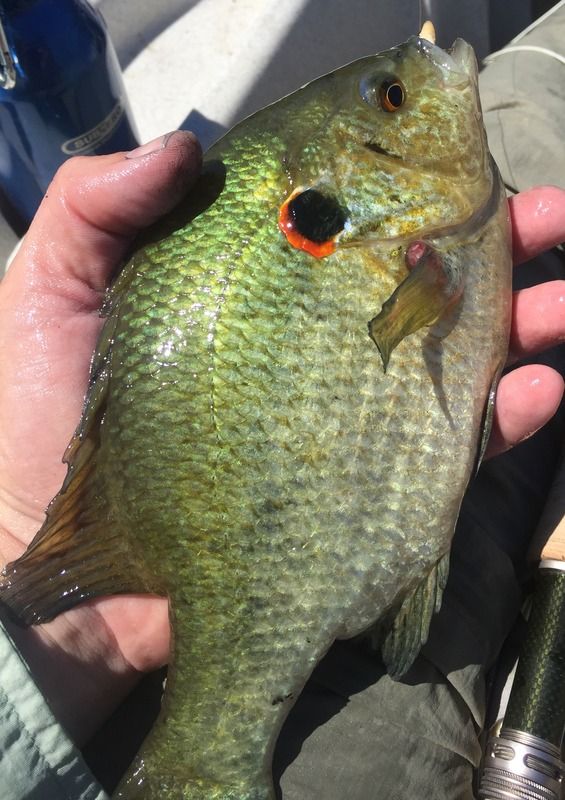 Redear Sunfish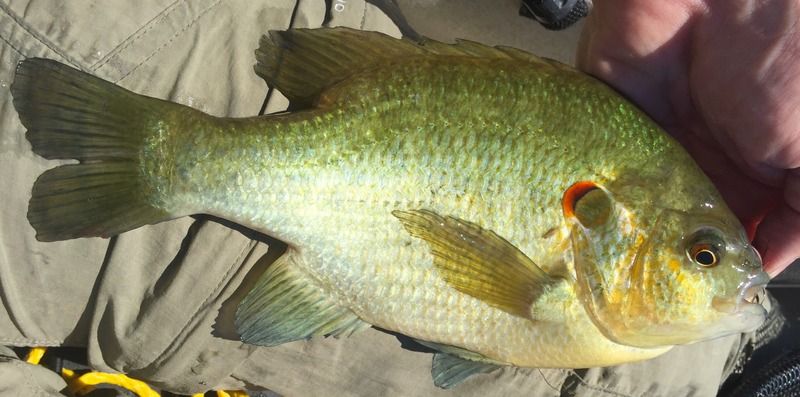 Redear Sunfish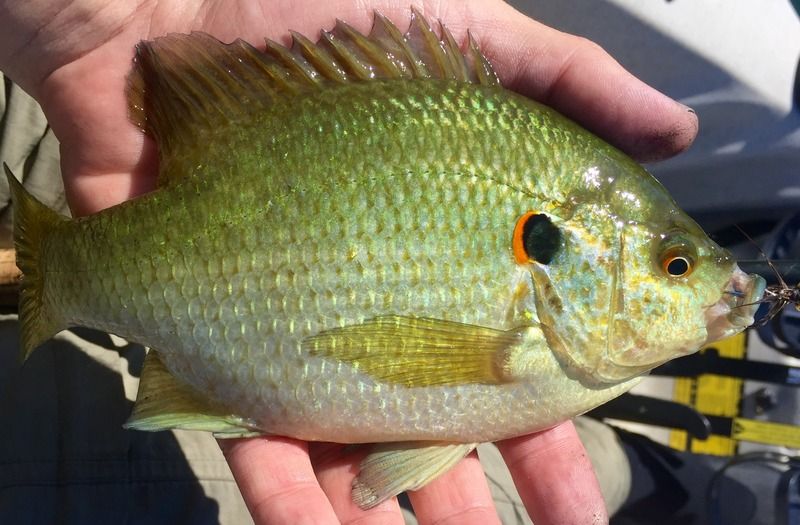 Redear Sunfish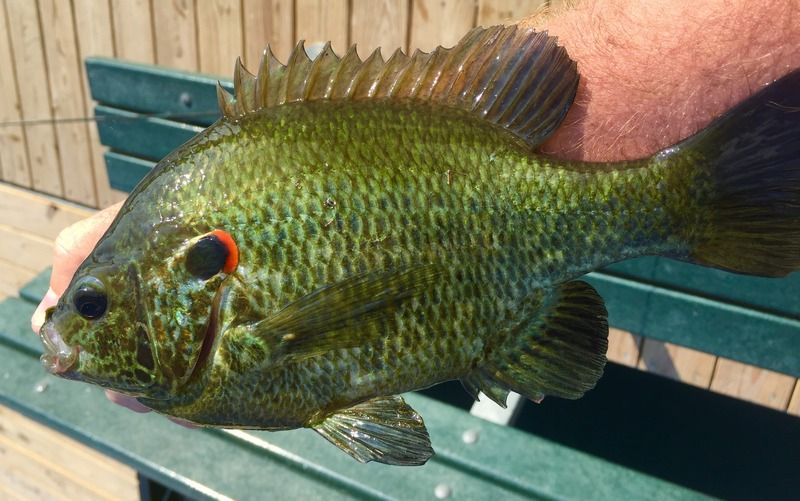 Redear Sunfish
Here's a couple Redear x Bluegill Hybrids (I'm guessing):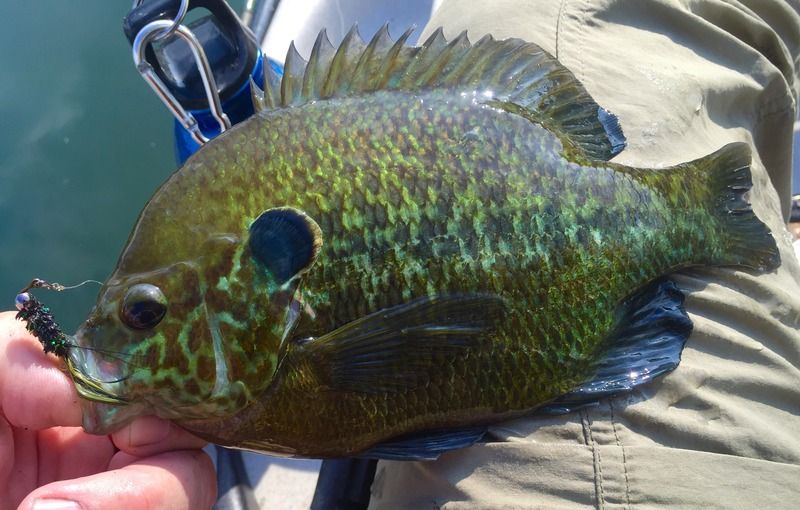 Redear x Bluegill Hybrid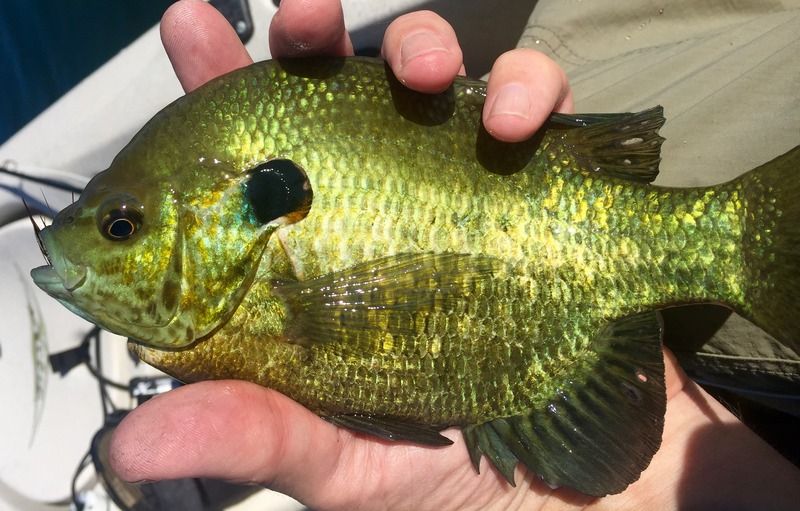 Redear x Bluegill Hybrid
It was a good trip! We vacated the water once for an hour due to lightning, and got a few drops of rain...but otherwise the weather was a good as we could have hoped for, despite the heat.