As I've mentioned numerous times, I live in a fast-growing town of (currently) ~50,000 population. At last count, there are 30+ public ponds scattered throughout town. I've gotta say....its pretty awesome!
I usually try many of the ponds each year at least once, and then revisit based on how good the fishing is at that particular pond, what fish species it has....and how close it is to my home.
Yesterday, my flyfishing friend Chad told me about his results from flyfishing one of the ponds I had not ever fished. The numbers sounded great, but the sizes didn't strike me as particularly noteworthy. I don't have plans to visit that pond yet. But there's another pond near that one I've been thinking about trying again for some time. I had fished it once very briefly several years ago. The cattails surrounding the pond had made flyfishing from shore a real challenge and chore. I think I caught one nice bluegill during that 10 minutes of fishing. I hadn't gone back.
I'd heard one of the residents living near the pond now keeps the cattails mowed down. And although the pond is very shallow for a wide band around the perimeter and develops serious algae mats during the summer, Chad suggested I try it now....before the algae gets bad. Great idea!
So, after dinner last night, my friend Jay and I visited the pond, flyrods in hand.
Fishing started out very tough. The pond is roughly square. We started at Corner #1 and we fished an entire side of the pond before finally striking a few fish near corner #2. I fished almost the entire time with a #8 black mohair leech with a red glass beadhead. First fish was a nice crappie with a big belly.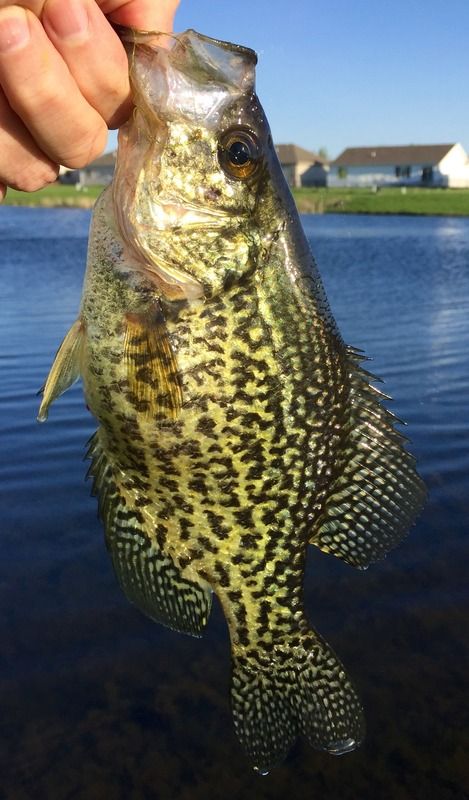 I started to catch a few fish here and there....but only picked up a few more bluegills by the time I fished along and rounded Corner #3 and reached Corner #4. Corner #4 had more fish in it, possibly because it was the downwind corner. I caught some nice bluegills, another crappie or two, and some small and medium-sized bass.
Jay had reached about shoreline 2.5, before backtracking to Corner #2 and refishing shoreline stretch #1, and finally returning to Corner #1 as the sky began to darken. The strong wind also subsided at about the same time. At some point, he had switched to a blockhead popper, trying for bass. He'd gotten some great strikes, and had lost a few fish. So...I decided to give that a try along shoreline #4, as I worked my way back towards Corner #4.
It was pretty exciting fishing! I ended up catching another 5-6 bass in the 14"-16" range. All nice healthy, strong fish. I was amazed at how shallow the water was where the fish were when they struck the popper!
Very fun evening! I look forward to returning to this pond again, before the algae inevitably will make fishing difficult.