I wanted to fish on Saturday. Rainstorms in the morning kept me home, agonizing on where I should go. There was a big festival going on in town which is a lot of fun, but for fishing I prefer solitude if I can find it. So, I didn't want to fish in town. By 11:30, the radar showed the rain and clouds were clearing out. After checking some river levels online, I made my choice to go flyfishing for Smallmouth Bass at a small river about a 45 minute drive from home.
42 Smallmouth Bass, 2 Largemouth Bass, 3 Creek Chubs and 1 Green Sunfish proved it was a great choice!
This was my first visit to this river this year, and I was pleased to find it perfectly wadable, and water clarity good. And whats even better is I didn't see another person the whole day. Not even any kayaks or canoers, which I do sometimes see there.
At this particular spot, I walk upstream along a dirt trail through the woods, get in the river, and back back downstream towards my car. The understory was fairly lush, and that's my excuse for missing my usual point-of-entry into the water. I walked down one trail to the water, and caught a couple small Smallmouth Bass right away on a beadhead gold Woolly Bugger.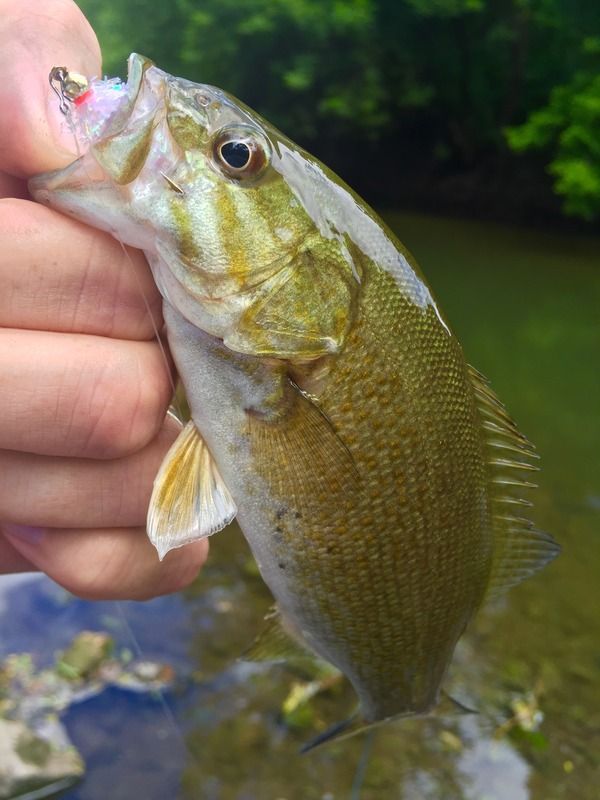 I retraced the trail back to the main path and continued upstream. I ended up at a feeder creek. I got in the water there, and waded it back down to the stream. Along the way, I picked up a couple Creek Chubs on the Woolly Bugger. I'd been wanting to catch some Creek Chubs on my fly rod, but hadn't actually seen any in years. I later caught another one in the main river, so I ended up with 3 for the day.
I made my way to the main river channel and soon had a decent Smallmouth Bass on next to a log in the water. I watched another nice Smallmouth and a smaller one chase the hooked fish around the area...I suppose trying to steal whatever it had eaten?
I tried a blockhead popper, as that has worked well for me on this river in the past. But I think the topwater bite gets better later on in the Summer. The fish weren't interested. I switched to an FC Pearl Shiner and caught a number of Smallmouth bass off that log, as well as a small Largemouth Bass. Most were small, but this one might have been the other good one I had seen:
I waded on downstream, picking up a fish or two here an there, mostly smaller fish. I did see a few carp, which doesn't always happen. I didn't fish for them, but they would have been a lot of fun.
I saw a wild Turkey spook from its roost near the top of a tall Oak Tree next the the high-banked river. Its flight was quite loud as it flew across the stream and disappeared somewhere downstream.
I also caught this damselfly that repeatedly landed on my fly rod as I was fishing.
Anyway, I fished for about 5.5 hours, and waded 0.75 miles of river. I noticed in the afternoon, the Smallies preferred shaded areas. Here's some more fish from the trip: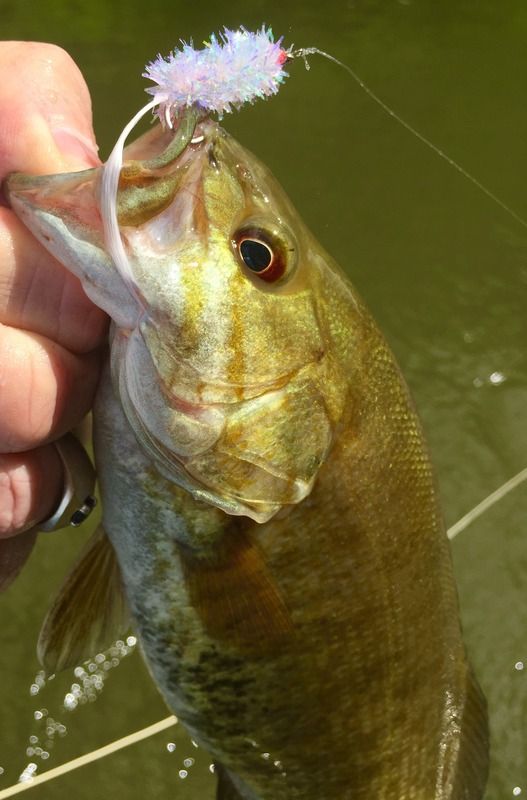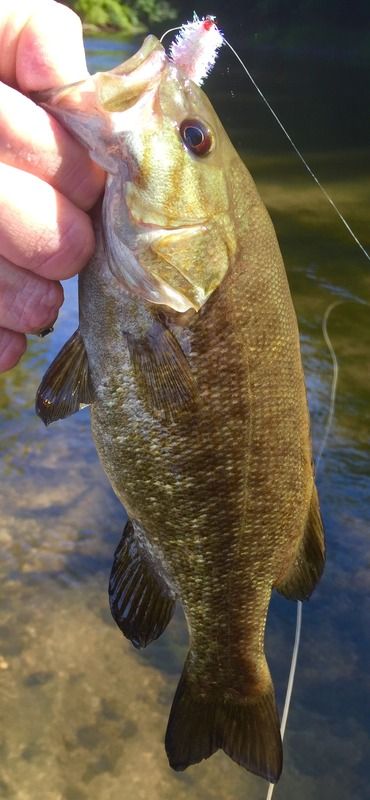 I'm pretty sure I've never caught that many smallmouth bass in one trip to this river before. It was a VERY enjoyable day!