I visited a public pond in a nearby 'burb, which I hadn't fished since last year. The pond is posted "Catch & Release ONLY". You'd think it would have plenty of fish in it, and you'd be wrong.
Folks just don't get it. One thing I liked about the pond was that it had some nice-sized Grass Carp....and they are a challenge and thrill to try and catch on a fly rod. I saw no fewer than 4 of them left dead up on the shorelines. I guarantee they did not die of natural causes. I fished my way around the entire pond, and came across a few fish in just a few spots. For a pond where NO HARVEST should be occurring, there is a noticeable lack of fish, a stark contrast to previous years.
I ended up catching 2 Largemouth Bass, 2 Crappies, 2 Hybrid Sunfish, and 9 Bluegills in a little less than 2 hours of fishing. The fish I landed were mostly decent fish, including one sunfish that measured 10". I probably won't revisit this pond this year.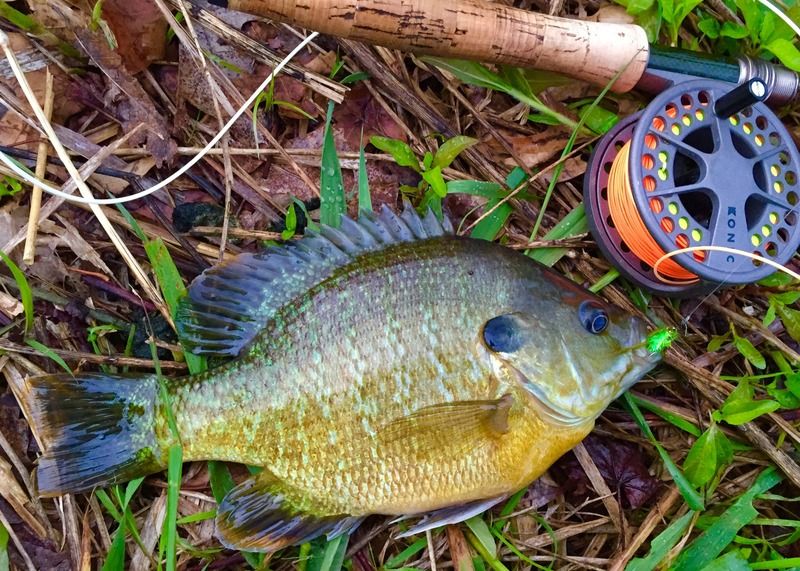 Don't get me wrong, I still managed to have fun. And a weird thing happened. I somehow managed to lasso a Cliff Swallow (bird) during my backcast! I thought I had snagged a tree behind me at first. The bird flew around for a bit, but calmed down and let me untangle it. It flew away just fine.