My family and I have taken Spring Break trips each year for awhile now. My oldest child is now a Senior in High School...and with the uncertainty that her college break schedule will match my son's high school break schedule next year...well, there's a chance this one might be the last. Or at least the last one where all four of us will be on the trip together. That remains to be seen.
We decided to go somewhere new. Typically during Spring Break, us midwesterners want to go somewhere WARM and SUNNY, with ocean and beach. Previous Spring Break trips had taken us to such places as Hawaii, Cabo San Lucas, Dominican Republic, St. Thomas, Grand Cayman, Costa Rica, Honduras, Antigua, Bahamas, Tortola, Virgin Gorda. We went snow-skiing in Minnesota one year, which was fun but just didn't seem like SPRING BREAK.
We enjoy the Caribbean islands, obviously. This year we decided to visit a different sea....the western Mediterranean. Our plan was to fly from the U.S. to Paris, France, then on to Barcelona, Spain. There, we would board a cruise ship, the
MSC Splendida
. We would then visit ports in France (Marseille), Italy (Genoa, Rome, and Palermo), Tunisia (Tunis), and finally return back to Barcelona. We spent the first and last nights in Barcelona, so we wouldn't be rushed to make the ship or return flights home.
I have to admit I was not at all familiar with Tunisia. It is a country in northern Africa that is just south of the toe of the "boot" of Italy. With that, we'd be able to add another country and continent to the list of places we'd been. Full disclosure....my wife had been to South Africa before (for work), and my daughter had been to Italy before (a choir trip).
We had some decent weather, some rainy weather, and some windy weather, all of which was to be expected for this time of year.
We took part in organized excursions in Rome and Palermo. We took a cab to see some of the sights in Marseille. We just stayed on the ship in Genoa...the weather was dreary...but heard from some people we met on the ship that it was really nice.
In Tunis, we debated many times what excursion, if any, to take. We ended up just getting off the ship, but stayed and enjoyed the port area.
Good choice, as it turned out. There was a terrorist attack at a nearby museum that day.
22 people were killed and more than 50 were injured. 9 of the dead and 12 of the injured were passengers from our ship, as well as 6 others from our ship who are still missing! Very sad. It could easily have been us at the museum. If you want to learn more about that whole ordeal, there's a good description of it here:
http://en.wikipedia.org/wiki/Bardo_National_Museum_attack
Below are some of the pictures we took in each place.
Barcelona, Spain:
Torre Agbar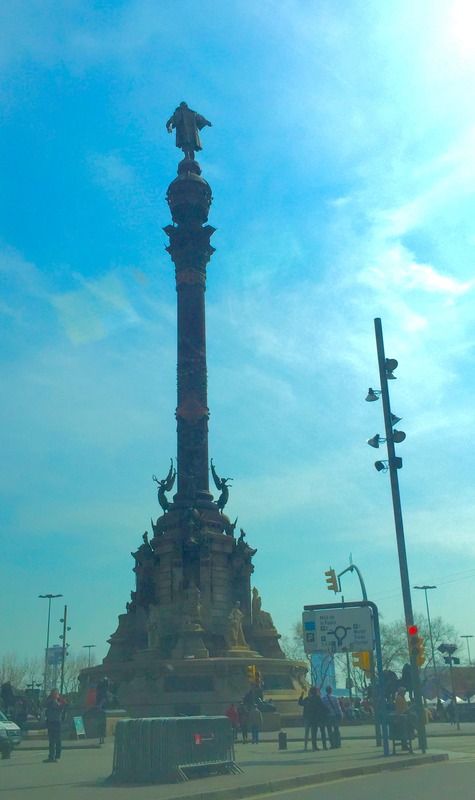 Mirador de Colom - Columbus pointing to America
As I mentioned, we just stayed on the ship here. Took this panoramic photo:
SOOO much to see here!
The Colisseum:
Arch of Constantine:
The oldest domed roof in the world....the Pantheon, rebuilt in 126 A.D.
Inside is really nice (panoramic photo, still only got part of it):
Tried to get the rest of it in this one:
Fountain of 4 Rivers:
Neptune's Fountain:
View from Mount Pellegrino:
Teatro Politeama:
My son did a "Kick the Moon" here:
Palermo Cathedral:
Vacations are fun, and can help you relate to the rest of the world a little better. But, as always, it sure feels GREAT to come back home. :)