I got out icefishing locally on November 22, which is pretty early for this area! We had safe 4" of ice for a couple of days. I didn't have any live bait, so I just tried a variety of icejigs and small spoons tipped with plastics (some were scented, such as various Gulp! products). I caught bass, bluegills and crappies, but it warmed up that afternoon, and I felt unsafe with the ice cracking under me, so I left. Within a couple days after that, the ice deteriorated and completely disappeared again.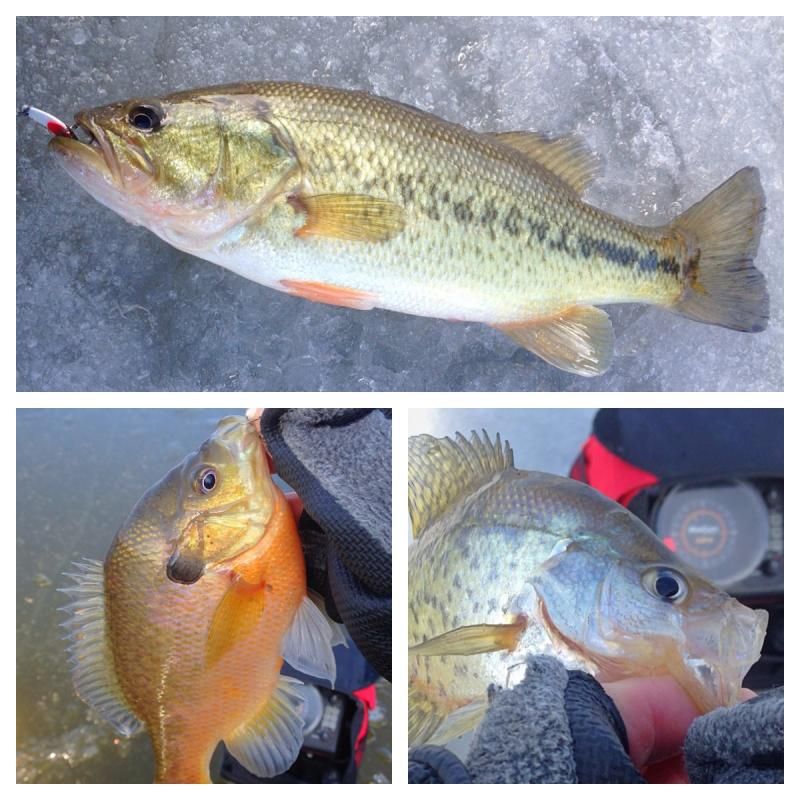 ------------------------------
Fast forward to this week. Ice started appearing again last weekend and got better over the course of the week.
I ice-fished a public pond in town on Saturday from 9:15am-1pm. I would have like to have stayed longer, but I had other stuff to do. The ice was 4" or better everywhere. It was still in good shape when I left, but once again there are some warmer days in this week's forecast. Not sure if the ice will stay good or not.
I was using a 1/16th oz Lindee Frostee spoon the entire time, tipped with a waxworm. The waxworms made a big difference in getting the bluegills to commit, compared to tipping with plastics.
I ended up catching 35+ bluegills, 4 bass (to 13"), 3 crappies (11", 11", 10"), and 1 green sunfish.