My better half told me I could go fishing...so I HAD to go. I WANTED to go. Unfortunately, it was REALLY WINDY. That severely limited my choices. I could try to flyfish some local ponds by putting the wind at my back and fishing the calmer water on the upwind side. But, I've been flyfishing topwaters for Largemouth Bass at the local ponds quite a bit lately, and the local reservoir and river still have high waters.
My better choices were limited. I considered a small river for Smallmouth Bass. This river had effectively dried up each of the past two dry summers. There were only shallow intermittent pools left, and these may have largely frozen during the winters. This definitely hurt the entire river's ecosystem. Water had been high in this river early this year, and I wasn't certain it would even be wadable yet.
So, those were questions that needed answers...Would the trees adequately block the wind? Was it wadable? Were there any decent fish worth catching?
I went. The stream section I intended to fish was busy with people...canoers/kayers/anglers/folks walking around. Its a small stream, a guy can pretty easily cast a fly to each bank from the middle of the river in most areas. Anyway, I quickly checked Google Earth for alternative access locations, and picked one nearby. I walked upstream on shore, then waded back down and flyfished a 1/2 mile stretch of river back to my car.
Mosquitos swarmed me as soon as I got out of my SUV and started gearing up. They badgered me the entire walk up the narrow dirt path through the woods as I headed upstream. They left me alone, thankfully, as soon as I got in the water and started wading.
Smallies often like yellow or chartreuse, so I first tied on a chartreuse mylar bugger (basically a Woolly Bugger with no hackle) with beadchain eyes. It didn't take long...a half-dozen casts in, I watched a wake bulge its way towards the fly. Fish on!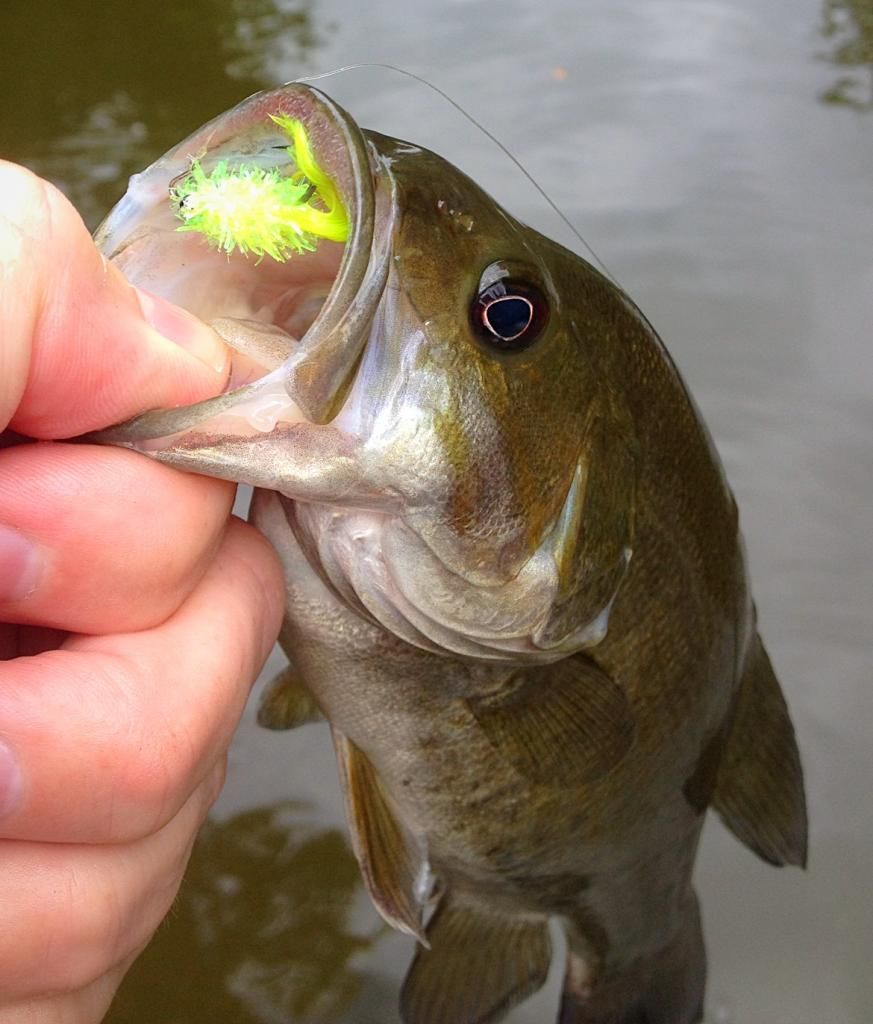 Decent little Smallmouth Bass of @ 11" to start the day!
I saw a sucker (the only one I saw all day, as it turned out) on the far side of a section of fast water, and made some casts that tumbled right by the fish, but the sucker was uninterested in it.
Now that I had seen the water depth/clarity, I felt reasonably confident a topwater might get some attention. I tied one to my line.
The first strike on the topwater was a dinky, but aggressive, Smallie: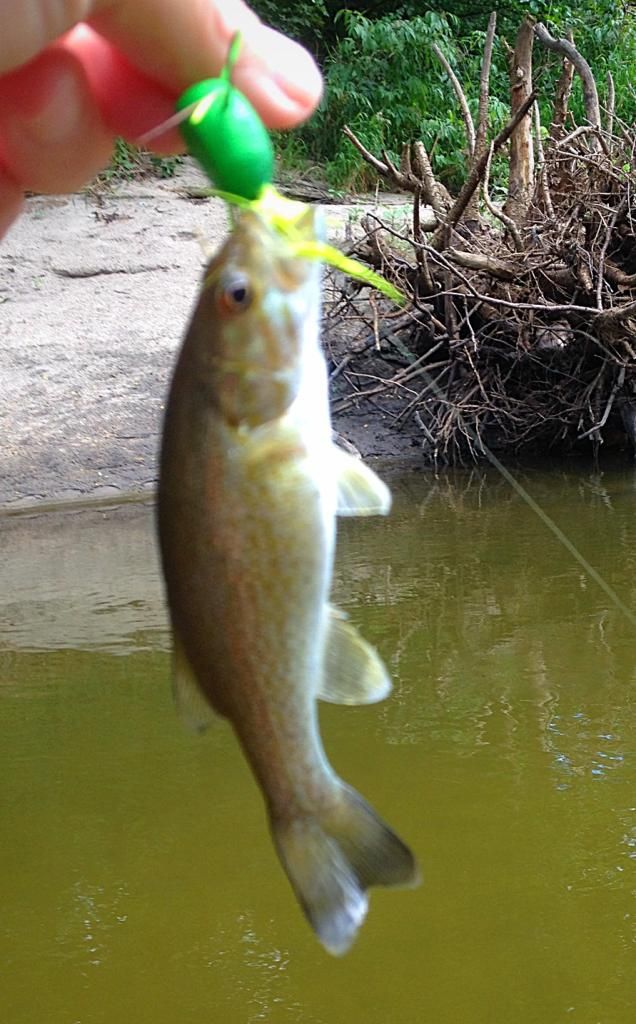 I fished an interesting short rocky rapid with an especially large submerged boulder on the downstream side that was sitting in a small calm pocket, but surrounded on 2 sides by faster water. That looked GOOD! I landed 3 fish from that rock, and lost one more that was probably the biggest one.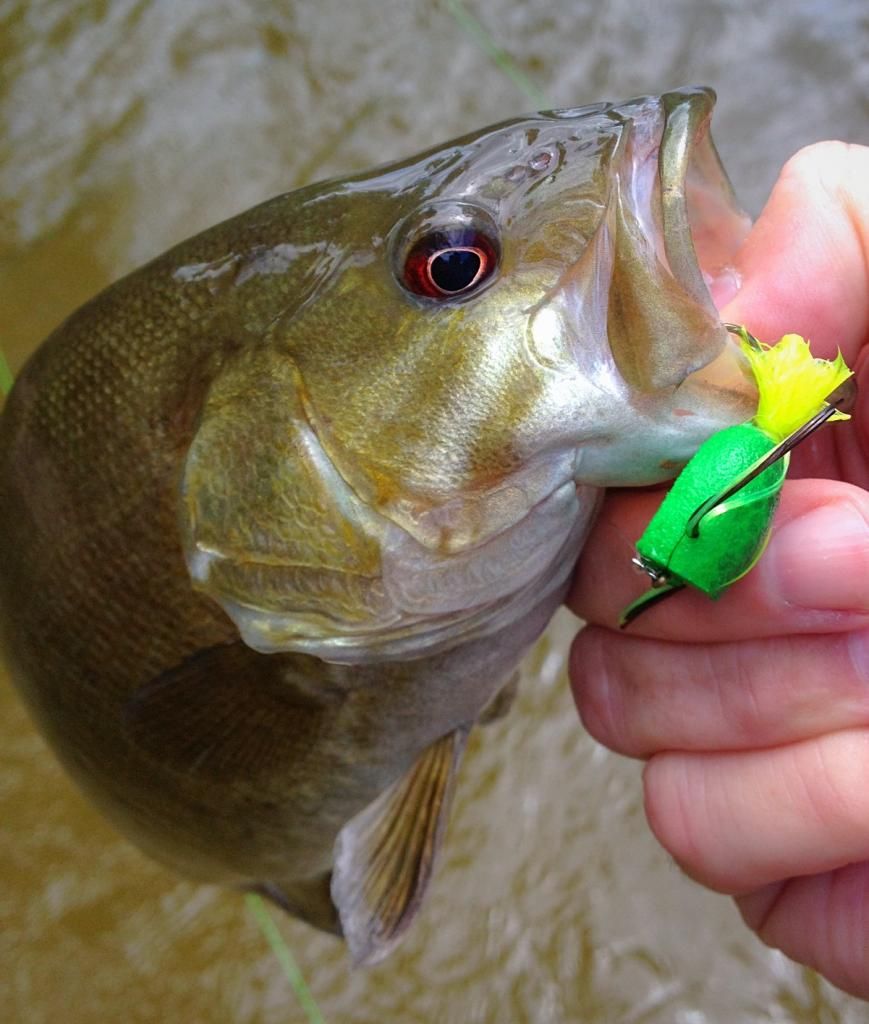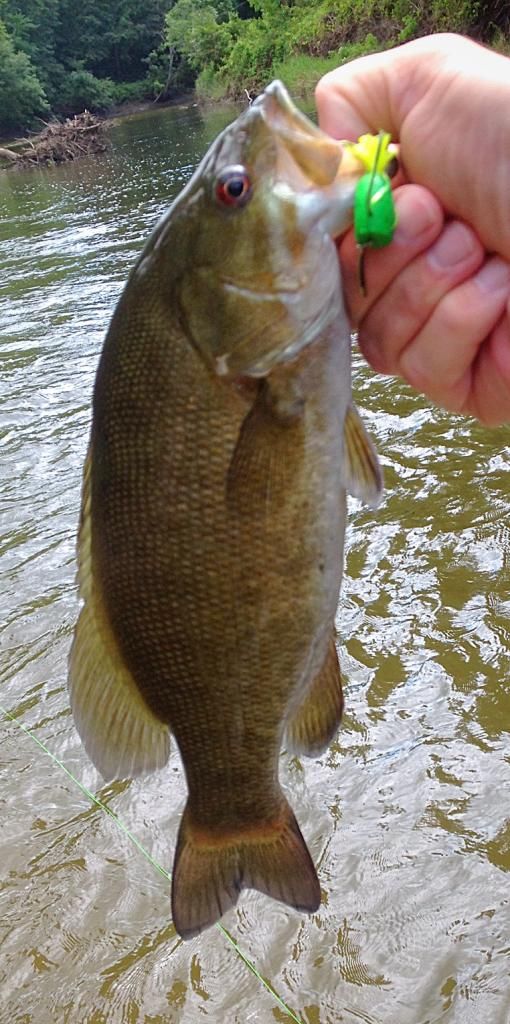 That popper continued to work well for me. Here's 3 pics of one fish that was one of the better ones for the day (it was too tough to decide which was my favorite picture of it):
I came to a spot that looked really good, but it had just gotten worked over by a guy fishing with spinning gear. The current was too fast and deep for the popper to be effective, so I switched to a crayfish pattern under a strike indicator, a technique that Tim Holschlag finds to be extremely successful for Smallies.
It worked, I caught one!
As I moved past that spot, I continued in the wake of the spin-fisherman. I switched to a yellow blockhead-style popper. This worked well too! (I think the first two are pictures of one fish):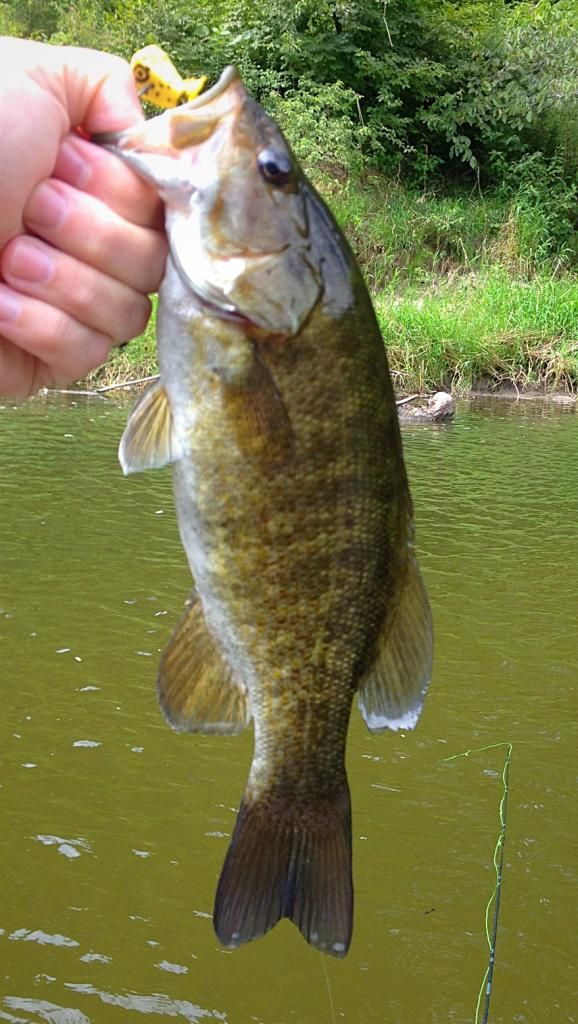 The fish really seemed to like that popper, but it broke off on a fish and I lost it. I saw it float away, so the fish is still OK.
I switched back to the pre-formed foam-head style popper that I was using earlier (the green one). The final stretch of river didn't look as good as some others I had fished upstream...but there were some large scattered boulders around. I cast near one and the popper got attacked. I couldn't tell which side of the boulder the Smallie dove down on...my side, or the downstream side. It was a strong fish! My line broke again. I didn't see the popper float back up. I tied one another popper and made a few more casts, then called it a day. It took me @ 4 hours to work that 1/2 mile stretch of river.
Anyway, my expectations had been low, so I was extremely satisfied with the number and size of Smallies I was able to catch in this stretch of river on this day. :)