'Tis the Season....for tying flies.
The temperature here was 1 Degree F when I dropped my son off at school this morning. Local ponds are frozen over. Ice will be thick enough to be safe for ice-fishing soon. In the interim, its a good time to sit
down at the vise and tie up some flyfishing patterns for next year.
I'd also been tying some flies through the Summer and Fall, but didn't post them here. So, let me back up a bit and show some of the patterns I've been tying in the 2nd half of 2013. My apologies in advance if I've posted some of these on my blog previously.

***Disclaimer: I'm not suggesting any of the flies below are "originals" or "first-of's" or "first ever's". All are based, in part or in whole, on previously existing patterns. I'm not good about remembering (or caring about) names of fly patterns, so I have left most of them out of the descriptions below. ***
First off, I was tying some flies for Gar. I've caught gar on rope flies, but those things cast like a wet sock, and 3 of 5 good strikes never get landed on those anyway, in my experience. So, based on some fly patterns a friend of mine has been using for gar, I tied these up. They have a small #10 treble hook (resharpened!) trailing a body tied on a wire shaft (with metal loops at each end). When I flyfish for gar locally, they are almost all Shortnose Gar. These are made about as "bomb-proof" as possible. The "hinge" between the hook and the body serves to minimize the leverage the fish can apply to shake the hook free when they typically jump and shake their heads. I haven't got to try these out yet.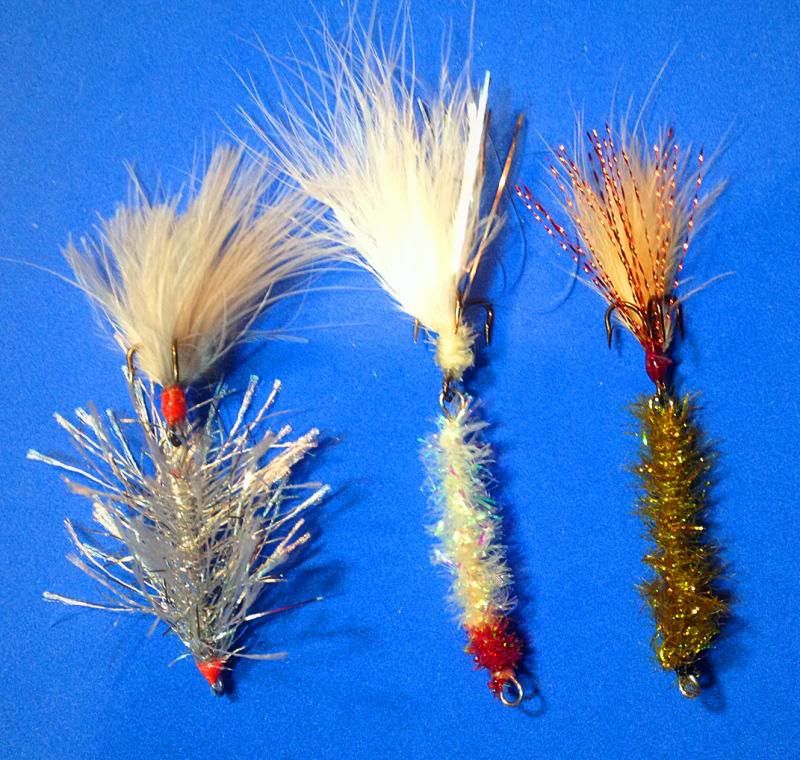 I did well with this style of streamer at times this year...especially on Crappies and Smallmouth Bass. I really like the way these look, both in and out of the water, and I just really enjoy tying them for some reason.
Although I did pretty well catching Wipers on Clouser Deep Minnows this year, I still haven't settled on my favorite fly for White Bass & Wipers, so I've tied a variety of patterns that SHOULD catch some fish. Like these EP Minnows: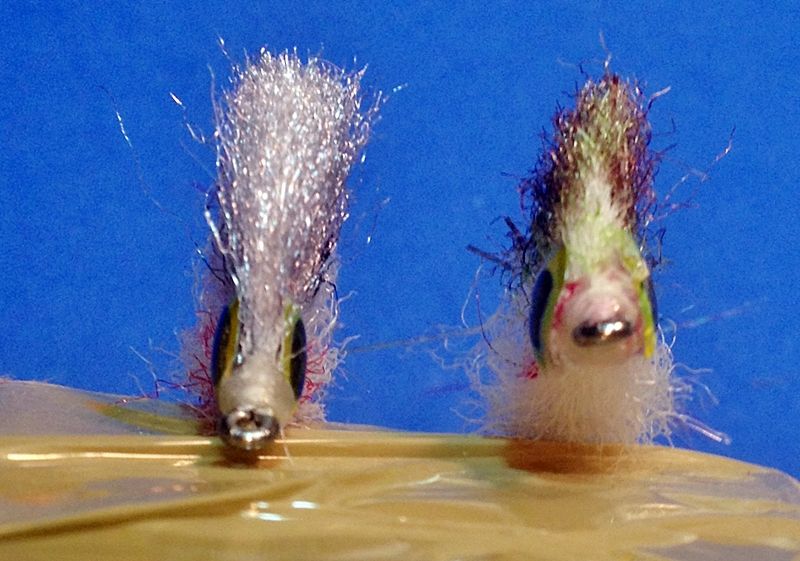 And these:
And these mainly Craft Fur baitfish...
A fellow whose word I trust noted that in addition to shad-type patterns, Firetiger seems to be a good color for Wipers and White Bass. And in fact, another friend of mine caught a HUGE 18 lb Wiper on a firetiger-colored crankbait! So...I believe them!
Then I was also tying for the local stocker Trout season in late Fall.
And late season (before ice-up) is a great time to catch crappies. This color microjig (under an indicator) works really well in a few places I flyfish.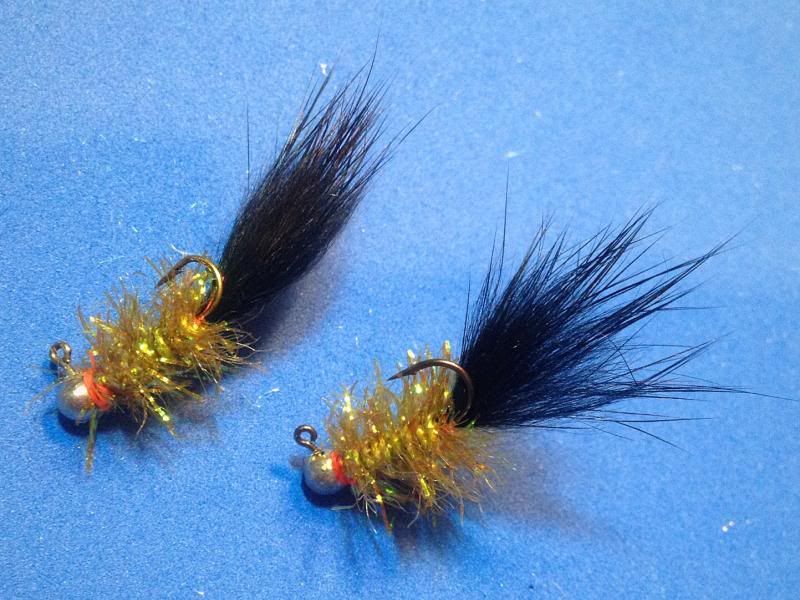 Jointed baitfish patterns seemed all the rage this year. I only tried one briefly this year, without success. I will try them again, definitely...but they are SO COOL, I almost hate risking LOSING one! They sure use a lot of material in each one!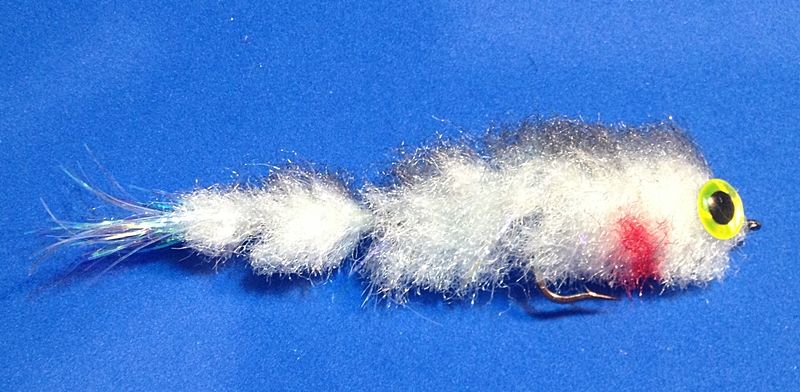 I like nymphs, and having seen Rock Bass with big Dragonfly larvae sticking out of their throats, I know fish love them.
That's enough for now. I'm sure there will be many more to share before open-water season arrives once again!