My new friend Robert R was in town. Robert is a GREAT guy, who loves fishing as much as I do...which is saying something!
We went to Ada Hayden Lake in Ames, Iowa. I hoped the recent cold weather would have the rainbow trout active along the shorelines. The day started out breezy, cloudy, with just a bit of drizzle. As soon as we arrived at the lake, we saw thousands and thousands of buffalo constantly streaming along the shorelines...EVERY shoreline. I put on a nymph and tossed it out in front of some, and immediately had a Buffalo on. I could see the fish had the fly in its mouth, and was close to shore. My leader got wedged under a rock, and in the time it took for me to free the line, the fish freed itself. Darn! No other Buffalo had any interest in the fly.
I spotted one trout along the shore, and cast near it. It turned and headed for the fly, but it didn't find it, and disappeared before I got another cast off.
I started casting out away from shore, and soon had a fish hit a Chili Pepper...twice. It didn't get hooked either time, but I clearly saw the white flash. It could have been a trout, but I thought it looked more like maybe a crappie. I switched to a white beadhead Woolly Bugger, and soon had a Wiper on the end of my line! I landed the fish, it was 15.5" long. Not big as Wipers go, but definitely a fun fish on a fly rod!
I switched to a gray-over-white Clouser Deep Minnow. Over the next 90 minutes or so, I landed a total of 9 Wipers. They ranged from maybe 13" up to 16.5".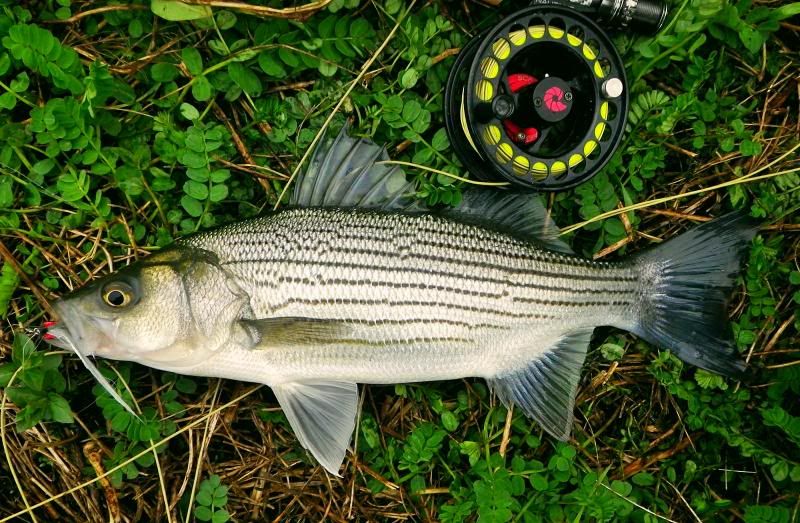 Very fun! They seemed to be scattered around, rather than schooling together. I had to keep moving to pick up a fish here and there.
Robert's fishing was interrupted by some long business-related conference calls, but he managed to catch a couple good crappies.
After a quick lunch we visited Peterson Pit East. It is connected to the Skunk River, and the river was high and muddy. The water in the pit was up into the brush and trees all around the lake. There was no way to access the water and fish it from shore, so we headed back to Ada Hayden. The wind had died some before lunch, and the Wipers bite had slowed. So we decided to try some other areas of the lake for panfish. We didn't find any. I stopped at a culvert that had a bit of water flowing into the lake. There were some Buffalo and a few small carp near it. I thought maybe I could get the carp to strike, but could not. One Buffalo swam towards shore near where I was standing. It was mouthing some flooded grass, looking like it was feeding. Hey, if it was eating, why not try to feed it? I dropped a nymph in front of its mouth, and it sucked it in. I set the hook, and the hook lodged in the lip. HOORAY! My first Bigmouth Buffalo on a fly! It barely fought, but it did slowly head away from shore, where it was instantly bombarded by 3 or 4 male Buffalo who were trying to mate with it. They were pushing the fish away from me! I thought they would knock my line loose from the fish's mouth, but everything held as intended. I landed the fish, and she measured 28"!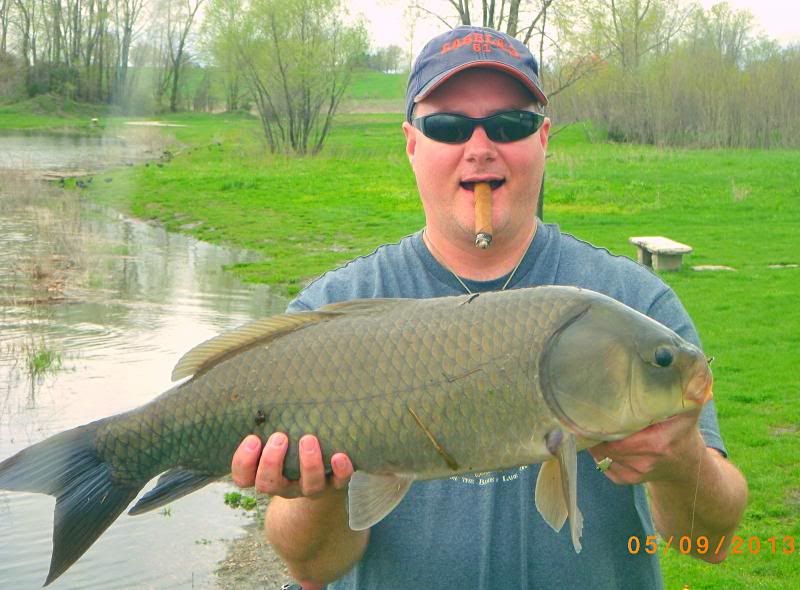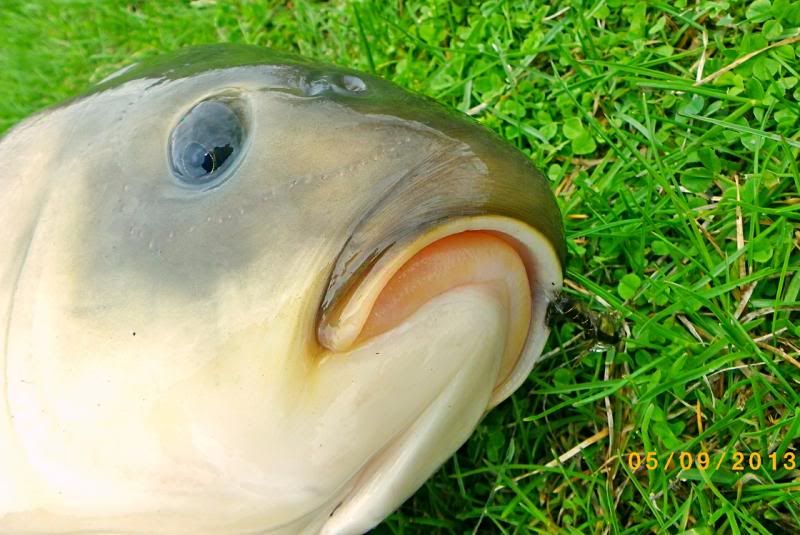 Later in the afternoon, Robert and I flyfished a pond not far from my house. We each caught Crappies, Bluegills, Hybrid Sunfish, and Pumpkinseeds. Here's Robert with one of the beautiful Pumkinseeds:
I also managed to land a couple bass:
Fishing had been slow all day, but we caught fish and really had fun!