Skewed are my perceptions. Gone are the days when 10" Bluegills were common. These days, in the waters in my part of the world, an 8" Bluegill is a NICE Bluegill. 9-inchers are even uncommon in nearly all local waters.
Today during lunch, I headed to a local public pond. Actually, it was Choice #2. Choice #1 has small but plentiful Crappies, Bluegills, and Green Sunfish. For reasons of my own, I was hoping for a "good numbers" lunchtime flyfishing outing. But the parking lots around Choice #1 were practically overflowing, and folks out and about around the pond. I prefer my crowds sparse or nonexistent. Hence Choice #2, which has far far fewer numbers of fish, but the chance to catch some larger, 8" Bluegills...and usually few people during lunchtime. This pond gets hit very hard on evenings and weekends, though, which is why the fish numbers are low.
Anyway, I tied on an unweighted black Woolly Bugger. I fished a short stretch of shoreline in the 30 minutes I had to spend at the pond. I managed just 4 Bluegills, and missed a few other strikes. The 2nd fish caught was this BEAST (by my standards) chunky 9" female Bluegill. This might not do it for most folks, but it got me pretty excited! :)
The pictures just don't do it justice. Beautiful healthy fish!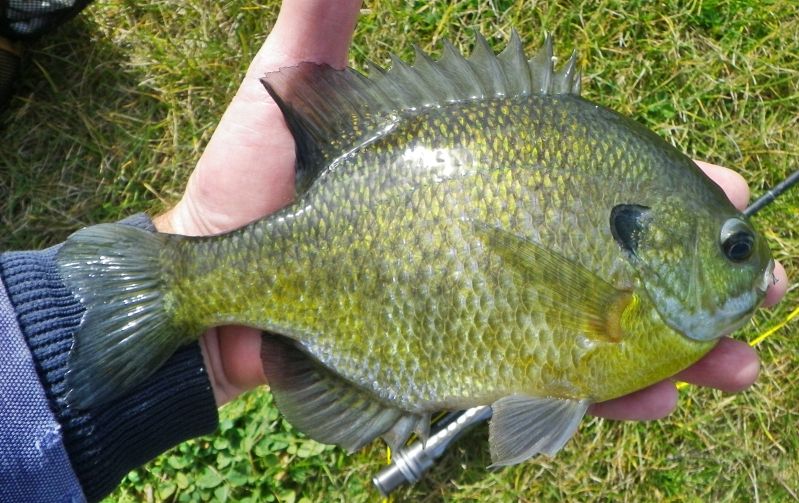 Dwarfs my hand!