I took the day off work, and as luck would have it, the wind was blowing 25-30mph all day. It seemed to taper of to something more reasonable...like 15mph or so...by 7pm-ish, so my buddy Jay called and we headed out to Saylorville Lake.
As usual on trips to this lake, I took both spinning gear and a fly rod. With the fly rod, I was hoping to target carp. Even though the water was riled up from pounding waves all day, plus the big waves from the non-stop pleasure-boat traffic, I saw evidence of plenty of carp. Couldn't really see them unless their backs were out of the water next to shore, or I'd see their swirls as they'd get spooked. They like the rockier areas, and while they are easy to spot when they are in such shallow water that their backs are sticking up out of the water, the rocks make it pretty impossible to present a fly to them without getting hung up. Maybe an unweighted fly with a weedguard? Hmmmm, might have to work something up like that.
But, I haven't got anything like that ready yet, so I was tossing a Whitlock Neer'Nuff Crayfish (my version, no claws) about 6"-12" under an indicator, depending on the water depth I was fishing.
Long story short, I didn't catch any carp. Set the hook on what I thought were strikes and managed to spook some fish. Were they "on" it? Dunno.
I did manage to catch two fish on this set-up, though.
First was a 10" Crappie.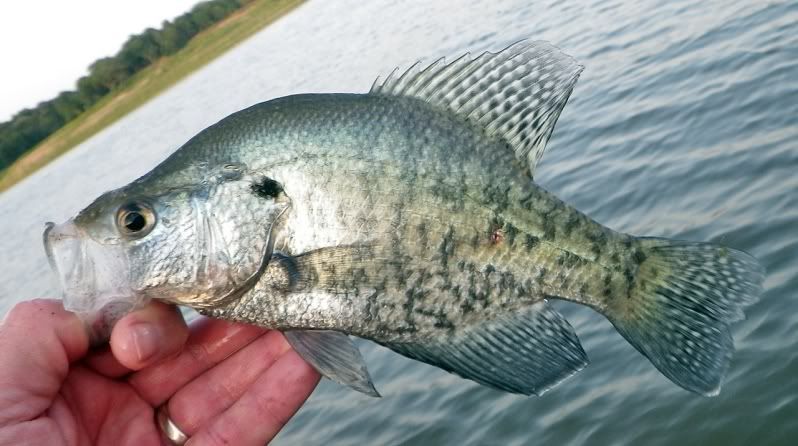 Later on, I finally hooked into a nice fish near some carp...and I thought it WAS a carp...until I landed it. Turned out to be a 21" Channel Catfish.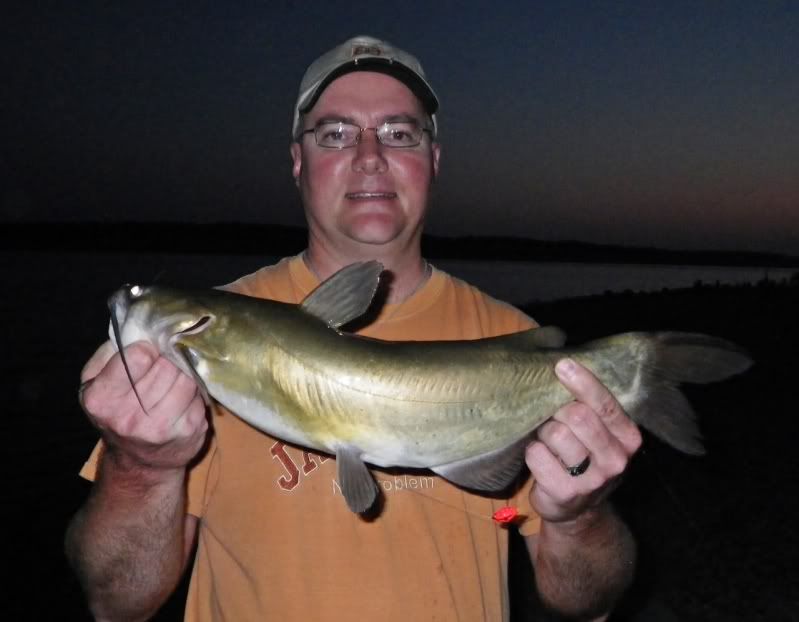 Jay caught a couple 10"-12" range White Bass on spinning gear. I didn't spend a lot of time casting a topwater with the spinning gear, but I did manage two Largemouth Bass on it. Below is the larger of the two bass. Jay guessed it at 14.5", while I was guessing it at 15". I had a tape measure with me, but didn't feel like digging it out for the bass.
Turned out to be a really nice evening. Saw a deer near the trees as we were pulling out of the parking lot at the lake, then saw a fox standing on a sidewalk as we got into our town.