I hadn't fished for a WHOLE DAY...but it seemed like at least 2 whole days...which is WAY too long for my liking!
Anyway, I decided to hit the young pond again where I discovered carp and buffalo late last week. The wind was from the direction I wanted it to be, but was a bit stronger than I hoped for to be able to sight-fish. The sky was mainly overcast, with the sun peeking out once in awhile. When it was cloudy, sight-fishing was hopeless. Plus, a retired fellow (because he made a POINT of telling me repeatedly that he was retired) was just finishing his circuit of the pond cast lures for bass. I think he scared the carp away from the shallows.
During a couple of sunny moments, I did spot at least one carp slowly cruising in open water, and also spotted a few buffalo feeding beneath the surface in open water. I tried (separately) a San Juan Worm and an egg pattern under an indicator. Got some really good casts to the buffalo, looked like the fish was going RIGHT FOR the fly...but it kept on going without any signal from my indicator. The rest of the time when it was cloudy, I fished with a beadhead furl-tailed leech and caught 3 Largemouth Bass and 4 Crappies. I caught 2 Hybrid Sunfish on the San Juan Worm, and 5 Bluegills. The Bluegills hit several different flies, including the egg fly, the San Juan Worm, the leech, and a Pheasant Tail Nymph.
So...catching 4 species was good, but I still didn't get either of the 2 species I was HOPING for.
Here's some pics: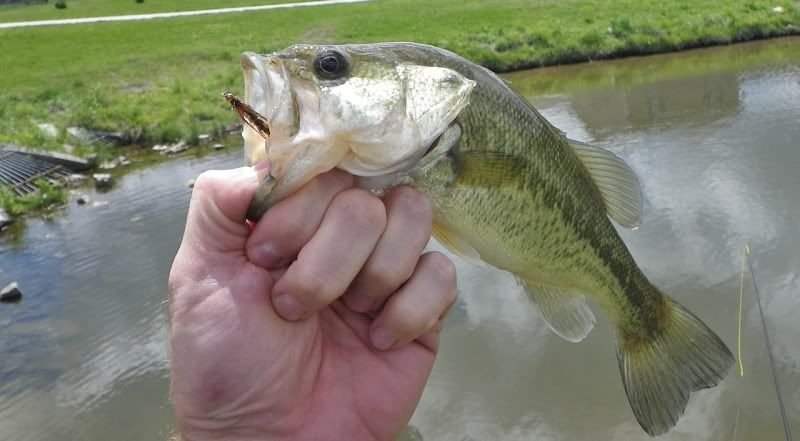 The Crappies were sporting their darker spawning coloration:
This is one of the smaller Hybrid Sunfish I've caught...but they are so colorful!