I fly-fished the DMACC Pond - WDM Saturday afternoon for about 1.5 hours. First time I've ever visited/fished this pond.
While there, I talked to a fellow who said he has fished the pond for years. Said there used to be a lot of BIG bass and lots of nice Hybrid Sunfish in the pond. Then the bucketeers came, and now there's just smaller fish left. I said, "...even with the signs posted around the pond that say 'Catch and Release Only'?" He said that was before the signs were put up. He seemed embarrassed to be caught out fishing with spinning gear, telling me he normally only fishes with fly gear, but he brought the spinning rod today because it was so windy. And it was definitely windy!!
I had fun exploring a new pond. Here's what I caught:
-4 lmb
-2 crappie
-1 hybrid sunfish
-2 green sunfish
-28 bluegill
The bass, hybrid, and green sunfish were on the small size. The crappies were in the 8"-9" range. I caught a lot of nice bluegills, though. Not BIG bluegills...but nice ones. Looking at it now, this one probably measured around 8.5".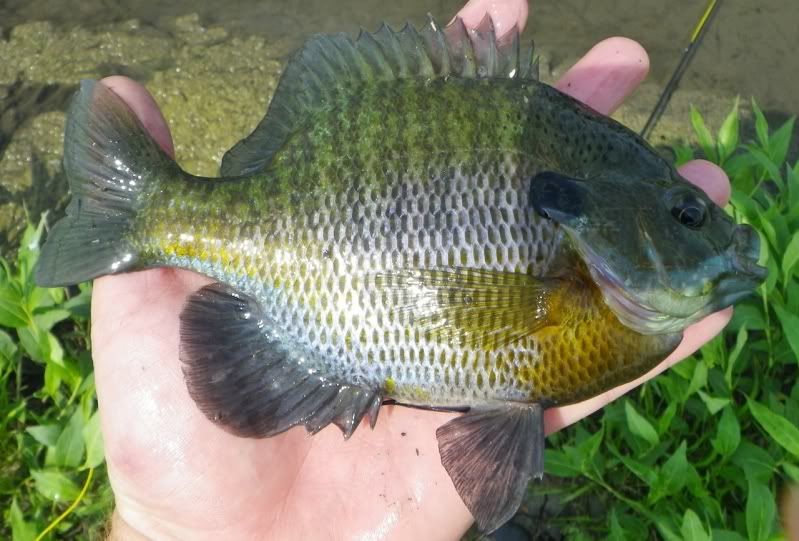 Also saw some cool flowers behind the willows on the north side of the pond. Anyone know what kind of flowers these are? Look sort of like irises....but the leaves looked thinner and more narrow like a lilly.